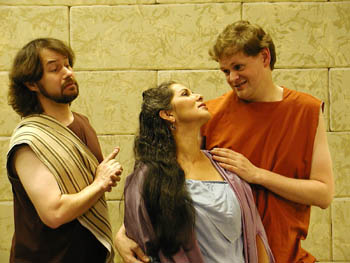 Classical Cutups: Ancient Greece is something of a Parisian fun zone for Menelaus (Mark Blattel, left), Helen (Mrigendra Steiner, center) and Paris (John Prigeon) in 'La Belle Hélène.'

Risky Love Sans the Risqué

The Lyric Theatre finds family fun in Offenbach's 'La Belle Hélène'

By Marianne Messina

MONTHS BEFORE last weekend's opening of Lyric Theatre's production of Jacques Offenbach's La Belle Hélène, translator and stage director Ruth Stein had already been living with the libretto for a year, wrestling with the rhyme scheme, the singability of the words and the content--her biggest challenge. French audiences of 1864 would have known the many classical references from the Iliad, references lost today, as Stein puts it, to "all but the three classics scholars in the audience." This gap sometimes meant replacing a single word with whole explanations.

When Paris of Troy, for instance, tells how three goddesses turned their charms on him, the original text has him using the classical interjection "Evohe." "The use of the word 'Evohe' implies that this enticing of a young man has some of the flavor of an orgy of sensuality," Stein explains. Her version for Lyric Theatre doesn't use the word. "In [my] adaptation," she explains, "Paris refers to the goddesses being able to wind any man around [their] thumb--less orgiastic but still allowing the thought that the man has suffered--or enjoyed--a loss of control."

This ambivalent (or hypocritical) eroticism lies at the heart of Offenbach's satire of French society. Calchas the high priest (John Williams) is a "dirty old man." And Helen (sung with commanding soprano voice by Mrigendra Steiner) professes her desire to be a faithful wife to Menelaus (Mark "Wolfy" Blattel, who moves the character nicely between ineffectual and simpering) even while she thanks fate for her temptations (that is, lovers). When Paris (John Prigeon) shows up in Sparta disguised as a shepherd, Helen is stricken by his beauty. "Let me see--raise your head a bit," she says, admiring Paris. "Wonderful! Now the profile? Admirable!" Steiner adds a nice sensual touch to this scene by suggestively stroking the crook of the shepherd's staff.

But elsewhere, this production drains off the erotic content noticeably, due in part to Stein's considerations for the Lyric Theatre's family audiences. For the shepherd scene, Stein excises many references to Paris' sheep that likely bordered on lewd in the original. The most notable "family-ization" comes not in the libretto but in the costuming, perhaps a rare occasion of the all-volunteer production showing its purse strings. (There was no sign of a frugal budget in the elaborate set design conceived, built and beautifully painted by the resourceful Gary Mitchell.)

The kings in the original production would have represented the opulent Second Empire court of Napoleon III, whereas this production's kings and courtiers looked to have gotten their tunics from classical Greece's version of Wal-Mart. Still, finances can not be blamed in Act 3 when the court is frittering away its time on the beach, and we see no added flesh (why else would you set a scene on a beach?). In the height of the cancan's popularity and in an operetta written by the master composer for that dance form, the characteristic bottoms-up reference revealed no bottoms--alas, not a tunic flipped upward. And when Paris "seduces" Helen, her shift has about as much sex appeal as feet-pajamas. Steiner cleverly reclaims some eroticism at the end of the scene when she lets the gown strap drop off her shoulder. But things have changed in 150 years, and who goes to operetta to see skin any more? The Lyric Theatre production did justice to Offenbach's fine musical score and what it lacks in erotic satire, it makes up for in charm.
---
La Belle Hélène, a Lyric Theatre production, plays June 26-28 at 8pm and June 29 at 2pm at the Montgomery Theater, San Carlos and Market streets, San Jose. Tickets are $20-$24. (408.986.1455)
---
---
Send a letter to the editor about this story to letters@metronews.com.
---
[ Silicon Valley | Metroactive Home | Archives ]