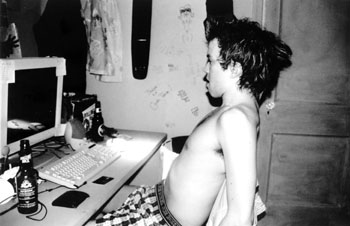 Webmaster of Oz: Eric Millegan commutes from home in 'On_Line.'

Web of Sin

'On_Line' downloads innovatively shot but dated erotica

By Richard von Busack

HEY, BUDDING FILMMAKERS! Ensure your success by making a debut film on a subject of universal appeal. Directed Jed Weintrob did just that in his feature about the cybersex industry, On_Line. This prize winner at Cinequest 2002 concerns a ring of lonely people held together by chat sites. On_Line is the story, essentially, of three websites: Final Exit, a place where the depressed talk over means of killing themselves; a video blog operated by a lonely, isolated Manhattan programmer named John (Josh Hamilton), who still carries the torch for his ex-fiancee; and Intercon-X, the website John maintains for a living, where visitors pay to be hooked up for one-on-one X-rated sessions.

John looks like Buddy Bradley in Peter Bagge's Hate Comics: disheveled hair, stubble, sports shirt with none-too-pristine T-shirt displayed at the neck. He and a few others in this picture are obsessed with a 24-hour webcam site about Angel (Liz Owens). Among Angel's dedicated fans are a bad-girl professional cybersex worker at Intercon-X named Jordan (Vanessa Ferlito, the Angelina Jolie type). Jordan has a double masturbation session with John one drunken night. Online, he's commanding, telling her to play with herself and to stop as he pleases. In person, he's too meek. Jordan's more attracted to Moe, John's friend and boss. As played by the rising star Harold Perrineau, Moe's a heartless, cool stud, playing off poor Moira (Isabel Gillies), a cafe attendant and artist, with this hot-stuff (and bisexual) Internet hussy.

Weintrob keeps the film brisk. His deft use of split-screen anticipates the multipaneled storytelling effect used in The Hulk, with a split-screen sequence of about 20 panels during Jordan and John's orgasms. ("I envisioned that the orgasm should fracture their world as much as possible," Weintrob notes.) The scene where the charming but depressed Moira almost ODs in cyberspace startlingly predicts that recent incident (as discussed in Annalee Newitz's Techsploits column in Metro, May 15) about the chat-room attendee who committed suicide online.

Once again, you wonder why it is that the twentysomething romance film involves such a tag team of people, characters never to be developed much beyond their yearning for love or their demographic appeal to as many viewers as possible. Outsiders, too, may wonder why there's never a crashed browser or a maxed-out credit card in this tale of online romance. Or why it is that in movies, sex workers seem so eager to mix their business lives with their personal lives. Some may find this particular lavishness and hermeticism as dated to the 1990s as the recurring shots of the Twin Towers.

Finally, the punch line involves some unfairly hidden information. Moe, John's best friend, is never supposed to have seen John's fiancee of three years, making for an attempted surprise at the finale. Since good erotica's in short supply, On_Line deserves to be filed under erotica. Unfortunately, there's never that connection between explicit sexuality and depth of character that makes for something that, as Weintrob says, fractures your world.
---
On_Line (Unrated; 97 min.) Jed Weintrob, written by Andrew Osborne and Weintrob, photographed by Toshiaki Ozawa and starring Josh Hamilton and Liz Owens, opens Friday at the Towne Theater in San Jose.
---
---
Send a letter to the editor about this story to letters@metronews.com.
---
[ Silicon Valley | Metroactive Home | Archives ]