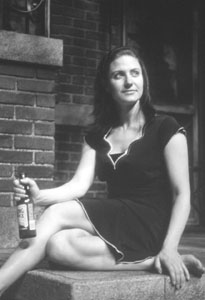 Photograph by David Allen

Math Appeal: Sarah Overman plays a math student with a troubled family past in 'Proof.'

Emotional Equation

TheatreWork's 'Proof' is more than a formula drama

By Rob Pratt

IN THEORETICAL mathematics--as in life--there's always a risk that rivals may shoot down an original idea even before the author has fully vetted the new concept. Such an occurrence happened recently to a San Jose State University mathematician, who suffered the debunking of his proof of a theorem of prime numbers. And such is the theme of a creditable TheatreWorks production of David Auburn's Proof, running through July 13 at the Mountain View Center for the Performing Arts. Directed by company founder and artistic director Robert Kelley, the staging marks one of the first regional-theater productions of the 2001 Pulitzer Prize- and Tony Award-winning play. A brilliant script and some wonderful performances equate to a thoughtful, even likable, opening to the company's 2003-2004 season. But TheatreWorks misses a critical factor, and the overall production doesn't add up to a whole that's greater than the sum of its parts.

The play opens with Catherine, a 25-year-old would-be mathematics student, talking with her math-genius father who, the audience learns, went "nuthouse" after revolutionizing multiple fields in mathematical theory. Both know that Catherine has inherited her father's ability with numbers, but Catherine wonders whether she also has inherited her father's mental illness.

Sarah Overman performs brilliantly as Catherine, effortlessly modulating between the cranky stubbornness of a depressive and the elation of a newly enamored lover. Catherine's struggles with inner demons and desires drive the play, and Overman renders them with calculated precision. She thunders against Claire (Aimee Nicole Lewis), her manipulative older sister, who figures on selling off the family's Chicago home and moving Catherine to New York after their father's death. They fight about what happens to the house and to Catherine now that the younger daughter no longer has to care for their sick father, about Catherine's mental state and about their father's final legacy to the world of theoretical mathematics. The show's best moments occur between the two, and Overman and Lewis are perfectly matched.

As Robert, their father, Robert Ernst plays for folksy effect. His Robert is a doting parent and (during a period of remission in his illness) a crafty doctoral adviser with a Zen master's flair for pricking the pretensions of a protégé. With the exception of a few moments late in Act 2, however, Ernst never coveys a hint of Robert's mental instability--and that's where the formula falls apart. Robert's mental illness, whether full-blown or in remission, haunts both Catherine and Claire. Underplaying it diminishes one of the play's central tensions. Also notable are Mark Phillips as the endearingly earnest Hal, Catherine's love interest and a doctoral candidate advised by Robert, and set designer Tom Langguth, whose studiously disheveled brick house facade has a charm equal to Auburn's warmhearted script.
---
Proof, a TheatreWorks production, plays Tuesday at 7:30pm, Wednesday-Saturday at 8pm and Sunday at 7pm (plus 2pm June 22, 29 and July 5, 12; no shows July 4, 8) through July 13 at the Mountain View Center for the Performing Arts, 500 Castro St., Mountain View. Tickets are $26-$50. (650.903.6000)
---
---
Send a letter to the editor about this story to letters@metronews.com.
---
[ Silicon Valley | Metroactive Home | Archives ]