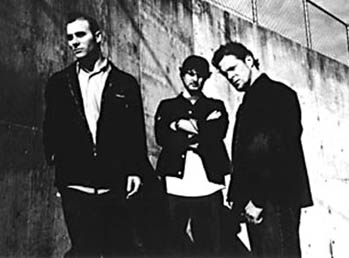 Echobrain brings the rock to this year's Music in the Park.

High Time

KSJO DJ Sloppy Joe's 'Home Grown' program lights up local bands

By Sarah Quelland

THERE WAS A TIME when my friends and I would call up KSJO and harass the DJs to play songs by unsigned Bay Area bands we'd seen opening at places like the Fillmore, the Warfield and the Edge. This was years ago, but they always told us the same sad story: they weren't allowed to play songs by any band that wasn't on a major label. That's all changed now though, thanks to KSJO DJ SLOPPY JOE. Sloppy recently launched his own Home Grown radio show, which airs every Sunday, 11:30pm-midnight.

After the success of LIVE 105's Local Lounge and KMBY's Acoustic Breakfast, both of which host and play music by unsigned Bay Area bands, KSJO's finally stepping up to the plate. Now heavy South Bay bands have the opportunity to get their music played on a major radio station right here in their own backyard. To date, Sloppy's featured UNJUST, LAVABONE, SKINLAB, SCORCHED EARTH POLICY, BREACH, SECURITY, KRENSHAW, DOMESHOTS and several others. This program is long overdue and just what this town needs to generate more interest in local hard-rock and metal bands.

Bands can visit www.ksjo.com for more info and send CDs and any other significant material to Sloppy Joe, c/o KSJO Radio, 1420 Koll Circle., Ste. A, San Jose, 95112.

ALL THE NEWS: Fans were disappointed when BLACKALICIOUS canceled its rescheduled date at the USUAL. Apparently, the group was forced to postpone the entire Northwest tour because TIM PARKER (a.k.a. GIFT OF GAB) is suffering from complications due to diabetes. ... There's lots of other news at the USUAL. After people piled into the CACTUS CLUB for the last FLASHBACK '80s and New Wave night last Tuesday (June 18), the popular dance night is moving to the Usual on Tuesdays. The Usual will also start hosting live rock shows on Wednesday nights in July. And LATENITEBILLY has announced that CHEMISTRY, a Thursday-night hip-hop event, will hold its grand opening on July 25 with SOULS OF MISCHIEF, SHORTKUT, VINROC and APOLLO at the all-new SPY NIGHTCLUB, the former home of the Usual. Looks like the rumors of the name change were true. ... Due to high rent, competition by Borders Books and people burning CDs rather than buying them, COMPACT DISC LAND, an independent record store in Palo Alto that's hosted the likes of CHOCOLATE WATCHBAND, SYNDICATE OF SOUND and JOHN DOE, says it's going out of business. The SUB-MERSIANS will play the last show at the retail establishment Sunday (June 30) at 6:30pm. ... MUSIC IN THE OTHER PARK concludes this Thursday with performances by NB RIDAZ and ANGELINA, 5-8:15pm at ST. JAMES PARK. ... The schedule for the free annual MUSIC IN THE PARK concert series held every Thursday, 5-8:15pm at PLAZA DE CESAR CHAVEZ, has been announced. This year's performers include EEK-A-MOUSE (July 11), ROOMFUL OF BLUES (July 18), DAVE MENIKETTI (July 25), ECHOBRAIN (Aug. 1), MIKE "SPIDERMAN" ROBINSON (Aug. 8), REGGAE REVOLUTION and RED DI (Aug. 22), LUCE (Aug. 29) and PETE ESCOVEDO (Sept. 5). There will be a show on Aug. 15, but the performer is still TBA. Call 408.279.1775, ext. 42, for more info. ... RACHAEL SAGE and LISA DEWEY participate in a benefit for the medical fund of cancer survivor LARRY SHEIN Saturday (June 29) at PLANT 51. Tickets to the reception, which begins at 6:30pm, are $25. The concert alone is $8. ... SMASH MOUTH is headlining Mix 106.5's annual Concert for the Homeless Wednesday (July 3) at DISCOVERY MEADOW in downtown San Jose. REMY ZERO, DROPLINE and AURORA UK also perform and LEX VAN DEN BERGHE's LUCKYDOG makes a special appearance on the second stage. Proceeds from this family-oriented concert festival benefit the EMERGENCY HOUSING CONSORTIUM. Tickets are $10 (kids 7 and under are free), and the park gates open at 4pm. ... Next Thursday (July 4), REACTION 31, ELEMENT OF SURPRISE, DOWNSIDE, TENFOLD, SUPERCHANNEL, SHORTIE, DELTA ACTIVITY, LEISURE, 7TH STANDARD, WILL TODAY, QUITTER, CYCLE and FLEUR DE LIS participate in the YAY FOR AMERICA rock event at the Gaslighter Theater in Campbell. The show runs 2pm to midnight.

CORRECTION: We spoke too soon. The PATIO AUDIO free music series at the CAMERA 3 CAFE continues Wednesday (June 26) at 8pm with MINOR FIRE and guests.
---
Send a letter to the editor about this story .
---
[ Silicon Valley | Metroactive Home | Archives ]