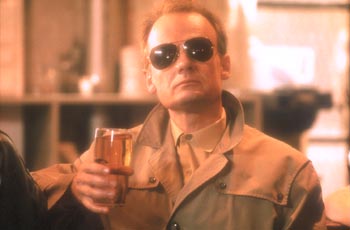 Old Skoal: Per Christian Ellefsen recovers from a breakdown with the help of some odd friends in 'Elling.'

Nutty Buddies

'Elling' follows two disturbed men in a grungy but lighthearted comedy

By Richard von Busack

ON THE GREAT ROSTER of screen twerps--from Franklin Pangborn to Elisha Cook Jr., from Tony Randall to Steve Buscemi--enter the name of Per Christian Ellefsen, Norway's least-intimidating import since the smoked sardine. Ellefsen has the lead role in Elling, an amiable if sugary study of a pair of misfits in modern-day Oslo, based on Ingvar Ambjørnsen's novel. Elling is a self-described mama's boy who had a breakdown when his mother died. In the mental hospital, he befriends an "orangutan"--the big, burly Kjell (Sven Nordin, a Norse Gerard Depardieu).

The two are released from custody into Oslo's answer to Section 8 housing--and it's not bad at all! Do consider having your next nervous breakdown in Norway. The two men are supervised in their new digs by Frank (Jørgen Langhelle), who is not the kind of person usually drawn to social work; he's a snarler in a black leather jacket who smokes and doesn't shave. Langhelle is exactly the actor you'd cast if you wanted someone to play a strong-arm bandit.

Life is not easy for Elling, who is such a quivering wreck that he can't answer the phone and dreads going to the market. These qualities make him a natural companion for an impulsive bear like Kjell, who endures his housemate's jabbering kindly. The pair's first Christmas season is as rosy as can be, but on the day itself Kjell discovers Reidun (Marit Pia Jacobsen), an extremely drunk and extremely pregnant woman, unconscious on the stairs, and a romance develops. Elling, left out and as jealous as a neglected pet, turns to anonymous poetry to express his soulfulness. At one terrible poetry reading--the film's comic highlight--Elling meets an old lyric poet named Alfons (Per Christensen) and now has a new chum--and the film's ending is in sight.

Since there's a secret codicil in the Dogme charter that all its films must be about mentally handicapped people, you might think this was the latest Dogme offering. Despite the careless hand-held camera; the rough-looking women, the gross meals of comfort food (Oslo and Akron seem to be sister cities, cuisinewise) and, most importantly, the neurotic lead pair, Elling is not Dogme. It is filmed in choice color, has a pleasant Dogme-defying soundtrack of wobbly keyboards and strings and shows off the town and even a fine northern lake, where Alfons, Kjell, Reidun and Elling go on vacation.

Both Nordin and Ellefsen played their parts onstage and have a fine rapport. Nordin happily recalls any gentle but hulking Oscar Madison-style housemates that may linger in the viewers' memory. Hauling inebriated Reidun up the stairs, Kjell calms her: "Relax, I've done this a hundred times with my mom." By the end, you're almost too charmed by the easiness of the film--and by Ellefsen's expert display of prissiness--to blurt out, "Is that all there is?" The answer is yes, that is all there is. It's a sliver of a comedy, but it doesn't have a mean bone in its body.
---
Elling (R; 89 min.), directed by Peter Naess, written by Alex Hellstenius, based on the novel by Ingvar Ambjørnsen, photographed by Svein Krøvel and starring Per Christian Ellefsen, Sven Nordin and Marit Pia Jacobsen, opens Friday at the Camera 3 in San Jose.
---
---
Send a letter to the editor about this story .
---
[ Silicon Valley | Metroactive Home | Archives ]