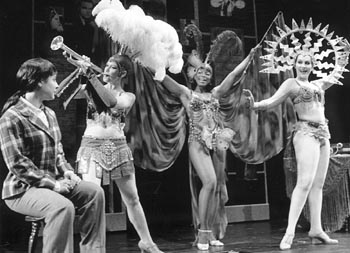 Pastie Parade: Louise (Elizabeth Ann Traub) meets some strippers at a burlesque hall.

Coming Up Roses

TheatreWorks opens a new season with a reflective production of a musical theater classic

By Rob Pratt

A LANDMARK IN THE HISTORY OF THE American musical theater, Gypsy, penned by Arthur Laurents, scored by Jule Styne and given lyrics by Stephen Sondheim, is a show loaded with dramatic opportunities. Leading actors get characters with depth, all of which at one point or another cast long glances into their souls and face a watershed moment of reckoning. Singers (and the orchestra) get Styne and Sondheim's challenging score and songs. And designers and choreographers get a handful of big numbers that demand a visual spectacle.

The current TheatreWorks production, though, reveals that Gypsy is also a show where a director with an eye for detail and a mind for lyrical staging can create powerful imagery. With fleeting moments, director Robert Kelley, also TheatreWorks artistic director, offers the audience points of reflection--literally a through-the-looking-glass view of a young woman's struggle to establish her own identity outside the shadow of a domineering mother.

The show opens not as the orchestra reaches the final chord of the overture, but almost at the downbeat. Rose (Meg Mackay) comes onstage in the middle of an intense moment of introspection, then the whole play flashes in front of the audience, concluding with the end of the overture and with Rose's two daughters--the favored Baby June (Kristy Frank) and the overlooked Baby Louise (Courtney Stokes), who grows up to be the stripper Gypsy Rose Lee--turning mirrors toward the audience and then back toward the stage. Mirror images recur as Louise faces defining moments, providing both stark scenes that mark turning points in the plot and subtle reminders that the play is just as much about what is unspoken among families as what is said.

The cast is uniformly strong. Mackay easily takes Rose from purr to roar, and Jackson Davis as Herbie, the heart-of-gold booking agent who falls for her, makes a visible transformation from self-sufficient to brokenhearted. Elizabeth Ann Traub plays Louise with determination and playfulness instead of the demure reticence often given to the part--a great choice that both frees Traub to zing comic moments and grounds Louise's ultimate self-discovery.
---
Gypsy runs Tuesday at 7:30pm (except July 4), Wednesday-Friday at 8pm, Saturday at 2 (except July 15) and 8pm and Sunday at 2 (except July 16) and 7pm through July 16 at the Mountain View Center for the Performing Arts, Castro and Mercy streets, Mountain View. Tickets are $20-$38. (650.903.6000)
---
[ San Jose | Metroactive Central | Archives ]