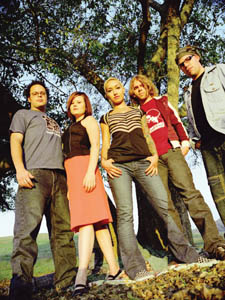 Devil With The Bluegrass On: The Duhks cover Leonard Cohen and Sting on their latest record.

The Mighty Duhks

Winnipeg's Duhks attract fans with an inventive take on bluegrass

By Geoff Wong

AS A GOOD vintner would say, sometimes it's all about the right pairings. Take the DUHKS, who perform Wednesday (June 29) at Espresso Garden and Cafe in San Jose. The band's second and latest CD was co-produced by banjo wizard Béla Fleck and Gary Paczosa, who has monster "roots & beyond" cred through his engineering and mixing work on albums by Dolly Parton, Dixie Chicks and fiddler Mark O'Connor.

Fleck is a leading banjoist who is equally at home playing bluegrass, performing through-composed electric instrumental fusion with his band the Flecktones. The Duhks (pronounced like the waterfowl), in turn, are Fleck's cosmic cousins—five twentysomething musicians from Winnipeg, Manitoba, that can rock the traditional and bring virtuosic authority to the modern. Within the band, there's also a sense of complementary symmetry by way of multi-instrumentalism and vocal flexibility. This gives the quintet multiple options and a bigger sound than one might expect from just five musicians.

Tania Elizabeth plays fiddle and a bit of mandolin, while Jordan McConnell is mainly a guitarist but does contribute uilleann bagpipes to a pair of tracks on the new album, which was released in February by the Sugar Hill label. Leonard Podolak is the band's resident five-string banjoist, though he does double on fiddle, as well. Lead vocals are the domain of Jessica Havey, while Podolak, McConnell and Elizabeth share lead as well as harmony singing. And then there's percussionist Scott "Señor" Senior, whose beat arsenal ranges from traditional drumkit, shakers and bells to tabla, conga and pandiero.

In another case of textbook pairings, the Duhks are booked at the intimate yet accommodating Espresso Garden venue. The establishment has been host to many a stylistically eclectic concert, and the Duhks are likely to encompass many of those genres in a single show. The group was assembled by Podolak, whose father, Mitch, is the founder of the Winnipeg Folk festival. The members brought their knowledge of myriad folk traditions from Cape Breton, the Appalachians, the United Kingdom, Ireland, Cuba and Brazil.

Scanning the credits to the new album, one gets a sense of the band's range. There are four traditional folk numbers and four more that are incorporated into a pair of medleys. There's also a number by Irish singer/songwriter Paul Brad and, on the wider known end of things, "Everybody Knows" by Leonard Cohen and Sting's "Love is the Seventh Wave." The Duhks' take on the Cohen classic actually sounds like the later, darker work of another Canadian band, Barenaked Ladies. Podolak and Elizabeth's banjo and fiddle, dueling in stereo, definitely remind listeners that it's The Duhks they're hearing.

For the Sting staple, there is that same sense of wavelike motion found on the original recording, thanks to Podolak's "clucking" rhythmic playing and McConnell's guitar work. But Senior's wood block, vibraslap and conga accents plus two interpolations of the jiglike "The Arch of Abundant Love" ensure that the arrangement is well grounded in Duhk-land. If the Duhks have a mission statement, it can be found in a recent quote from Podolak: "Folk music is supposed to be the music of the people, right? Well, 'the people' are what you see all around, and part of what makes our music is mainstream music.

"The world is changing. The people in the audience might be listening to Eminem two minutes before they listen to us. We want to redefine not just 'folk', but what 'pop' music can be," he continued. "It doesn't necessarily have to be all drum machines and synthesizers, or electric guitars. We can play pop music on these acoustic instruments."
---
Send a letter to the editor about this story to letters@metronews.com.
---
[ Silicon Valley | Metroactive Home | Archives ]