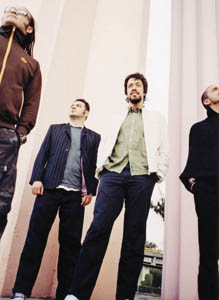 Combo Rockers: A new DVD captures Café Tacuba's two-night stand in Mexico City.

Sweat, Beer and Roq y Roll

As one journey ends for Café Tacuba, another begins

By Chuy Varela

SINCE CAFÉ TACUBA began 16 years ago, the celebrated Spanish-language rock band from Mexico City has touched a generation on both sides of the border, singing songs about their lives and realities. Fueled by diverse influences from folkloric to pop, it's combo rock that blends Beatles melodies with various Mexican musical shades. The latest album for Café Tacuba is Un Viaje (A Journey), a collection of the group's greatest hits performed live. The 3CD+DVD box set was edited from shows last year in their hometown. What you hear, and see, is a well-honed, charismatic unit charmed by their fans.

"Last year, we celebrated 15 years together and decided to throw a party for our anniversary," says Emmanuel Del Real, or "Meme," the keyboardist for the band. "We started preparing the show and brought out a lot of songs we hadn't played in a long time. So for posterity we decided to record the shows in audio and video at the Palacio de los Deportes."

What transpired was a euphoric bonding between Tacuba and its fans in the huge outdoor soccer stadium. It displayed not only the evolution of a band but of friends.

"It's been an adventure," Del Real says. "We're learned a lot together and respect each other, realizing the end is our music. What keeps us together is creating music. Aside from being really good friends we still have our differences, but we have learned to separate work and friendship. It's something special when we get together."

Meme, lead vocalist Ruben Albarran and the Rangel brothers, Joselo (guitar) and Enrique (bass), have come along way since playing in a garage in their suburban Mexico City neighborhood. Around 1989, they performed at the local rock club Hijo Del Cuervo and circulated spots like El 9, El Tutti Frutti and Rockotitlan. It was a time when they were discovering bands like the Cure, the Clash and Violent Femmes and creating their sound.

After years of sweat, beer and rock & roll, Café Tacuba signed with Warner Music in 1992. The group has sold millions of records and collected a Latin Grammy and is considered a pioneer of the Latin Alternative genre. Hits abound on Un Viaje like "Ojalá Que Llueva Cafe," "Chilanga Banda" and others. The album begins with the megahit "Maria." The audience's collected lung capacity overpowers the PA, and the band vamps for them before Albarran jumps in.

"There were so many people there," says Meme, remembering the concert, "I got goose bumps. To have the respect and love of so many people is a great gift. It is a reciprocal relationship; we have given them something, and they give back joy. Our fans have helped us a lot on this amazing career."

By the time the band gets to its cover of the old Leo Dan hit "Como Te Extraño" the crowd is ecstatic but grows melancholic. In a monologue, Albarran, or Sizu Yantra (he takes on a new name for each album), talks to them as if they are two lovers realizing their time together will soon be over.

Café Tacuba performs this Thursday at the Mexican Heritage Plaza in San Jose with Kinky and Ely Guerra. Meme understands they may not get the estimated 170,000 fans they drew to El Zocalo, the giant public plaza in the capital, for the release of Un Viaje. However, it's all good to them—having made many friends performing in the South Bay since the mid-'90s when the Watcha Tours used to roll through the Fairgrounds. They will play a lot of things from Un Viaje and some teasers from an upcoming unplugged album, and some material perhaps for the last time. As one journey ends, another begins.
---
Café Tacuba performs Thursday, June 30, at the Mexican Heritage Plaza, 1700 Alum Rock Ave., San Jose. Kinky and Ely Guerra open. The show begins at 7pm and tickets are $35 and available through Ticketmaster. Call 408.928.5500 for more information.
---
---
Send a letter to the editor about this story to letters@metronews.com.
---
[ Silicon Valley | Metroactive Home | Archives ]