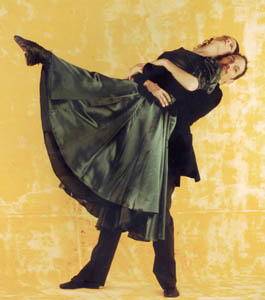 Impromptu Affair: Lori Seymour and Michael Howerton re-created the romance between Chopin and George Sand.

Couples Therapy

Margaret Wingrove peopled her latest program, 'Rachmaninov Variations,' with passionate pairs

By Marianne Messina

RODIN'S SCULPTURES from his project The Gates of Hell, such as The Danaide or The Kiss, often look as if he'd simply peeled away enough rock to reveal a thing embedded or to realize a potentiality of form. In focusing on these sculptures, the Margaret Wingrove Dance Company's latest offering takes it one step further by releasing the object from stasis and realizing a potentiality of motion.

The Danaide and The Kiss, both premiere pieces for Wingrove's latest program, titled "Rachmaninov Variations," begin and end with the dancers departing from and sinking back into platforms shaped like rough-hewn rock. Emerging from the pose of Rodin's balled-up, fallen Danaide in an anguish of movement (the mythological Danaide is condemned to an impossible task of lading water using a bottomless vase), Kerry Rapp energized the evening early in the program. Rapp made her long blonde hair a component of the moving sculpture, just as Danaide's hair fuses with the rock in the Rodin.

Wingrove provided choreography that confined Rapp largely to the ground level and in variations on the fetal theme captured in the enticing Rodin. In her performance, Rapp managed both to embody the human anguish and to emulate the fluid accommodation of water itself. Interestingly, in becoming like the water, Wingrove's Danaide seems to arrive at a kind of victorious acceptance before sinking back into the pose of someone spent.

In addition to the two Rodin pieces, the dance program included an ensemble work called Open Doors, also to music of Rachmaninov (emphatically played by pianist Tamriko Siprashvili). Dedicated to Leonardo da Vinci's thought that man must not be put off from "learning, exploring and experimenting" by his failings, this piece uses outstretched arms with searching, extended fingers to suggest that the key is openness.

In the movement titled Balance, Agility and Harmony, Matt Kovac lifts and balances Jennifer Evans in some incredibly strenuous moves, including a reference to Rodin's Thinker, in which the squatting Kovac, finger to his cheek, balances Evans on his horizontal thighs. And this after lifting Catharine Grow up by one leg and then bench-pressing her over his head in The Kiss. That demanding dance was the crowd-pleaser for sure, partly because of Grow's surreal lightness, but also the tenderness of the moves, the subtle touches—Kovac lightly brushing Grow's legs as he set her down.

As the dance champion of couples, Wingrove peoples her dance program with them. In the Engagement Waltz, Kovac and Janine Bryan danced the engagement of Theo and Jo Van Gogh to the music of Johann Strauss. And in another premiere work, Impromptu, Michael Howerton and Lori Seymour enacted the rich relationship between writer George Sand and Romantic composer Chopin.

Few could handle the part of the strong, creative George Sand the way Seymour did in her maroon velvet coattails. Seymour called on an inner smoldering as she lifted Howerton or forced him to bend backward in a standoff. And Howerton, his lines so elegant in fitted black-velvet jacket, maximized the effect as he poured a handstand down toward a sheet of his beloved music on the floor until he was barely touching it with his nose.

Even the pianists in this program, the husband-wife team of Mark Anderson and Tamriko Siprashvili, reflected Wingrove's fondness for couples. It is unfortunate that unlike Rodin's sculptures, Wingrove's productions are so fleeting, for these are mature and subtle works that could settle ever deeper on repeated viewings.
---
Send a letter to the editor about this story to letters@metronews.com.
---
[ Silicon Valley | Metroactive Home | Archives ]