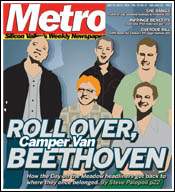 For the Week of
June 30-July 6, 2004
Cover Story: Get in the Van:
Without Camper Van Beethoven, there would be no indie rock. They're really sorry about that. But the good news is they've gotten back together to put all the whining alt-pop imitators to shame.
News: Winning Grandma Millie's Vote
The attorney general's bottom line with Enron.
The Fly: This week's political bites.
Mano a Mano: Gay marriage comes to video games.



Biter: A dark night of Scott Peterson conspiracy theories.
Techsploits: Sen. Orrin Hatch wants to put the smackdown on people who 'induce' copyright infringement.
Rev: Besides keeping your hands on the steering wheel, don't get out of the car and don't make any sudden movements.



Bigger Than Life: Richard von Busack on the career of Marlon Brando.
Crawl Space: In 'Spider-Man 2,' director Sam Raimi creates a true working-class superhero.
Ransom: Class-war drama 'The Clearing' asks, Who wants to kidnap a millionaire?
Lawn-Chair Brigade: Cinema San Pedro film series screens free films every Wednesday during the summer.



McMurtry's Law: James McMurtry helps us clear up five popular misconceptions about live records, the universe and everything.
Aural Fixation: Get ready for a sweaty workout as film star-turned-rock siren Juliette Lewis' band heats up the Vans Warped Tour.



Bill of Particulars: Bill Clinton's 'My Life' is 957 pages long, but we know some shortcuts from Hope to Washington, D.C.



Gift of the Gods: Evvia's Greek influence deserves a bow from above.



Tip-Top Kit Kat: The TOSPS 'Cabaret' beats sitting alone in your room.
Early Bloomers: San Jose Rep shows off its 'Underpants.'



Please don't forget to write! Metro welcomes letters. Like any great work of art, they should be originals — not copies of letters sent elsewhere. Include address and daytime phone (for verification purposes only). Letters may be edited for length and clarity or to correct factual inaccuracies known to us. Postal: Metro Letters, 550 S. First. St., San Jose, CA 95111. Fax: 408/298-0602. . Emailers, please include name, city of residence and phone number. Letters printed will list email address unless otherwise specified. Letters to the editor are not currently published in the online version of this paper.