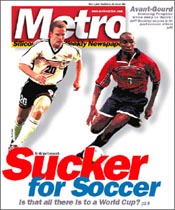 For the Week of
July 2-8, 1998
Cover: Just For Kicks
Metro reporter Michael Learmonth travels to the World Cup in France to watch the U.S. team be slaughtered on the international stage. With 13 million kids playing organized soccer within its borders, what is the U.S.'s problem anyway?
News: Pie in the Sky
A team of San Jose engineers is hard at work to win $250,000 and bragging rights for the world's first homemade spacecraft.
Public Eye: San Jose's Latino voters reject Prop. 227.
Creepy Calling: Woman brings bugs into the sterile environment of the corporate office cubicle.



The Fine Art of Turning Inside Out
'Tis the season for Metro's guide to summer indulgences, with outdoor concerts, theater and our best picks for relaxing daytrips. There's also day-by-day calendar of summer events that you'll want to bookmark for the long and luxurious days ahead.



Squashed Hopes: The Smashing Pumpkins' Adore CD doesn't make the cut for Gina Arnold; Jeff Buckley's posthumous release includes more unfinished songs than he would have wanted anyone to hear.
Latin Fever: The big names in Bay Area Latin music converge on the America Festival.
Audiofile: Reviews of the latest CDs by Trumystic Sound System, Black Eyed Peas and Randy Travis.



Indian Runners: Traveling the West with a Native American nerd and his bitter friend in Smoke Signals.
Peat and Repeat: Indie Irish hit I Went Down is a too-familiar shaggy-dog story.
Shallow Impact: Armageddon blows up on the big screen.
Gone With the Windy: Talkative screenwriter fills in the hidden history of Gone With the Wind.



Sensitive 'Folly': TheatreWorks finds common ground in Lanford Wilson's Talley's Folly.



Superman Versus the KKK: The Man of Steel's forgotten past as a Klan-fighter remembered.
Yada Yada: Elizabeth Wurtzel strips for action in Bitch: In Praise of Difficult Women.
Book Briefs: Short reviews of The Queen of Whale Cay and The Exes.



Finger-Lickin' Goods: Suwon Korean BBQ dishes up a tasty alternative to the Western-style barbie.



Please don't forget to write! Metro welcomes letters. Like any great work of art, they should be originals -- not copies of letters sent elsewhere. Include address and daytime phone (for verification purposes only). Letters may be edited for length and clarity or to correct factual inaccuracies known to us. Postal: Metro Letters, 550 S. First. St., San Jose, CA 95111. Fax: 408/298-0602. . Emailers, please include name, city of residence and phone number. Letters printed will list email address unless otherwise specified. Letters to the editor are not currently published in the online version of this paper.