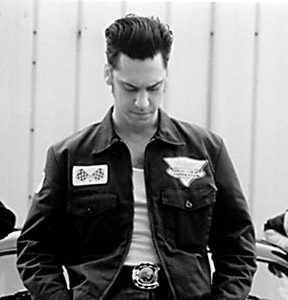 Jesse Dayton is king of the road.

Honky-Tonk Hero

Texas guitar slinger Jesse Dayton returns to the West Coast

By Sarah Quelland

IT'S SUMMERTIME IN SOUTH AUSTIN, and Jesse Dayton is standing in front of his house checking out his new pride and joy: a black 1950 Ford coupe that's been totally hot-rodded. "I'm wondering what excuse I can make up to go get in my car and go get some gas, maybe, or just go drive it for a little while," he says in his slow Texas drawl. "I wish I could drive it everywhere on tour, but it's totally not practical," he laughs. He's got a new tour bus for that.

The Hootenanny Festival in Fullerton is bringing Dayton and his trio to the West Coast. "It's the Stray Cats reunion and Social Distortion and Reverend Horton Heat, and we're on the bill too, thank you very much!" he says proudly. As long as they're out this way, they're going to make a couple stops in the Bay Area as well, playing July 8 at the Blank Club and again July 9 at the Elbo Room in San Francisco.

Dayton has been extremely busy of late. Not only did he just finish recording a cover of the Cars' "Just What I Needed" for a split single with the Supersuckers (featuring their cover of the Commodores' "Sail On"), but he's also working on the follow-up to Hey Nashvegas!

"The new record is gonna be drenched in classic honky-tonk, but there's some real cool '70s funky, swampy stuff," he explains. "It's kinda early-'70s country meets Texas singer/songwriter stuff. It's a real upbeat record. It's got all the feel-good shit from Raising Cain, but it's also got the sound to Tall Texas Tales."

The as-of-yet-untitled album is being recorded in Austin. "There's so many hot players in south Austin, it's amazing," he says. "You can just call up people to come over and play on your record, and you're like, 'Wow! This guy's the shit! It's huge.'" He won't divulge who he's lined up for the new album, but the Dixie Chicks guested on Hey Nashvegas!

Dayton also co-wrote a play called Balmorhea, about a small West Texas family of cattle barons. "It's kinda based on a true story," he explains. "The hero in the story is having problems with his family 'cause he's gonna go off to this Eastern school and become a writer, and he gets cancer and goes to Mexico to these healers, and it's a long, convoluted thing." He wrote it with his best friend who almost died of cancer. "His cancer went into remission, and we loaded up the car and went on a road trip and wrote this play," Dayton tells me. "We started in L.A., drove to Balmorhea, then drove to Austin, then went to New Orleans and finished it."

Dayton is working with L.A.-based Lew Temple (who appears in the new Sean Penn/Benicio Del Toro film 21 Grams) on the production. He says they just did their first reading for it, got it funded and are already talking about adapting it for an independent film. "There's a lot of really cool Texas actors that we got in mind to work with us on this, and we're gonna add this really cool mariachi music throughout a lot of it 'cause Balmorhea is right on the Mexican border."

Lately, Dayton's been on a Cuban '50s dance-band kick. "Those bands swung harder than anybody around!" he says with enthusiasm. "But I listen to a lot of stuff. I grew up in Beaumont, Texas, right on the Louisiana/Texas border, and it was a gumbo of music." He was introduced to polka and zydeco at a young age and is well-versed in a variety of styles. His own is traditional country with a hip, swaggery edge. He puts on a scorching live show and is most commonly compared to George Jones and Elvis, which is fine by him.

"My ultimate goal for playing music has always been the same. Keep it cool and honest but try to reach as many people as you can." Still, this underground picker says, "I couldn't go pop if you put a firecracker in my mouth."

PLAN AHEAD: 6 A.M., Called to Ruin, Myzar, Rubbersidedown and Trash City Saints, July 3 at Waves Smokehouse; Kaito and Koufax, July 5 at the Outhouse in Los Gatos; Minus the Bear and Communiqué, July 6 at the Outhouse; Taylor & 9th, the Restitution and Baysik, July 7 at Waves.
---
Send a letter to the editor about this story to letters@metronews.com.
---
[ Silicon Valley | Metroactive Home | Archives ]