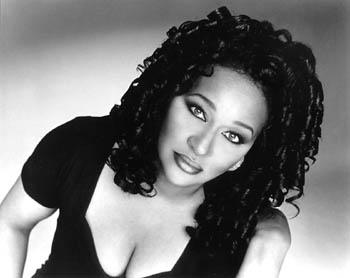 Night of the Hunter: Ann Duquesnay plays blues star Alberta Hunter in 'Cookin' at the Cookery.'

Comeback Queen

From blues belter to nurse to vocal diva--Alberta Hunter's amazing comeback is focus of new San Jose Rep show

By Rob Pratt

SOME PEOPLE sweat a career change after age 30. Not blues singer Alberta Hunter. After a 35-year musical career, she quit show business and earned certification as a licensed vocational nurse at 60, when most people get ready to retire.

But that's not the end of her unusual résumé. Forced to retire from nursing at age 82, she returned to singing and wowed audiences for another seven years--an astounding comeback that topped even the sensational return of bluesman John Lee Hooker, who revived his performing career while a mere child (relative to Hunter) in his 70s.

Now, more than a decade after her death, Hunter has made yet another comeback, this time as the subject of an award-winning Broadway play that chronicles the return of a Jazz Age icon--a star of stages in New York, London and Paris--to an adoring audience discovering her warmhearted music for the first time. The show, Cookin' at the Cookery: The Music and Times of Alberta Hunter, opens this week at San Jose Repertory Theatre Tuesday.

"In 1982, I was invited to see a blues singer in Greenwich Village at the Cookery--it was at Eighth Street and University Place, and it's now a Texas barbecue," says Ann Duquesnay, who plays Hunter in the show. "People outside were on line around the block, and inside when they introduced her, and she came out and started singing, I went, 'Oh, my what a presence!' She was very flirtatious."

And that was certainly a big surprise to her colleagues from the hospital. "When you saw Alberta walking around the halls of Goldwater [Hospital] starched and crisp in her uniform, you would never think that she could get up there and be so risqué and flirting," fellow nurse Mildred Crisp Littles told Hunter biographer Frank C. Taylor.

Cookin' at the Cookery, the first musical from Broadway actor and singer Marion Coffey, tells the story of a reserved woman who lived a dream life--celebrated on two continents, a star of stage, recordings and radio--who then disappeared from the public eye. It's the story of a woman who loved people but who shrank from adoring fans who wanted to talk to or touch her. It's the story of a woman who, as a teenager, lied about her age to get her first singing job and who, as an octogenarian, again lied about her age to keep her nursing position.

For the two actors in the show, Duquesnay and Janice Lorraine, it's also a demanding script that calls on each of them to play multiple roles. Duquesnay plays Hunter, as well as the singer's mother. Lorraine plays the narrator, Hunter as a young girl, Barney Josephson, the owner of the Cookery--and even Louis Armstrong.

"I think that was one of the gifts I was born with--the talent of mimicry," Lorraine says. "And I think that it was the audition for this part that brought it out in me."

Cool Blue

As a singer, Hunter is neither coy nor showy. On recordings made after her comeback, she sings with a laid-back feel and understated phrasing--neither Broadway belter nor dramatic jazz diva but elegant, soulful and charming.

"To learn the role I looked at tapes of her performing," Duquesnay says. "She's a contralto, so am I, so we have some shared qualities in our voices, but I have a much bigger voice than she does. She always wore dresses with something on her shoulders, so once I get that on ... it's a visible thing and people say, 'Oh my goodness, you sound just like her!'"
---
Cookin' at the Cookery: The Music and Times of Alberta Hunter previews at Wednesday-Thursday at 8pm and opens Saturday at the San Jose Repertory Theatre, 101 Paseo de San Antonio, San Jose. Shows run Tuesday-Friday at 8pm, Saturday at 3 (except July 12) and 8pm, Sunday at 2 and 7pm and July 9 at noon through Aug. 3. Tickets are $26-$66. (408.367.7255)
---
---
Send a letter to the editor about this story to letters@metronews.com.
---
[ Silicon Valley | Metroactive Home | Archives ]