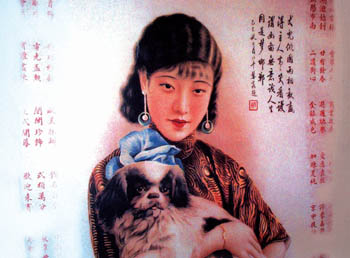 Photograph by Chris Revell

Citizens Cane: Diners at New Bamboo select from a menu that ranges from chow mein to salmon curry

Asian Persuasion

Culinary multitasking ascends new heights without missing a spicy beat at Palo Alto's Asian bistro New Bamboo

By Christina Waters

PAN-ASIAN: It's what's for dinner. Or so it seems, more and more--but the meaning of the marketing-friendly term often gets lost in a sea of so-called pan-Asian restaurants merely offering up sushi and dim sum under one roof.

Palo Alto's New Bamboo, however, more than lives up to its pan-Asian attitude. In fact, Bamboo stops at almost nothing to amuse your taste buds according to a Far Eastern sensibility. Chow mein, pad thai, kung pao chicken, salmon curry, sweet and sour pork, Mongolian beef and even pho pack a seasoning wallop something akin to the fiery eruption of Krakatoa.

Waiters with miles of style and a minimum of ceremony head up the appealing menus of New Bamboo. Pliant as thick gado gado, our waiter speedily served our glass of E. Guigal Côtes du Rhône ($4!) and a martini goblet filled with bracing lemon-grass mojito ($4.25). "Here you go, miss." By the time we saw him bearing our green-glazed platter of freshly made potstickers ($4.75), we were "guys"--as in, "I'll be right back with you guys' entrees." And he was as good as his word.

The high-ceilinged interior of the former Mojo is still very Left Bank, with its tiny cafe tables, tiled floor and huge framed mirror. But the front sidewalk expanse of wicker chairs and white-linened tables is the place to be. Embraced by two huge blackboards listing myriad Asian-fusion food ideas, the alfresco area affords prime Palo Alto watching.

Carmella and I made short work of the sensational potstickers with soy-sake-lemon dipping sauce while discussing our plans for appearing on Larry King after we write our blockbuster novels. Our waiter was full of great menu suggestions, but "us guys" had already formed very specific dinner ideas. And when our huge platters of fragrant, very freshly prepared house specialties appeared, we started a delicious one-way journey to the East.

Did I say that Bamboo is devoted to making sure you get enough to eat? Our three entrees, plus one platter of steaming white rice the size of Mount Fuji, literally covered our entire table. Carmella dined like an empress for the next two days on her share of the take-away excess. The sensuous portions and breezy ambience almost fooled us into not taking Bamboo too seriously, gastronomically speaking. But make no mistake, New Bamboo is quite serious about its dishes. The food was outstanding, and for the price, it was easily the deal on the peninsula.

As to which set of robust flavors made the biggest impact on me, it's a tough call. Huge squares of salmon fillet had been expertly bathed in a medium-spicy green curry ($10.95), pumped up with chiles and a hit of coconut milk that was liberally laced with crisp green pea pods, shiitake mushrooms, basil and tomatoes. With just enough heat to provoke a slight sweat (in me, not the salmon), it was everything a Thai curry should be. Succulent Japanese eggplants shared their dish with acres of generously diced chicken breast in a glaze of miso and mirin, all sticky sweet with an afterburner of spice and a hint of something like tamarind and Szechuan peppercorns ($9.95).

The great thing about Bamboo's "family-style" presentation is that we could help ourselves with abandon (and the largest spoon I'd ever seen) from the shared platters. Another hit was a dish of long green beans, cooked perfectly al dente, stir-fried with garlic, shrimp and cubes of tofu ($10.95). It arrived garnished liberally with a topping of caramelized onions, and it, too, carried its own freight of chile-powered heat. Rising above the usual one-flavor-fits-all preparation I've experienced at other ambitious multicultural restaurants, Bamboo's talented chefs inflected each dish with individuality. Each set of spices, each sauce, bore its own identity and memorable flavor signature. Check it out immediately.
---
New Bamboo
Address: 543 Emerson St., Palo Alto
Phone: 650.323.7700
Hours: Lunch 11am-5pm Mon-Fri; dinner nightly 5-9:30pm, till 10pm on weekends
Cuisine: Asian fusion
Price Range: Inexpensive
Full bar
---
---
Send a letter to the editor about this story to letters@metronews.com.
---
[ Silicon Valley | Metroactive Home | Archives ]