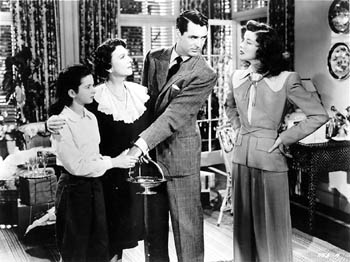 Marital Memories: Katharine Hepburn and Cary Grant play spatting ex-spouses in 'The Philadelphia Story.'

Philly Filly

The Stanford honors Katharine Hepburn with two screenings of 'The Philadelphia Story'

By Michael S. Gant

FIRST Gregory Peck, then Katharine Hepburn; for a film-lover, the double jeopardy is almost too much to bear. Just as Lillian Gish's passing, a decade ago at age 100, seemed to sever our last significant tie to the grand silent-film era, so Hepburn's death this week, at 96, comes close to shutting the book on the golden era of the Hollywood studios.

In her utter distinctiveness, her unassailable uniqueness, she has no modern equivalent. Her New England Brahmin accent (she was born to a well-off Hartford, Conn., family), the upward sweep of her hair, her sculptural chin line, even, later in life, the familiar quaver of her head--these unmistakable markers cemented her reputation. She could come across as mannered, but that quality was never distracting. After all, she created her own manner.

To commemorate Hepburn's remarkable career (four Oscars, 12 nominations), the Stanford Theater in Palo Alto has added two showings of The Philadelphia Story (July 3 at 5pm and July 5 at 11pm) to its summer schedule of Hollywood favorites. The film, in which Hepburn plays a rich young woman who finds herself bouncing between a no-nonsense down-to-earth reporter (Jimmy Stewart) and her rakish ex-husband (Gary Grant), represented both an on- and offscreen triumph.

Although Howard Hawks' sublime screwball comedy Bringing Up Baby is now firmly enshrined as a classic (Grant and Hepburn's physical and verbal timing is precise enough to set an atomic clock by), it failed to rouse audiences in 1938, and Hepburn's career was in the doldrums. After appearing in Holiday that same year, Hepburn befriended playwright Philip Barry. With Hepburn in mind, Barry wrote The Philadelphia Story. Hepburn took the role of the independent-minded, high-society heiress Tracy Samantha Lord on Broadway, then packaged the screen adaptation (with George Cukor directing) for MGM in 1940. The film featured impeccable pacing, thanks to Hepburn's comfort with Cukor (who had directed her four times previously) and Grant (with whom she had co-starred in Sylvia Scarlett, Holiday and Bringing Up Baby), and scored at the box office, earning Stewart his only Best Actor Oscar. With the leverage gained from The Philadelphia Story, Hepburn sailed past the critics into one of the longest second acts in film history.

Later this summer (Aug. 16-19), the Stanford will screen The African Queen (1951), in which Hepburn plays a prim spinster to Humphrey Bogart's grizzled river-boat captain. It's a much-beloved romantic adventure, although somewhat distorted by the iconography of its stars. Perhaps with luck, someone will revive Long Day's Journey Into Night (1962), with Hepburn as an addled, drug-addicted mother pitted against Ralph Richardson's besotted, failed-thespian father in Eugene O'Neill's portrait of family life in the lowest rungs of hell. She gives a scary, penetrating performance that has been swamped by lesser but more celebrated late-life turns in The Lion in Winter, Rooster Cogburn and On Golden Pond.
---
The Philadelphia Story shows at 5pm with Lawrence of Arabia (7:30pm) on July 3; and at 11pm with The Wizard of Oz (3:50 and 7:30pm) and The 5,000 Fingers of Dr. T. (5:45 and 9:25pm) on July 5 at the Stanford Theater in Palo Alto.
---
---
Send a letter to the editor about this story to letters@metronews.com.
---
[ Silicon Valley | Metroactive Home | Archives ]