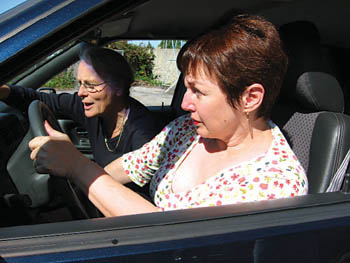 Wheel Life: Mother (Martha Stookey) and daughter (Neva Marie) try to chart a course through uncertain territory in 'Vehicle.'

A Vehicle for Coping

Pear Avenue Theatre explores the angst of aging

By Marianne Messina

AFTER THE Pear Avenue Theatre's Sunday performance of Vehicle, most of the audience remained to hear the actors and in-house playwright Elyce Melmon discuss the making of the play. It was the kind of play you wanted to hear more about. Both touching and humorous, Melmon's Vehicle unfolds the story of a woman named Christina (Neva Marie, magnetic as always) dealing with the progressive loss of her mother, Claudia (Martha Stookey), to Alzheimer's disease. According to Melmon, problems of this scope force people into major life shifts, and "the only way to cope is if you have some vehicle inside you that gets you from one place to another." Can you say existential angst?

The production's power comes not so much from its portrayal of the disease, but from the space for growth it allows the other characters. While they're drawn into the unraveling of Claudia's life (as Claudia, Stookey's youthful, cigar-smoking feminist was slightly more believable than her feeble nursing-home client), the characters around her experience all the steamy stuff of life. The play features two very powerful climactic scenes, one when Christina is driving her mother to the nursing home and one in which Christina and her husband, Jason (Patrick Brady), argue about his emotional distance.

Brady broke through the stiffness that entangles many male actors to give his Jason fluidity and make us believe that remoteness is merely a defense to help him, as Brady later put it, "roll over" his problems. Amazingly, this scene was a late addition to the play. One week before opening night, instinct told director Jeanie Forte that the couple's plot needed closure. Forte contacted Melmon (vacationing in Alaska), who dashed off the crucial scene in a creative collaborative effort rarely enjoyed by local theaters.

This production did, however, have a problem with pacing. The characters' responses always seemed to be 1/16 of a beat behind real time, which actually seems to be a function of the Pear's tiny size--as Marie put it, "I heard someone coughing; I wanted to give them some water." In fact, in this space, you tend to want the actors to step on each other's lines and you find intimate scenes (hugs, for example) crying out to bring up the music, to offer us some distraction from the creeping sense of voyeurism.

But in other areas, the production made clever use of the space, most notably with the sound effects. When everything is at such close range, the sound of a car or a bird (two of Vehicle's aural leitmotifs) can be quite realistic. Forte even made sure that the car peeling out of the driveway was the authentic sound of a Porsche 912. This kind of energy and close attention to detail is in keeping with the company's creative optimism and part of the reason the Pear's Vehicle is already trying to cope with sellout shows.
---
Vehicle plays Thursday-Saturday at 8pm and Sunday at 7pm (July 6) and 2pm (July 13) through July 13 at the Pear Avenue Theatre, 1220 Pear Ave., Mountain View. Tickets are $15/$10. (650.254.1148)
---
---
Send a letter to the editor about this story to letters@metronews.com.
---
[ Silicon Valley | Metroactive Home | Archives ]