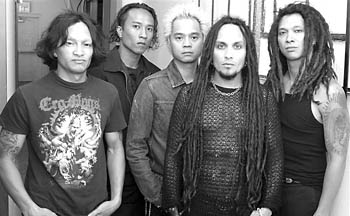 Death Angel rides again in San Francisco and Sacramento.

Closing Time

Old and new school bands turn out for Cactus finale

By Sarah Quelland

THE TURNOUT for the CACTUS CLUB's final weekend was phenomenal. It was wall-to-wall people from start to finish, Friday-Sunday (June 28-30) as people piled into the hot and humid club to catch their favorite bands one last time on the well-worn Cactus stage.

The lineup of REACTION 31, ELEMENT OF SURPRISE, MOVEMENT, STARCH, TWO STEPS BEHIND, A BURNING WATER and SORA packed the place on Friday. INSOLENCE, along with LAVABONE, MOODFRYE, SUPERCHANNEL, the RESTITUTION, KEEPING ELLIS, QUITTER and UNJUST, sold out the club early on Saturday. People waited in line for hours and never got inside. Sunday's all-star lineup of old Cactus alums--including UNDERMINERS, COTTONHEAD, GREY MATTER, NEVER SAY NEVER, SUGARBOMBS, SOCIAL CLUB, HAYRIDE TO HELL, the KINGPINS and the FRONTIER WIVES--plus a repeat performance of by STIKMON's Helmet tribute band, BRAINBUCKET, brought out the old-school Cactus crowd. People who hadn't been there in years turned out to bid farewell to the beloved club. With all the hugs going around and pictures being taken, it looked like a family reunion. Even more than that, it had the feel of a SoFA Street Fair, with people spilling out onto the sidewalk and ducking back and forth across the street between Cactus and South First Billiards. Inside, the Cactus was one huge standing-room-only party. Before the night was over, the bar was practically dry, and people were ordering shots of anything with alcohol.

Though AGENT ORANGE was scheduled to headline Sunday's show, the band canceled. It was fitting though, that San Jose trio the ODD NUMBERS--the Cactus Club's house band if there ever was one--was the last group to perform on that stage.

Despite some speculation to the contrary, the crowd was mellow and relaxed. Extra police were sent to monitor the club, and four cop cars were conspicuously parked in the middle of South First Street. But despite the large amounts of alcohol consumed and the huge turnout, there were no significant problems. The officers looked bored and ready to go home. When the Odd Numbers finished their set, everybody scattered and staggered into the night without incident.

It's hard to fathom that after all these years, the Cactus Club is really gone. As I left the club, I couldn't believe that I was walking through those doors for the last time. It was a very sad feeling.

ALL THE NEWS: The free MUSIC IN THE PARK series kicks off next Thursday (July 11), 5-8:15pm, at PLAZA DE CESAR CHAVEZ with EEK-A-MOUSE. ... The free family-friendly SUMMER SOULSTICE CULTURAL FESTIVAL takes place next Saturday (July 13) at ROOSEVELT PARK in San Jose with performances by JULIO BRAVO Y SU ORCHESTA SALSABOR, the LATIN GROOVE BAND, LONDON, MYSTIQUE and DUB FX. Dub FX also plays Saturday (July 6) at PLANT 51 with DUB CONGRESS. ... The VANS WARPED TOUR will be held next Saturday-Sunday (July 13-14) in the parking lot at PAC BELL PARK. Locals MOODFRYE are scheduled to play the Ernie Ball stage on Saturday. Visit www.warpedtour.com/dates_pix2.html and click on the San Francisco dates for a full lineup.

The benefit concert held last Saturday (June 29) at Plant 51 with LISA DEWEY and RACHAEL SAGE was a success, netting more than $800 for the medical fund of cancer survivor Larry Shein. ... The SAN JOSE JAZZ FESTIVAL is searching for volunteers to staff booths and serve refreshments at the free event, which takes place Aug. 7-11. Visit www.sanjosejazz.org/volunteer.html for more info. ... A reunited DEATH ANGEL will perform this Friday (June 5) at the BOARDWALK in Sacramento with SKINLAB and again Saturday (July 6) under the name KILL AS ONE at the POUND in San Francisco. Visit www.swarminfo.com for more details.

PLAN AHEAD: TENFOLD, FIGHTING JACKS, LEISURE and others, July 5 at the Pound; NEXT IN LINE, EMANEHT and WIT'S END, July 6 at GASLIGHTER'S MUSIC HALL in Gilroy.
---
Send a letter to the editor about this story .
---
[ Silicon Valley | Metroactive Home | Archives ]