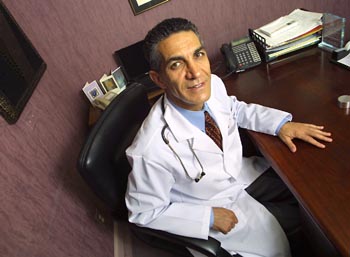 Photograph by George Sakkestad

Helping Hand: Surrounded by controversy, Dr. Camran Nezhat says he has faith that the truth will prevail, and hopes Stanford's investigation proves he and his brothers are innocent of the charges against them.

The Scalpel and the Damage Done

Stanford golden boy Dr. Camran Nezhat and his brothers have worked hard to build their reputations as pioneers, and as some of the world's best gynecological surgeons.But former patient Stacey Mullen and a growing number of doctors say it's all based on fraud, corporate sponsorship and experimentation on women.

By Mary Spicuzza

STACY MULLEN CAN'T remember feeling any pain when she first awoke from the anesthesia. That would come later. The year was 1991, and the 30-year-old Southern California woman had no reason not to trust her nationally renowned surgeons, Camran and Farr Nezhat. She had traveled miles from her home near Palm Springs, California, to Atlanta, Ga., to have surgery performed by the famous brothers, known as pioneers in the field of gynecological surgery. In their office the national magazine articles praising the Nezhats and their high-tech methods of replacing open surgery with a procedure using lasers and cameras, known as "minimally invasive" and "Band-Aid" surgery, reassured her that she was in good hands.

Before the surgery Mullen was an active, 5-foot-7-inch, 125-pound woman whose favorite method of stress relief was long-distance running. Most doctors would have called her healthy, except for a chronic pelvic pain that by her late 20s had turned unbearable. Mullen finally found a doctor who diagnosed her with endometriosis--a disease believed to affect more than 5 million women in the United States alone. A fairly common but poorly understood disease, endometriosis can cause crippling pain when tissues from a woman's uterus travel into other areas of her body, forming tumors, lesions or growths. While it must have been comforting for Mullen to finally understand her disease, endometriosis can be a terrifying condition--while not fatal, it causes infertility in about 40 percent of cases. There is no known cure, nor is there a proven method of preventing the disease from spreading into other organs.

Facing such risks, it's no wonder Mullen flew across the country seeking the world's best care. Plus, the Nezhat brothers had already operated on Mullen just a few years before, using the laparoscope to laser away her endometriosis from her pelvic area.

"I was out of pain for the first time in years," Mullen says of her first Nezhat surgery in 1988. "It was amazing."

But the agony soon returned. In 1991 Mullen and her doctor agreed on another trip to Atlanta for her second Nezhat procedure. She took great comfort in what the Nezhats told her: don't worry about the surgery; they would take care of everything.

Before boarding her plane bound for Georgia, Mullen even stopped to buy Camran Nezhat a gift, a massive package of dried fruits. She was worried that she had offended the famous doctor by asking him for assurances that the surgery wouldn't be experimental.

"I got there and they told me it was going to be no big thing; they told me it was going to be easy," she says, adding that she readily signed what she thought was a consent form. It later turned out to include an unorthodox "waiver of right to receive information" about her surgery.

Inside an operating room at Northside Hospital in Atlanta, where the surgeons practiced, Camran Nezhat led the procedure assisted by his younger brother, Farr, and colorectal specialist Earl Pennington. The surgery, as it turned out, was nothing like the first. The three performed an unusual procedure called a rectal resection, what they called a "rectal pull-through." They cut away enough nerves and blood vessels from the colon so that it could be pulled through the anus and worked on outside the body. The doctors removed suspected endometriosis from Mullen's bowel, then reinserted it into her body. The Nezhats would later write journal articles about the surgery, proposing it as an alternative to open surgery for thousands of women. Other doctors now call the procedure "bizarre," "barbaric" and "experimental." Expert witnesses testify that to this day there is no data to establish its safety, and that female pigs used in a 1992 study were euthanized after a similar procedure.

Stacey Mullen, however, didn't know any of this before the surgery. "I had no reason not to believe them," Mullen says. "Who doesn't believe their doctor? If you can't trust your doctor, who can you trust?"

But once awake, she says, it became quite clear that something had gone horribly wrong.

"I awoke, [the nurse] pulled out the catheter and told me to go to the bathroom," Mullen says. "And there you have it."

She says it was then that a foot-long segment of her bowel fell out of her body and into the hospital toilet. She remembers terrified nurses creating a sling for her bowel made out of pillowcases. When Dr. Pennington arrived to push the portion of bowel back inside her body, Mullen passed out from the pain.

Trials and Tribulations

TEN YEARS LATER, the Nezhats' attorneys now argue in the Georgia courts that only one inch, not one foot, of bowel actually fell out of Mullen's body. They say the Nezhats aren't to blame for her ensuing health problems, which have persisted past her third Nezhat surgery--where they tried to correct her complications and removed Mullen's only remaining ovary.

Eight years into the lawsuit, the case has put the Nezhats under national scrutiny. Mullen and her story raise troubling questions about medical ethics, experimentation on women, corporate sponsorship of doctors, and whether the pressure to be "pioneers" is leading gynecologists to place surgical firsts before the safety of female patients. Mullen says the Nezhats are guilty of all of the above.

The Nezhat brothers hold positions at Stanford Medical Center, where Camran Nezhat serves as the director for the high-tech Stanford Endoscopy Center for Training and Technology. The stakes are high for the brothers, and for the prestigious medical center.

In one of the most epic medical malpractice suits ever, the Nezhats' lawyers filed complaints against Mullen's former attorney, Jim Neal, until he was kicked off the case for "unethical behavior." They argue that Neal is obsessed, and that Mullen and others are merely leading a massive smear campaign against the Nezhat family. Then this spring two Stanford doctors, both critical of the Nezhats, filed suit against the medical center, alleging that they are whistle-blowers being punished for speaking out against the brothers' practices.

"This has become more vendetta. It is not medicine. It is not lawyering," Camran Nezhat says of his critics. "It has become a public humiliation campaign of a group of people to simply destroy an American success story."

Meanwhile, Mullen says she feels like she's the one on trial. She recently returned from a trip to Atlanta for court depositions, where Nezhat lawyers questioned her about the first and last names of every sexual partner she's ever had.

Still, she hopes the tape of her third surgery will cast some light on the Nezhat's character, recalling that one of the Nezhats commented that she was "relatively attractive" and Pennington answered, "Yeah, but she's crazy as a loon."

E is for Ethicon: When it comes to corporate sponsorship, Stanford Medical Center and its embattled doctors have discovered the ties that bind.
Spin Doctors: The Nezhat brothers are in good hands with "$400-an-hour fireman" Michael Sitrick and his public relations firm, Sitrick & Company Inc.

Heat Is On
STACEY MULLEN is flustered about being late when she meets me at the Coco's Restaurant in desertlike Cabazon, Calif. From the restaurant window she points out Hadley's fruit stand, where 10 years ago she picked up a gift for Camran Nezhat before her controversial Nezhat bowel surgery. She apologizes, but is straightforward about the reason--her colon pouch melted in the 110- degree summer heat.
"I have what's called a continent ileostomy, a koch pouch. Which means that the opening is at skin level, and I have to insert a catheter in through the abdominal wall and break a valve in order to drain the feces," Mullen explains matter-of-factly. "You have to keep your stomach covered because it leaks."
Which is exactly what happened at a friend's house where she had stopped before our lunchtime interview.
"I had to go through the whole ... you have to wash it and clean it and change it," she says. "And that's what happens to my schedule sometimes."
Mullen had just returned from giving four days of depositions in Atlanta, with both Camran and Farr watching her testify. Camran Nezhat says he cannot discuss the case, citing the advice of his lawyers.
But Mullen says she hopes to warn other women about the Nezhats.
"My life is over," she says. "Any type of normal life I thought possible is history, let's face it. Eight years in and out of the hospital ..." her voice trails off and she tries to describe the "I-wish-I-were-dead-pain" that hounded her for the years following the Nehzat procedure. She pauses to imitate what Nezhat and his lawyers have said in response: "'But that's normal and you're doing a good job.' Yeah, right."
She says the crippling pain lasted until last year, when doctors at UCLA removed her entire large intestine, rectum and sphincters--portions operated on by the Nezhats during the rectal pull-through.
Aside from the physical pain, she says, the case has been emotionally difficult, especially when her former lawyer uncovered pathology reports on the tissue removed by the Nezhats that showed that Mullen never had endometriosis in her bowel, nor on the ovary that was removed, a procedure which left her infertile.
"What they did to me was really bad, but the manipulation afterward, trying to get me to go back there to bolster their own story," Mullen says. "That's the insidious, evil part of what they did."
Law and Disorder
IF MULLEN was the only patient criticizing the Nezhats, her case could easily be forgotten, drowned out by the prestige of Stanford Medical Center and the buzz surrounding the three famous Nezhat brothers (Camran and Farr's younger brother, Ceana, is also a gynecological surgeon). Farr Nezhat now holds another post at Mount Sinai Hospital in New York, and all three work in Atlanta and teach surgeons' workshop at the Stanford Endoscopy Center.
But as Mullen's case continues, and with it articles printed in the national press, a growing number of patients, former patients, doctors and bioethics lawyers have come forward to demand answers to a simple question: Why is Stanford University aggressively defending and promoting these doctors and their work?
There is the case of Sey Simpson, a Georgia schoolteacher, who sued the Nezhats and won an out-of-court settlement in 1998 for a procedure that left her permanently disabled. Her pancreas started bleeding, a condition that is often fatal, following 1992 estrogen pellet therapy treatments by the Nezhats. This was four years after the Food and Drug Administration ended testing programs involving the implanted pellets, known as Estrapel, because of safety concerns and poor reporting of data from participating doctors. The Nezhats were involved in those tests and, after the FDA cancelled the program, proceeded to buy thousands of Estrapel pellets and sold them to patients at a much higher cost, according to Simpson attorney Ed Kellogg.
Nezhat says that, like aspirin, Estrapel preceded the FDA and because of a grandfather clause doesn't need the agency's approval. "Aspirin--is it illegal to use?" Nezhat asks.
"That is an outrageous claim and an absolutely arrogant answer. This drug isn't for pain control. This is a drug that was pulled from the market," Dr. Warren Grundfest, chair of biomedical engineering at University of California, Los Angeles, says of Nezhat's Estrapel-aspirin comparison. "This is an example of a research study being used to generate income. The reason you do a study for the FDA is for safety and efficacy, not profit."
During the Simpson suit, her attorneys found that the Nezhats charged each patient about $500 every time she received an implant.
Andrea Scott, a Los Angeles-based bioethics attorney who, like Grundfest, has served as a pro bono expert witness for Mullen's legal team, agrees that the Nezhats' Estrapel use raises red flags about their ethics.
"If the facts as alleged are true, and they continued implanting [Estrapel] in people, it brings you to a remarkable question: Who are they to act in direct contravention to the orders of the FDA?"
Courting Trouble
THE TROUBLES didn't stop when the Nezhats started at Stanford. In 1997 former patient Katherine Avakian filed a lawsuit in Santa Clara County Superior Court against Camran and Farr Nezhat as well as Stanford Health Services, Stanford University Medical Center and Stanford University Hospital, charging fraud and negligence and alleging that Camran engages in nonconsensual human experimentation. Like Mullen, she alleged that Nezhat procedures left her permanently injured. That case was dismissed due to Avakian's lack of representation. She also chose Mullen's former attorney, Jim Neal, who withdrew from the case. Sources say Avakian plans to appeal the April 6, 2001, ruling.
Camran Nezhat seems unfazed by the lawsuits.
"I do want to tell you that out of all of these cases we have done over the years, we have been only one time in court of law," Camran says. "And we have won."
Still others are challenging the Nezhats outside of the courtroom.
Santa Cruz-based gynecologist Harriet Korakes started raising questions about Camran Nezhat following his surgery on her for ovarian cancer in 1993. Nezhat performed a laparoscopic surgery that seemed successful, until Stanford-trained Korakes, while reviewing her own medical records, realized he hadn't removed the lymph nodes closest to the diseased ovary, a procedure normally done to determine whether the cancer has spread. Dr. Korakes did not return calls from Metro. (The author of this article has been treated by Korakes in the past, but has never discussed the Nezhats with her.)
"A nondoctor would have lived in ignorant bliss and, if the nodes had been positive, might have died," Korakes recently told Health magazine (June 2001).
Last year Korakes discovered her case described as a laparoscopy success story in a Nezhat journal article, and wrote to Stanford to file a formal complaint. The article featuring Korakes' surgery has not been retracted, but two other Nezhat articles have been.
While Nezhat sees his critics as part of a public humiliation campaign rooted in professional jealousy, a growing number of doctors criticizing them around the country disagree.
Georgia-based gynecologist Dr. Vincent Molinari claims his criticism has nothing to do with jealousy. He was initially a fan of the Nezhats, and he and his wife, Susan, even turned to them when she had surgery.
"Good Lord, what a bunch of assholes. I think they're a fraud. I think they abuse patients. I think they should be put in jail," Molinari fumes. "They operated on my wife twice and nearly killed her."
Cowboy Surgeons
THE NEZHATS may have their critics, but they hardly came to Stanford begging for work. The medical center actively recruited them, and praises them highly whenever given the opportunity. The Stanford website chronicles 75 videotapes and surgical presentations, 122 publications and several dozen surgical firsts credited to Camran Nezhat and his brothers.
"[He has] demonstrated laparoscopic procedures to more than 5,000 gynecologists and general surgeons in laser workshops since 1983," the Endoscopy Center says of Nezhat.
All three brothers host workshops at the Stanford Endoscopy Center for Training and Technology. His two brothers, Farr and Ceana, serve as center co-directors. The three also have private practices in Palo Alto and Atlanta, in addition to Farr's latest post in New York.
"Dr. Nezhat represents what is the finest in medicine: compassion, integrity, discipline, scholarly pursuit, and most importantly, an absolute desire to help people," reads a letter to the San Francisco Chronicle, signed by nearly 60 staff members (May 22, 2000). "We are proud to be members of the same community as the Nezhats." (A group of 39 nurses wrote a similar letter).
Since last year two of the doctors who signed the letter wrote in advocating further investigation.
Still, Stanford department heads staunchly defend the Nezhats.
"When you watch him [Nezhat] operate, you have to cast off the excuse, 'This procedure can't be done using video laparoscopy,'" writes Dr. Mary Lake Polan, chair of the gynecology/obstetrics department. Polan is credited with helping to bring the Nezhats to California.
"We wanted to share the goodness with everybody," Nezhat says of his decision to come to the university and teach his surgical techniques.
"God gives the talent to some people to become Picassos. Not everybody could become Picassos. But Picasso worked very hard on it and became good," Nezhat continues. "Because surgery is an art also, we work very hard at the gift God has given to us, and that gift is to help."
Two Stanford-affiliated doctors, Dr. Thomas Margolis and Dr. Nicola Spirtos, have openly criticized the Nehzats, and say they were punished by the medical center because of it. Both filed a lawsuit in April, accusing Stanford of trying to defame them after they started questioning Nezhat practices.
"The Nezhats are certified frauds," Margolis says. "Stanford has fought to protect certified frauds."
A Cut Above
MARGOLIS AGREES to meet late one Friday afternoon. Wearing green scrubs, his mask still hanging around his neck after several hours in surgery, he settles into a chair in one of the conference rooms at the Women's Cancer Center in Los Gatos. Diet Coke in hand, he launches into several "bizarre" interactions with the Nezhats and Stanford.
In August 1996 Margolis accepted a job as chief of the Division of Gynecology at Stanford. Like the Nezhats, Margolis previously practiced at Northside Hospital in Atlanta--the same hospital where the Nezhats operated on Stacey Mullen. He says he hardly knew them in Atlanta, other than passing in the hallways between surgeries. Once at Stanford, Margolis says he saw Farr Nezhat accidentally cut a patient's ureter during surgery. Complications are not uncommon during laparoscopy or any other procedure, but they are for the Nezhats--according to their own journal articles. Camran Nezhat once reported that in more than 5,000 procedures, he had never damaged a ureter.
Margolis says that after confirming the accident to a resident doctor, Camran called him into his office to scream at him, insisting that his brother intentionally cut the ureter to remove endometriosis.
"But there wasn't any endometriosis on the pathology," Margolis says. "It just wasn't there. It was clearly an accident."
During that time Dr. Spirtos started raising concerns that the Nezhats, gynecologists by training, were operating outside their area of expertise, such as trying to treat ovarian cancer patients using a laparoscope. Stanford set up a panel to review several cases, and Margolis served as one of the investigators. He says he was pressured to clear the Nezhats by ob/gyn chair Dr. Mary Lake Polan.
"She came into my office and said, 'Tom, we need to make sure the Nezhats are cleared on these charges.' She also said something about 'Damn Nick [Spirtos]," Margolis says, adding that now "It's between me, God and her [Polan]. And quite frankly, it's two to one. In my favor."
Polan was out of the office last week, but has repeatedly denied these allegations.
Margolis looks down as he remembers bending to the pressure and clearing the Nezhats, but says he wants to speak out to protect more female patients from harm. His open criticism has caused problems for him at Stanford, including a threatening letter from Stanford Chief of Staff Lawrence M. Shuer.
"Rest assured that Stanford hospitals and clinics intends to pursue its full legal remedies if these defamatory and libelous statements do not cease," reads Shuer's letter, dated Nov. 4, 1999. Stanford calls Margolis and Spirtos "jealous competitors."
Margolis later learned that a copy of the letter had been given to the Nezhats. It also ended up with the brothers' former attorney, Gerhard Winkler, who sent it to about 20 physicians considered to be potential expert witnesses in the Mullen suit.
"They have known about problems with the Nezhats since 1993. Letters have been written to them raising a level of serious concern," he says. "Stanford did nothing. Why? Why did they cover it up? I think Stanford liked the money. They had young women with insurance or willing to pay cash. Women who were infertile and willing to pay money to have the 'world's best.'"
Margolis adds, "A woman who is infertile or who has cancer is easy prey for a predator who knows how to capitalize on her fear."
No Good Deed
CAMRAN NEZHAT is seated at his desk when I arrive for the interview, but quickly rises to shake my hand. He settles back into his chair, a picture of him shaking hands with the Pope hanging on the wall just behind his head. For someone surrounded by such controversy, he seems excited to have a reporter sitting across from him. An investigator for the Nezhats' Palo Alto lawyer, Joseph Cotchett of Cotchett, Pitre and Simon, sits nearby.
"They told us not to talk to anybody," Nezhat says of his Atlanta attorneys, Henry Green and David Walbert. "Thank goodness Mr. Cotchett said, 'No, you can talk to people, and say at least some of your side of your story.'"
Nezhat says that's the reason he has often refused interviews with the media since the Mullen lawsuit began, adding that, as a result, slanted articles have been written unfairly targeting him and his family.
"You know--may I call you Mary?--Mary, we have done thousands of surgeries, probably in excess of 10,000, and--knock on wood--we have not had one death," he says, knocking on wood.
While he won't talk about the Mullen case directly, he says that Nezhat complications occur less often than for most surgeons.
"With the type of the cases we do, we dare to say our complication rate is less than anybody else, and we are willing to prove it. And it has been shown--people are watching us all the time," Nezhat says. "For a surgeon to have no complications you'd have to stay home and do no surgeries."
He adds that his low complication rate is a feat, considering that many of his patients have extreme problems with endometriosis and infertility.
"We took patients that were rejects," he says. "Everybody else had operated on them and they couldn't get pregnant. Everybody else had operated on them and their pain didn't go away."
Nezhat describes his brothers and himself as hard-working, humble men who moved here from Iran in the '70s and have tirelessly tried to help people. He says the entire family is extremely close, and leaves the room twice in tears while talking about his mother's recent death.
"We were hoping that she would live to see us exonerated. She raised her children to become good people," he says. "She was the mother and the father."
He often speaks for himself and his two gynecologist brothers as one.
One former patient, Elizabeth Sanborn-Case, has mobilized other Nezhat patients to speak out in support of the surgeons. She has copies of a letter signed by 52 women who describe Dr. Camran Nezhat as a miracle worker.
"To put it plainly, Dr. Nezhat changed our lives," reads the letter to Stanford University, dated Jan. 10, 2001. "Indeed, in many cases, he gave us back our lives."
Sanborn-Case, who also has copies of a March 14, 2000, letter signed by 39 Stanford pro-Nezhat nurses, agrees that the brothers' critics are merely jealous competitors, angry that Nezhat is simply a better surgeon, one she says "saved me from being taken advantage of by a couple of other doctors." Both she and former patient Gwyneth Cravens say that poor journalism has fueled a smear campaign against the Nezhats.
His defenders say that he and his brothers were caught in the middle of political haggling at Stanford. (Spirtos sued Stanford in 1992, alleging that they discriminated against him after he became affiliated with the Women's Cancer Center.)
"No good deed goes without punishment," Nezhat frequently laments.
But critics, including attorney Jim Neal, say it wasn't good deeds but connections propelling Nezhat's promotions (see sidebar on Ethicon).
"Mary, in the past, always the people who have done good have been subject to some criticism. And I don't want to compare myself to anybody, and please forgive me, but Jesus Christ was doing good, too. He was trying to do a good thing, good work, and look what happened to him," Nezhat says. "Somebody has to thank us, not just crucify us!"
Still, the Nezhats are hardly living in exile. In addition to their home and boat in Atlanta, Camran and Farr bought their Woodside home in 1997 for just under $2.3 million.
Too Human to Err
CAMRAN NEZHAT likens his experience to Jesus' crucifixion, but other doctors compare the brothers to the Greek or Roman empires.
"The story of the indefatigable Nezhat brothers, if charges against them prove true, would seem to be a modern Greek tragedy--a dazzling display of hubris followed, inevitably, by a downfall," Dr. Barbara Weiss writes in her editorial in this month's issue of Medical Economics (June 2001).
Weiss looks beyond the Nezhats to Stanford's conduct, questioning whether pioneering work is produced and monitored, and whether patients are protected in the process.
"The FDA monitors drug trials, but unless a new surgical device is involved, the agency doesn't scrutinize new operative procedures," she writes.
For example, about 98,000 Americans die each year due to preventable medical errors, according to a 1999 Institute of Medicine report titled "To Err is Human." Despite this, HMOs and hospitals rarely report trouble to a federal program created to protect patients from "doctors who move from state to state without disclosing that they have been censured or disciplined for providing poor care" (The New York Times, May 28, 2001).
In an almost unheard-of occurrence for the medical field, two Nezhat medical journal articles were retracted by the university this March. Out of more than 11 million journal articles written worldwide in the last 30 years, there have been only 45 retractions. These two Nezhat articles, from 1991 and 1992, detail a 16-patient study of the rectal pull-through, the same procedure performed on Stacey Mullen.
Dr. Richard Goldstein, a Pennsylvania-based gynecologist who first learned of the case through Jim Neal, says that he knows of at least one other Nezhat article that he reviewed that should be retracted. He believes that the Nezhats have helped popularize laparoscopy with their articles while hiding its risks, and argues it is just as dangerous as other surgery.
"It is ripe for entrepreneurial scandal, and doctors to take advantage of women," he says. "They perform repetitive procedures on women, turning them into victims by convincing them they need this never-ending cycle of surgeries."
Connie Hofmann, spokesperson for Surgical Laparoscopy, Endoscopy and Percutaneous Techniques, says she believes the two Nezhat articles were the first retracted by the journal, which began in 1981.
"I would say it's pretty unusual," she says. "It's not something that happens without a lot of thought and work."
Nezhat says the editors were mistaken in retracting the articles, and the investigator for Nezhat's attorney says they plan on demanding a correction in the wording of the retraction, which said Farr Nezhat had "admitted to significant discrepancies."
Yet other doctors who reviewed the two retracted articles have expressed deep concern at the differences between Nezhat patient records and their articles. Margolis and Spirtos reviewed the records as pro bono expert witnesses for Mullen's lawsuit, and found blood losses, operating times and hospital stays were twice as long in the records as they were in Nezhat journal articles.
And a detailed affidavit signed by Andrea Scott, a Los Angeles-based bioethics attorney, and Dr. Warren Grundfest, another famous gynecological surgeon, indicate deeper troubles in Nezhat data, which was co-written by Dr. Earl Pennington.
"First of all, the data was fabricated," Grundfest says in a recent interview. "They clearly didn't know what the blood loss was. They made it up."
They found one patient with different operating days listed; conflicted information about whether patients signed informed consent forms; patients in the study who never had the procedure; inaccurate reporting of blood loss, operating times and hospital stays. They also determined repeated failures to report complications, "medically questionable and potentially hazardous" use of Vasopressin, a drug that controls bleeding, and said that the Nezhats falsely reported using an Ethicon stapler in the majority of the procedures.
"In our opinions, this Publication was written to promote the Nezhats, their careers, their public image and their stature among fellow surgeons," they write in the affidavit.
"Given the unreported complications, distortions, and misstatements noted above, our only conclusion can be that the Nezhats attempted to develop a retrospective study based on inadequate and poorly documented Patient Records," they later add. "The Nezhats' failure to report complication, fabrication of scientific data and overt misrepresentations to the medical community and public at large provided an inaccurate and misleading perception of both the safety and efficacy of this procedure."
Mullen's surgery and ensuing complications were not included in either journal article. The Nezhats themselves have said this was because pathology reports indicated she never had endometriosis on her rectum or colon.
Like Mullen, Grundfest and Scott worry that the Nezhats put women at risk.
"It is clearly an experimental procedure," Grundfest says. "And the days in which we use patients as guinea pigs should be long gone."