Marilyn Manson

Metal Movement

Black Sabbath dominates a deep day of heavy metal at OzzFest

By Sarah Quelland

Photographs by George Sakkestad

The air was charged with the unmistakable threat of pent-up testosterone last Friday (June 29) as Shoreline Amphitheater was temporarily transformed into the fierce metal music and rock culture festival known as OzzFest--an all-day event that offered no rest for the wicked.

Between the mechanical bull riders and the buck naked girls bungeeing through the hot summer air like Tomb Raider's Lara Croft, it may have been hard for some to pull themselves away from the dark carnival sideshow attractions. But with close to 20 bands performing over the course of more than 10 hours, it was a feast for the senses that ran like clockwork from morning to night and culminated with a remarkable set from the lasting grandfathers of heavy metal, Black Sabbath.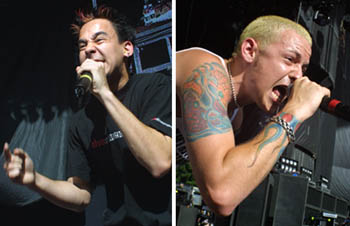 Linkin Park
In past years, bands on the second stages played simultaneously with bands on the main stage, forcing fans to pick their poison. But this year's crafty restructuring of the festival, which ensured that all second-stage performances were completed before the first band even set foot on the main stage, streamlined the event and allowed ambitious and sturdy fans to see every band there.
Only one band, Union Underground, canceled its set on the second stage. According to the official tour website, www.ozzfest.com, "Singer Bryan Scott's voice is fucked." There were reports that members of Union Underground and members of Disturbed were hanging out at the Girlie Freak Show at the Cactus Club in San Jose the night before--which led to speculation that perhaps the band had a little too much fun and wanted to save up its resources for the most important stop on the tour: San Bernadino, where more than 50,000 fans pack the place and music industry leaders, wheelers and dealers are said to be waiting at every turn. The band canceled that appearance, too, so it sounds like Scott's voice really is shot.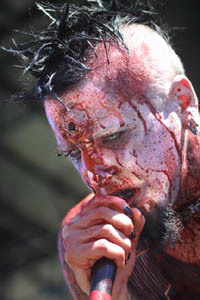 Mudvayne

Still, the second stage jammed along with boisterous energy. As the headliners--following sound performances by American Head Charge, Systematic, Hatebreed, Nonpoint, Drowning Pool and Taproot--Mudvayne tore it up and turned in an extremely forceful showing that churned the rough and rowdy parking lot into a frenzy.
Though the band has been described by some as a second-rate Slipknot, that's a hasty assessment based solely on the group's crazed appearance. Given time, Mudvayne could well move up to the ranks of Tool. This is an artful band composed of skilled musicians who only make their complex and heavy brand of rock look easy.
With songs from their album L.D. 50 (including the popular single "Dig"), buoyed by extreme passion and psychotic energy, the band members finished their sweaty set with rivers of bloody makeup running down their faces and quickly became one of the talked about highlights of OzzFest.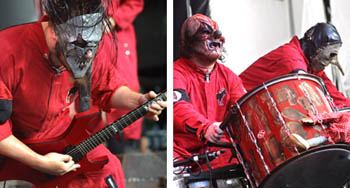 Slipknot
Usually there's a balanced interest in the main and second stage acts, but this year's main-stage lineup of Black Sabbath, Marilyn Manson, Slipknot, Papa Roach, Linkin Park, Disturbed, Crazy Town and Zakk Wylde's Black Label Society was a meal in and of itself. Though some metal fans frowned on a few of the poppier choices, Ozzy Osbourne's wife, Sharon, deliberately brought mainstream bands like Crazy Town and Linkin Park on board to inject more girls to this male-dominated scene.
With long blond hair flying, Zakk Wylde and his heated style of old-school metal kicked off the main stage. Slipknot turned out to be a real disappointment. The band didn't live up to its insane reputation at all and seems to be relying too much on its freaky masks to intimidate people. But Linkin Park, Papa Roach and Marilyn Manson were burning with a rare fire and an uncontainable energy that leaped off the stage and into the already excitable crowd.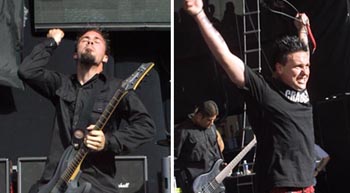 Papa Roach
Papa Roach seems to have upped the ante for its stint on OzzFest by bringing a heavier metal element to its hybrid sound. The band played songs from its more than double-platinum album Infest, along with "Walking Through Barbed Wire," an oldie but a goodie that frontman Coby Dick said would appear on the next album.
While Marilyn Manson nearly stole the whole show with an inspired performance full of freshly stoked passion and power, Black Sabbath still ruled the day. Though metal's grand champions have cried wolf one too many times, and no one believes the band when it says it's retiring, fans can rest easy, since Ozzy announced he has a new solo album due out in mid-October.
The kind of day that descends into the delicious blurring of the senses that comes from being thoroughly consumed by the music, this year's OzzFest package made a very long day seem altogether too short. When the lights came on, I walked away with the warm ache of muscles only beginning to burn from the exertion of jumping around for five hours straight, a sure sign of the crippling pain that would manifest by the morning, and I recognized the mark of a truly outstanding rock concert.
[ San Jose | Metroactive Central | Archives ]