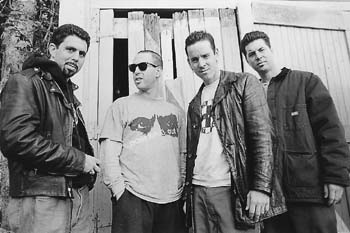 Old but Not in the Way: The spirit of punk rock will never die as long as Youth Brigade refuses to give up the fight.

Youth Brigade Keeps Marching Onward

Punk rock's grumpy old men still care about the music and the message

By Marianne Messina

ANYONE WHO'S BEEN wondering what happened to all the '80s punk bands that mattered might want to check out the Youth Brigade tour as it swings through San Jose with the Swingin' Utters. Youth Brigade ("youth is a state of mind") continues to churn out titles like "Believe in Something" and "Care" with punkish insistence on the individual's "responsibility to change what they feel is wrong with the world."

Since 1982, when the band started its label, BYO (Better Youth Organization) Records, it's been taking a stand against everything from big corporations to big bombs. In its heyday (1982-85) Youth Brigade filmed docu-paeans to punk culture and did the punk-chic broken-down bus-tour thing, with all the attendant horror-show experiences: blitzkrieging skinheads, shows cut short by outbreaks of violence, drink-fests, sleepless nights and grueling schedules.

When Youth Brigade reassembled in the early '90s, its was singing lyrics like "Violence doesn't make any sense," yet it carried the main punk ideals into 1994's come-back album, To Sell the Truth.

Of course, for Youth Brigade, most albums have been "come-back" albums. The So-Cal band's history is pockmarked with breakups (or fizzle-outs), in which the band's Toronto-born brothers--Shawn, Mark and Adam Stern--separated and reunited in various combinations. Recent incarnations toured California to sell-out crowds in clubs like San Francisco's Trocadero.

Through all the turmoil, the BYO label has been the ever-progressing tortoise, steadily growing while giving voice to bands like 7 Seconds and Pinhead Circus. The label's latest hot concept is the "split album," on which two bands contribute cuts--six of one, half a dozen of the other--to one CD.

As in the early days, the current tour, then, is a close-knit punk-family affair in celebration of BYO's latest release, Split Series Vol. II, featuring co-habitants Youth Brigade and Swingin' Utters (whose happy punk ditty "Angels Pissin' on Your Head" is an utter gem). As to Brigade's newer sound, the lead vocals are gruffer but the lines more melodic; grating string abuse and fibrillating chord slam are still the heartbeat of the music, but the lyrics in songs like "Where Are All the Old Men's Bars?" grouse about yuppies, almost in echo of a 1997 review calling Youth Brigade "punk's grumpy old men."

It also seems the band is broadening its palette. The reggae sprinkled sparsely through 1996's "Believe in Something" has erupted full-on in Split II's "Let Them Know." If the band's old Troc shows are any indication, Youth Brigade will likely play material from all its incarnations at the Cactus gig.

Youth Brigade's anthemlike hooks and protest-march chants bring out the best in an audience: mob action and massive shout-alongs. To grow, yet maintain integrity, over decades is no small feat in punkdom. As Shawn Stern himself has said, "I don't believe music is entertainment; it goes way beyond that." It goes to ideals and activism and a good, rowdy ear screwing.
---
Youth Brigade and the Swingin' Utters play July 9, doors at 5pm, at the Cactus Club, 417 S. First St., San Jose. Tickets are $10. (408.280.0885)
---
[ San Jose | Metroactive Central | Archives ]