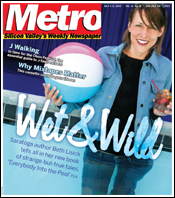 For the Week of
July 6-12, 2005
Cover Story: Wet & Wild:
Saratoga author Beth Lisick tells all in her new book of strange-but-true tales, 'Everybody Into the Pool.'
News: Presumed Guilty:
Media coverage of the Lodi FBI arrests is more of the same, and it's left the community reeling.
The Fly: A Matter of Hubris.



Silicon Alleys: Talk Dirty to Me.
Techsploits: Hot for Data.
Rev: Rent-a-Truck: Then I hit my first pothole, which caused the truck to jump at least a few inches in the air and almost ripped the steering wheel out of my hand.



Golden Silents: The San Francisco Silent Film Festival honors a long-lost lamented art form.
Silent Film in San Francisco: Richard von Busack interviews SF Silent Film Festival director Stephen Salmons.
Penged Migration: Luc Jacquet's 'March of the Penguins' is the cutest story ever told.
Fingered: Only a French director would think of remaking a James Toback movie.
Flame It: Four-get it. Miscasting and miswriting foul 'Fantastic Four,' the biggest disappointment of the summer.



Mix Emotions: The mix tape, cultural touchstone of the analogue generation.
Psycho Sexy: Don't be scared, it's just the Deadutantes.
Word Pop: 20 Minute Loop spin stories of interior life.



Home Plate: When in J-town, grub like the locals.
Silicon Veggie: Something's Fishy.
5 Places to Love: Global Barbecue Restaurants.
Club Life: Babes Sports Bar & Grill in San Jose.



Rock Stars: Two men shoot for film fame in CTC's Irish/Hollywood comedy 'Stones in His Pockets.'



Please don't forget to write! Metro welcomes letters. Like any great work of art, they should be originals — not copies of letters sent elsewhere. Include address and daytime phone (for verification purposes only). Letters may be edited for length and clarity or to correct factual inaccuracies known to us. Postal: Metro Letters, 550 S. First. St., San Jose, CA 95111. Fax: 408/298-0602. Email: letters@metronews.com. Emailers, please include name, city of residence and phone number. Letters printed will list email address unless otherwise specified. Letters to the editor are not currently published in the online version of this paper.