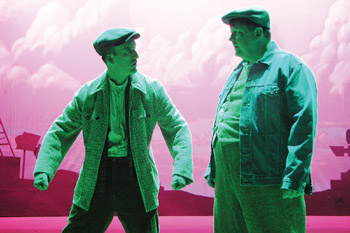 Photograph by Holly Cornelison

Star-Struck: Bill Church (left) and Charlie Shoemaker take on every role in sight for 'Stones in His Pockets.'

Rock Stars

Two men shoot for film fame in CTC's Irish/Hollywood comedy 'Stones in His Pockets'

By Marianne Messina

CALIFORNIA Theatre Center's production of Stones in His Pockets is an acting tour de force in which two performers—William Church and Charlie Shoemaker—play countless roles, shifting from priest to drunk, from addict to film star, from working-class stiff to upper class snob, while donning accents ranging from Irish to British to Bronxish.

In the script by Irish writer Marie Jones, a large Hollywood production company comes to a rural town in County Kerry, enlisting the locals as extras. Some locals, like Mickey (Shoemaker), are old pros, doing it for the money, which they spend as fast as they make. Others, like Charlie (Church), do it for a shot at a career or getting out of Ireland. They all do it for the excitement and proximity to Hollywood stars such as Caroline Giovanni (Church).

There's great counterpoint between the locals, idling away their time dreaming and telling tales at the local pub, and the production crew, one ear tied to three cell-phone calls a minute, the other ear plugged into nonstop communication from the remote production team. Aisling, a young, well-connected, frenetic production assistant from New York City (Shoemaker), and Simon (Church), the Irish-born blueblood who's overseeing the extras, couldn't be less in sync, rhythmically or topically, with the locals—the "simple" folk Giovanni admires and the film depicts.

And though the play appears to be concerned with Hollywood's exploitation of "exotic" locales, what comes across loud and clear are the ways in which the privileged are cushioned from the not-so-privileged—by constant busyness, by physical distance (Caroline in her trailer and luxury hotel room, director Clem (Church) in his absence/remote management of the actors), by security (Caroline's security guard keeps any undesirables from "pestering" her). And in doing so, Jones makes a nice equation between the structures that manage our social hierarchy and the class/colonial systems of bygone times.

In some ways, this play's tension is seated in textures. The outdoor movie set is created by a romantic back image of clouds in a blue sky, its horizon line silhouetted by the black shapes of large movie cameras (set designers Jerrod McIlvain and David McCollum). In the foreground stands a simple plank bar for the guys to stand at in pub scenes as the lighting grows dimmer and narrower, and country & western music (suggested by Jones) comes up. The uilleann pipes and the Irish gigues are saved mostly for movie scenes—often depicted with characters running in slow motion (sound designer Jacob B. Smith and director Will Huddleston pieced together the soundtrack).

But nowhere else is the dichotomy between the romanticized Irish countryside and the flesh-and-blood locals more obvious than the scene in which Jake goes to see Caroline the superstar in her hotel room. After he's treated like a crime suspect by everyone from the film director to Caroline's thug/body guard, he enters her room to hear Sinead O'Connor's hauntingly moody "Molly Malone" while Caroline stretches in luxurious relaxation to yoga poses. As compared to the gruff bar scenes and troublesome life stories, this creates a texturally brilliant moment of pure culture shock.

Shoemaker shines as old-timer Mickey, the drunken but ever-so-cagey veteran extra. And Church makes Charlie a most comfortable and familiar Irishman, who saves himself from loserhood with his easy good humor. Be prepared, however, to be completely lost through the first several character shifts—they needed more time or signals between shifts. Then be prepared for a taut, humorous but pointed play with subtle eye-openers along the way.
---
Stones in His Pockets, presented by California Theatre Center, plays Friday (July 8, 15 and 22) at 8pm, Wednesday (Jul 20) at 8pm and Sunday (July 10) at 2pm through July 22 at the Sunnyvale Community Center, 550 E. Remington Dr., Sunnyvale. Tickets are $18-$25. (408.720.0873)
---
---
Send a letter to the editor about this story to letters@metronews.com.
---
[ Silicon Valley | Metroactive Home | Archives ]