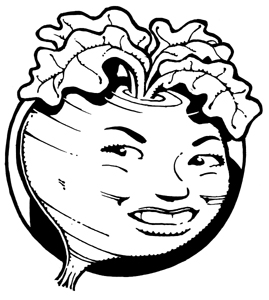 Silicon Veggie

Something's Fishy

By Elisa Camahort

A FEW MONTHS back, I took a tour of local steakhouses and was pleasantly surprised that I didn't suffer through soggy steamed vegetables or bland pasta marinara.

This month I decided to take on an even more dangerous mission: a tour of local seafood restaurants. Why more dangerous? Because some people consider seafood to be vegetarian-friendly, of course. My preconception before walking in the door was that these seafood restaurants would actually be worse at providing for vegetarians than the steakhouses because of this fish-as-vegetable view. I tried out two places: SCOTT'S SEAFOOD in San Jose and THE FISH MARKET in Palo Alto. In each case there was not a single vegetarian entree on the menu. That doesn't mean I had nothing to eat; it just means that it was a cobbled-together meal.

Reviewing the menu at Scott's, I found two salads without seafood, and that was it. No appetizer, no entree. As is my usual habit, I asked the waiter what he would suggest for a vegetarian. It is disconcerting when a waiter's initial response is total dumbfoundedness. Seriously, every restaurant should train its servers to have a quick, confident (and therefore welcoming) response to that question. Once he recovered from shock, he proposed that the mushroom and prawn ravioli could be made sans prawns. It was, and it was quite good. I subscribe to the American Musical Theatre of San Jose, and if Scott's were just a little more veggie-friendly it would be the most convenient place to have a pre-theater dinner. You've got a fun view of all the airplanes as they fly into SJC. You've got high-quality food. But you also have just one vegetarian option. And you're going to get charged the same $20 for a prawnless pasta as for one fully prawned. Annoying.

The Fish Market was, if anything, worse. A huge menu full of nothin' for me. All their entree-size pastas come with seafood, so I got a little appetizer-size pasta without seafood. (I just couldn't face another $20 plate of spaghetti.) Plus an ear of corn on the side. And a salad. The Fish Market is the kind of place where a vegetarian has to construct her meal from side dishes.

Until more seafood restaurants realize that fish are not vegetables, you're better off at a steakhouse than a seafood place. In the meantime, it's back to Garden Fresh for me.
---
Scott's Seafood, 185 Park Ave., San Jose. 408.971.1700. The Fish Market, 3150 El Camino Real, Palo Alto. 650.493.9188.
---
---
Send a letter to the editor about this story to letters@metronews.com.
---
[ Silicon Valley | Metroactive Home | Archives ]