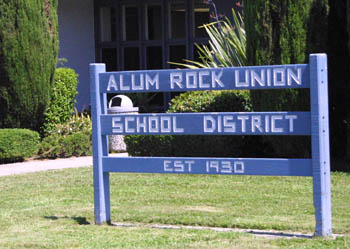 Schoolyard Antics: Lawsuits and snitching have become a way of life in the Alum Rock Union School District.

Class Clowns

Despite reports to the contrary, all is not well in the Alum Rock School District

By Najeeb Hasan

ALUM ROCK UNION School District Superintendent Alfonso Anaya is only a month removed from a glowing editorial tribute published in the San Jose Mercury News, an editorial that highlighted the elementary school district's progress in raising standardized test scores. Five Alum Rock schools, the editorial pointed out, made up the top five spots citywide of schools that improved most in the Academic Performance Index. A week after the editorial was published, Anaya wrote to the Mercury News to thank the newspaper for its vote of confidence and to graciously deflect the praise toward his hardworking staff.

The Mercury News editorial came just two weeks after Metro had published reports of Alum Rock insiders and board trustees complaining about sizable overspending by the district on technology purchases and of Anaya threatening to pursue a Brown Act violation against school board trustees who described his tenure at the district as "fair" to a reporter after an internal evaluation.

A month later after the editorial, however, things at Alum Rock seem anything but glowing. The district, insiders say, still hasn't relented in pursuing Brown Act violations against Alum Rock trustees. This time, the trustee in hot water is Abelardo Morales, the vice president of the board and one of two trustees (along with Kim Mesa) who voted against extending Anaya's contract last month.

Meanwhile, problems with board trustee Adriana Garza have also surfaced. Garza, who is moving to Arizona and stepped down from the board at the end of June, has apparently moved out of her residence at 181 Marian Lane, although, according to the Santa Clara County registrar of voters, Garza is still registered to vote from that address. Garza's choice of residences is important for Anaya and the district because, before she stepped down from the board, she participated as the swing voter for key board decisions, including Anaya's contract extension on May 25 and district layoffs on June 16. Both items went through on 3-2 votes, and Garza voted in favor of both.

Morales, who was unavailable for comment, has been accused of leaking closed-session information. The accusation comes from a deposition given by former Alum Rock Superintendent Joseph Carrillo, who is suing the school district for terminating his benefits. In the deposition, Carrillo claims that Morales had divulged information from closed-session school board meetings to him.

Morales' supporters, though, are outraged that the district is using allegations by Carrillo, whose reputation as superintendent was far from shiny, to put pressure on Morales.

"It's what I consider a ridiculous amount of legal fees to investigate something that was taken out of a deposition of Mr. Carrillo," remarks one observer. "Dr. Carrillo said Morales was feeding him information out of closed session. This is ridiculous. You're spending children's money on what? This, to me, just looks like Morales did not support the extension of the superintendent's contract. They voted to extend the contract, but the superintendent knew that Morales and Kim Mesa didn't vote for him. To me, that's harassment of a board member. The superintendent should be working with board members. Instead the board president is harassing other members and spending legal fees."

Jason Rodriguez, an Alum Rock trustee who voted for Anaya May 25, says the investigation into Morales' conduct is closed, and now it's up to the board to decide what course of action to take.

"Based on the report that was given to us in closed session, I felt that there was not enough circumstantial evidence to put together that there was an actual violation," Rodriguez says.

The situation of Garza's residency is, perhaps, the more serious of the two. Garza, whose house closed escrow on May 14 and who left her post as the executive director of the Mayfair Initiative in April, often represented the swing vote on a polarized Alum Rock board. On May 25, 11 days after her house closed escrow, Garza joined Rodriguez and Herrera to extend Anaya's contract while Mesa and Morales dissented. The same pattern emerged June 16 when layoffs were approved in the district.

"I sold that house," says Garza, who left the board June 30. "But I haven't moved out of the district. I'm still conducting business and intend to do so. I'm staying with a friend, and I'm not sure he wants me to give that address. My friend lives in the Alum Rock district. I don't think it's necessary to have a house. I thought it was just residency that was required, and I'm doing that."

Garza's detractors—and they may have a point, according to the Santa Clara County Office of the Superintendent—claim Garza is on shaky ground because she had no permanent residence in the district and, thus, the votes she cast while serving on the board would not count (including, of course, the vote for extending the superintendent's contract). "Staying at a friend's house does not mean you have residency," says a source familiar with the board's operation.

Mesa, the school board trustee, says she didn't think Garza should have voted for the superintendent's contract. "I don't agree with some of her decisions," says Mesa. "If you're leaving the school district and your board, I really question if you should vote on the superintendent's contract without being accountable for it. I questioned her on it. Plus I didn't feel like it was the right time to vote on his contract. The superintendent's contract wasn't expiring, and two board members are not going to be here next year. They voted for it at a time when it was guaranteed they would get the support."

Mesa also made it into the Mercury News' editorial about Anaya. During a May board meeting, Anaya had publicly shouted at Mesa because she complained of not having enough information to support a measure; as a result, in their admiring editorial, the Mercury News described Anaya as "shy," perhaps "aloof" and "sometimes impatient." Mesa, quite naturally, thought the newspaper went too easy on the superintendent (trustee Rodriguez previously worked at Knight-Ridder).

"I was stunned," she says. "I know for a fact that somebody had delivered a video copy of that board meeting to the editorial staff of the Mercury News. Somebody called me and said they wrote the exact same thing about Dr. Carrillo and look what happened to him--he's still suing the district. Maybe the Merc isn't an excellent judge of character."
---
Send a letter to the editor about this story to letters@metronews.com.
---
[ Silicon Valley | Metroactive Home | Archives ]