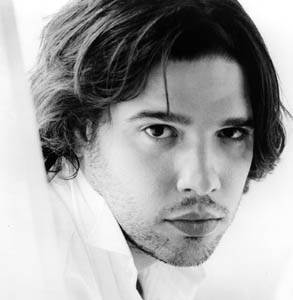 Photograph by Chris Cuffaro

Not your average Joe Firstman.

First Sight

Joe Firstman explores the battle of the sexes on his elegant and eloquent debut, 'The War of Women'

By Sarah Quelland

SEATED CASUALLY at the piano and promising, "I'm saving all the love that I'm supposed to give to Jesus, so that I can give it all to you / And the Lord's gonna be jealous, but he ain't never seen you let your hair down," singer/songwriter Joe Firstman made quite an impression when he played main support for Jewel at the Mountain Winery a couple weeks back—blasphemy and all. Raised in North Carolina and relocated to Los Angeles, the 24-year-old musician seems equally at ease on piano and guitar, and his sophisticated yet laid-back style demonstrates a fearless appreciation for Southern roots rock and sentimental piano ballads.

Firstman's label, Atlantic Records, is preparing to rerelease his debut album, The War of Women, an impressive record full of dreamy romantic notions and clever turns of phrase. Inspired by '70s-era artists like Elton John, Jackson Browne and Billy Joel, the young songwriter's talent managed to reach the ear of lyricist Bernie Taupin, and the two collaborated on a song titled "Tin Cans and Tear Drops," which is being recorded and released by Willie Nelson.

Firstman has described his music as "good old-fashioned rock & roll love songs." At his most rock & roll, his music recollects bands like the Eagles, the Black Crowes, Counting Crows and Train, and his album's first two singles, "Breaking All the Ground" and forthcoming "Can't Stop Loving You," fall in that terrain. Still, it's Firstman's honest and eloquent approach to modern romantic ballads that really sets him apart.

The sweet, sensual "Car Door (Dancing in the Aisles)" plays like a contemporary fairy tale where he swears, "I'll open up your car door every time, as long as you can reach over and unlock mine," and assures, "If you don't steal all the damn covers, you're gonna be all right with me."

The rich personal detail in Firstman's lyrics gives his songs a sense of identity. They're emotionally sensitive without being manipulative. "It all went to hell when you got your pictures because you finally believed me when I said that you were so pretty / It all went to hell when you got your nerve because you realized that I don't deserve you—and that's for damn sure," he recalls on the sad, sexy "Now You're Gorgeous, Now You're Gone." Later he grieves, "Now you're priceless and I am so very poor."

Though he lives in L.A., he doesn't seem to be caught under her spell. "Witches are the women on the Strip," he declares on "Car Door (Dancing in the Aisles)," telling his girl back home, "I ain't giving nothing to the girls in Hollywood / I've got a picture of my princess in her red dress and goddamn, she's looking good."

By the end of the album, on "After Los Angeles," he sounds uncharacteristically angry and alone. There, he despairs, "This town is a workshop for wordsmiths and grifters and misters and misses and cheeks full of kisses, and all of you bidders can't wait 'til I'm bitter." Resentment boils up near the song's end, and he howls miserably, "You can find me in the back, and if you don't fucking care, then why'd you ask me?"

Other highlights of The War of Women include the aggressive bluegrass rock of "Slave or Siren," the smoky saxophone pop of "Secondhand Grave," the sleepy "Lies," which features singer Miranda Lee Richards, and the up-tempo roadhouse boogie of "Speak Your Mind," which rambles into gospel at the finish. Visit www.joefirstman.com.

HOT TOPIC: Johnny V's hosts the latest PAC Session this Saturday (July 10), with live performances by toNavigate, Slow Children, the Nixie Tubes and Vulcanizadora, plus live painting by Carlos Vera and Christopher Fusick, various DJs and a spoken-word open mic. Visit www.pacificartcollective.com.

PLAN AHEAD: The Format, Steel Train, Jenoah, Reuben's Accomplice and Life With Jonas, July 9 at the Outhouse in Los Gatos; El Buzzard, Big White and Gargantula, July 9 at the Blank Club; Reverend Horton Heat, Detroit Cobras and the 45s, July 9 at the Catalyst in Santa Cruz; Dexter Danger, Solemite, November Trials and Muckruckers, July 10 at the Outhouse; Point 3, Life With Jonas and SecondFace, July 10 at Waves Smokehouse; Ones and Zeros, July 13 at Mountain Charley's in Los Gatos; Cobra High and Triple Nipple, July 14 at the Blank Club.
---
Send a letter to the editor about this story to letters@metronews.com.
---
[ Silicon Valley | Metroactive Home | Archives ]