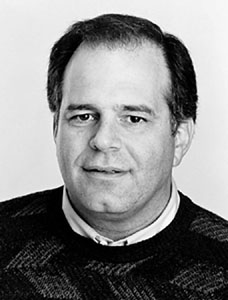 Visci: Reimbursed golf freebie.

The Fly

Merc Boss Pays Off Golfing Lobbyist

First it was Terry Gregory and a free case of wine. Next it was Ron Gonzales and some free rounds of golf. Then came Nora Campos and some controversial $120 wedding silverware. Now it looks as if low-level conflict-of-interest charges have reached the boardroom of the city's daily newspaper. Last week, Mercury News publisher Chip Visci admitted he cut a check for $150 to repay a January golf outing with two lobbyists who often represent clients at City Hall. Visci says he was invited to play golf by a family friend, Jason Rodriguez, at the 1,700-acre, members-only CordeValle golf resort, where membership costs a quarter million a year. The two golfers who rounded out the foursome were Jerry Strangis and Tom Saggau, whom the Merc named as two of the city's "big-gun" influence peddlers in January. Strangis and Saggau are supposed to be on the right side of the Merc's crusade to reform San Jose's ethics laws, reform that would supposedly eliminate City Hall graft and corruption in spite of the fact San Jose has had a relatively clean government for more than 30 years. Other lobbyists have been "getting away with murder," Strangis said in one of the Merc's editorials on the subject. Visci didn't think anything of Strangis picking up the tab until he read several weeks ago that Mayor Gonzales had to repay $270 to a lobbyist who paid for a golf outing. "I offered to pay Jerry the guest fee," Visci wrote in an email. "Jerry declined. I offered to pay my share of the caddy fee. Jerry again declined, but we all insisted and paid the caddy directly. Caddies are permitted to accept payment from nonmembers. Jerry also declined our offer to pay for lunch. The club does not accept payment from nonmembers. Although I golfed only once with Jerry, I thought the best thing to do would be to send Jerry a check that I believe more than covered any expenses he may have incurred, consistent with what elected officials are expected to do." The Merc's ethics policy says no employee should accept "business-connected" gifts but Visci says under Knight Rider policy it was "perfectly acceptable" to accept the round of golf. Visci cut the check June 18. Strangis put the money toward charity, says Visci, who became Merc publisher Jan. 1. Did Visci really need to go so far? Yes, according to veteran journalist Bryce Nelson, who teaches at USC's Annenberg School of Communication. "Editors and reporters are more sensitive to this kind of thing than publishers, who are more a part of the business community," Nelson says. "I think he did an excellent thing by reimbursing the money. He doesn't want to impair the reputation of his newspaper as impartial."

Gonzo: The one and only trading card (signed).
No Signature Required
Two weeks ago, some Metro employees were sitting around First Street Billiards, doing a little promo work, when they happened to glance over to see none other than our own chief executive officer of the city, Ron Gonzales, with a young lady and a "couple of yuppie freaks," according to our informed spy. One of our employees was too shy to approach the mayor. So she asked a friend to ask Gonzo to autograph a copy of our cover story featuring Michael Moore. Would you believe it? Hizzoner refused. "I will not sign anything that has to do with Metro newspaper," Gonzo supposedly harrumphed. The mayor did, however, agree to sign a trading card with his picture on it, winning back some congeniality points. The mayor and his entourage left shortly afterward, though not without scaring one of the employees. She was wearing a Metro cap turned sideways, in the direction of the mayor's booth, and didn't want the mayor to take any cheap shots. "I thought he might take a swing with a golf club," she joked. "I thought he might start pointing his finger and scold us for approaching him."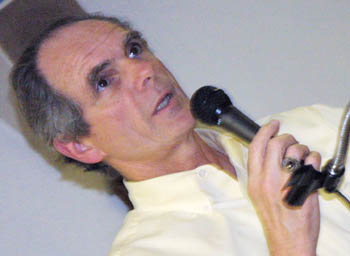 Reed: Giant-busting.
The Chuckster Takes on Goliath
Citizens of Alviso are up against it all right. KB Homes, the nation's largest homebuilder, wants to convert 153 acres of industrial land into 700 houses next to the north San Jose community, which is one of the few places in the South Bay that feels like a small town. The property KB is eyeing is currently owned by Cisco and is zoned industrial. To make sure it stays ready for commercial uses, Alviso residents held a town meeting last week to put their councilmember, Chuck Reed, on record on the proposed zoning change. To his credit, Reed said all the right things. When asked if he opposed KB Homes' proposal, Reed answered with one word: yes. But Reed also said his opposition alone wouldn't blunt the plan. "To use a biblical reference, David has to face off against Goliath," Reed told Alviso residents. "KB Homes is Goliath. You are David. They have lobbyists and lawyers and consultants and everything they need." Sheer profit alone will prompt KB Homes to fight till the end. Reed estimated the homebuilder stands to gross $300 million from the deal. Cisco and KB Homes will undoubtedly approach other councilmembers for their support. "This is not a slam dunk," Reed said. "I don't know where the other councilmembers will go." "I wish you good luck," Reed continued. "And I wish me good luck."
---
Send tips to 'The Fly': .
---
---
Send a letter to the editor about this story to letters@metronews.com.
---
[ Silicon Valley | Metroactive Home | Archives ]