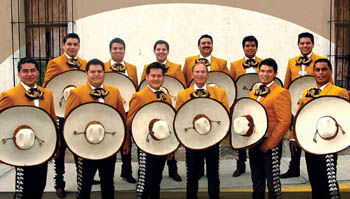 Men With Hats: Mariachi de America is one of the many groups slated to appear at this year's Mariachi Festival.

Mariachi Cowboys

Charros kick up some dust at San Jose Mariachi Festival

By Marianne Messina

"THERE'S a stereotype that the charro, the cowboy, from Jalisco [Mexico] is real brave and never backs down in a fight," says mariachi historian Jonathan Clark. The mystique of this Mexican cowboy with his tight-fitting pants lined in fancy buttons, his decorative short jacket and his sombrero hat will be celebrated at San Jose's upcoming Mariachi Festival (July 14-18).

As the guest speaker for the festival, Clark is one of only a handful of experts on the evolution of the mariachi tradition. He spent almost 12 years in Mexico as a young gringo mariachi playing the guitarrón (the six-string bass instrument that sets the rhythm for the mariachi group).

Freelancing with countless mariachi bands, Clark eventually made his way to the inner circle of celebrated musicians from mariachi's golden age (pre-1970). Clark's sense of responsibility to this past grew as musicians like Silvestre Vargas, the revered leader of Mariachi Vargas de Tecalitén, told him their stories.

Longtime mariachi trumpeter Miguel Martinez had stories from the '30s, when the trumpet was a new addition to the all-string ensembles. Martinez told Clark that trumpets were not always appreciated and that as a young man he would often get to a gig and be asked to sit out the night because the customers had complained they didn't like the instrument.

These days, two trumpets are the norm. And Clark believes that the mariachi played in Mexican Westerns (paralleling the singing-cowboy-style Western) launched this tradition, helped along by live-music radio.

On a competitive level, the art of mariachi is a lot more than charro suits, familiar songs and a macho attitude. According to Betty Garza, executive director of Mariachi San Jose, the judges of a mariachi competition "look at intonation; they look at your stance, your appearance, your voice, how well you harmonize, how you stand, if you slouch over."

Everything must be carefully choreographed, from the synchronized movement of violin bows to the air of confidence with which the performers take the stage. In just three years since the group was founded, the young members of Mariachi San Jose (aged 10 to 20) have taken several trophies. Garza thinks it's the teamwork. "No one in our group is the star; and everybody shines," Garza maintains.

Teamwork and tight harmonies are what recording artist Manuel Romero looks for in a mariachi band, and he sings with some of the Bay Area's finest. "The way they play is how they are together," he says, not how any one individual can play on his own. At 15, the San Jose singer who has been performing with his Mexican-born father since he was 2 is poised to bring mariachi to a new generation. Though his self-titled CD on Warner Music Latina features a traditional mariachi, Romero's vocals bring a more contemporary interpretation to the songs.

"The CD that I made—I sing it like tough [the traditional charro stance], but then, you know, there are parts that are soft and nice and really up close to the mic." Lately, Romero has been recording songs with songwriter Jon Cain, including a Spanish version of the Journey hit "Open Arms."

How artists like Romero bring forward this contemporary American/traditional mariachi blend remains to be seen. But according to Jonathan Clark, it's this "cross-fertilization" between America and Mexico that has kept mariachi evolving, whether it be the influence of the Hollywood Western or the concept of mariachi festivals themselves.

San Jose's festival is important because of the acts it brings in. This year, those acts include one of Mexico's premier groups, Mariachi de America de don Jesus Rodriguez, along with one of the oldest all-female groups, Mariachi Reyna de Los Angeles, plus Grammy-nominated ranchera singer Yolanda Del Río.
---
The San Jose Mariachi Festival takes place July 14-18 at the Mexican Heritage Plaza, 1700 Alum Rock Ave., San Jose. For details, call 408.928.5563.
---
---
Send a letter to the editor about this story to letters@metronews.com.
---
[ Silicon Valley | Metroactive Home | Archives ]