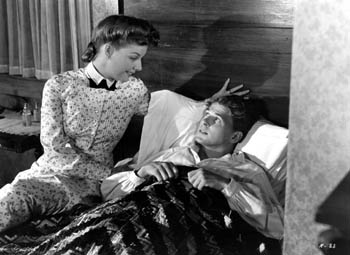 Ron for Cover: Ann Sheridan checks up on Ronald Reagan in 'King's Row.'

Too Much Dutch

The first, and perhaps last, Ronald Reagan retrospective at the Stanford Theater

By Richard von Busack

THE DEATH of Marlon Brando, so close on the heels of his fellow actor Ronald Reagan, couldn't be a better object lesson on different approaches to the sacred craft of acting. And now the Stanford Theater has programmed a memorial series of Reagan's films (running through July 20), proving how the Gipper embodied that tradition Brando tried to take apart piece by piece. Reagan was sunny and docile. He did what he was told. And unlike Marlon the Mumbler, he enunciated every terrible word of the dialogue he was given.

Douglas McClelland's book Hollywood on Ronald Reagan is a useful a fest of anecdotes about Reagan as an actor in his 55 movies. We learn of his wholesomeness. Bette Davis claimed she used to call him "Little Ronald Reagan"; Robert Mitchum dismissed Reagan as "an Eagle Scout." Many actors and writers note Reagan's deep devotion to the Democrats before he turned his coat. ("I wonder where he went wrong?" asked Evelyn Keyes.) His co-star Viveca Lindfors' opinion is useful: she felt Reagan never made the big time as an actor "because he never took the mask off."

There must have been something underneath the mask, below Reagan's stalwart ability to hit his marks and say the words loud and clear. Certainly there was a ham's vanity: take the famous story that Jane Wyman, his first wife, claimed that divorce freed her from having to watch King's Row (July 17-18) again. Technically, Reagan was a talented voice actor, something he'd learned from his radio days. Reagan could do dialects (he pretends to be Czech in The Girl From Jones Beach, showing July 14-16, a solo writing effort by Billy Wilder's partner I.A.L. Diamond). He also did some credible comedy double-talk in that perfect example of the World War II late-show movie, Desperate Journey (July 9-13).

In his particular shallow groove, Reagan was Warner Bros.' answer to Ralph Bellamy. Saying that, it should be noted that he lacked Bellamy's craft. Bellamy was wise to the fact he was playing a square's square, the man you'd love to strand at the altar. Still, Reagan's brand of light acting came in handy for an entertainment industry needing cocky kids, yearning boys next door and inoffensive Joes, thus his success in mayonnaiselike supporting roles for more forceful personalities like Davis (in Dark Victory, Aug. 19-20), Pat O'Brien and Errol Flynn, with whom Reagan acted in Desperate Journey and They Died With Their Boots On.

Interestingly, the Picnic, Popcorn and Picture Show series at Santana Row is showing Top Gun at sunset on July 7. The 1986 movie was the pinnacle of Reagan-era myth making, of Simpson-Bruckheimer hypermasculinity, used in the service of selling machinery—in this case, obsolete fighter planes. Top Gun is the ultimate 1980s movie, but its plot is the same old movie Reagan used to make and make again, with Dutch as the chipper rival to the daring hero. That was Ronald Reagan: never a Tom Cruise, always an Anthony Edwards.
---
The Ronald Reagan Retrospective lays through July 20 at the Stanford Theater, 221 University Ave., Palo Alto.
---
---
Send a letter to the editor about this story to letters@metronews.com.
---
[ Silicon Valley | Metroactive Home | Archives ]