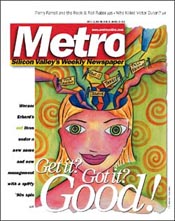 For the Week of
July 9-15, 1998
Cover: The est of the Story
Landmark Forum is here, promising to be a kinder, gentler version of the 70s groupthink, est. So get out your checkbook and prepare for a breakthrough.
News: Body of Evidence
Santa Clara County's coroner says somebody strangled Victor Duran in the 24 hours between the time of his arrest and the discovery of his dead body in jail. And the suspects include cops and guards.
Public Eye: Candidate for sheriff accused of campaigning at work.
Sexual Healing: Sexdoc.com allows online lovers to ask anything in the anonymity of the net.



The Fine Art of Turning Inside Out
'Tis the season for Metro's guide to summer indulgences, with outdoor concerts, theater and our best picks for relaxing daytrips. There's also day-by-day calendar of summer events that you'll want to bookmark for the long and luxurious days ahead.



Hanging With the Chassids: Perry Farrell, observant Jew. Who knew?
Rancid's Worth the Wait: Life Won't Wait, Rancid's latest, confirms band's commitment to truth in music.
DiFranco Fourth: A review of Ani DiFranco's fiery Independence Day concert at Spartan Stadium.
High-Voltage Storm: Magic Slim whips up a blues storm on his new album, Black Tornado.
Fleadh on Film: A photo essay of not-exactly-Irish musician Tracy Chapman at the Guinness Fleadh.
Audiofile: Reviews of the latest CDs by Bis, Tack, Girls Against Boys and various artists.



Poetry in Motion: James Urbaniak talks about his role in Hal Hartley's brilliant Henry Fool.
Gun With the Wind: Lethal Weapon 4 has action--and heart.
Leopard Colony: Napoleonic soldier gets spots before his eyes in Passion in the Desert.
Eyeball Fu: Lucio Fulci's The Beyond is eye-popping horror.
Requiem for a Twerp: Vincent Gallo whines his way through Buffalo 66.



Home Alone: Christina Waters examines the contents of bachelor fridges--male and female--and finds a frivolous pattern.



Please don't forget to write! Metro welcomes letters. Like any great work of art, they should be originals -- not copies of letters sent elsewhere. Include address and daytime phone (for verification purposes only). Letters may be edited for length and clarity or to correct factual inaccuracies known to us. Postal: Metro Letters, 550 S. First. St., San Jose, CA 95111. Fax: 408/298-0602. . Emailers, please include name, city of residence and phone number. Letters printed will list email address unless otherwise specified. Letters to the editor are not currently published in the online version of this paper.