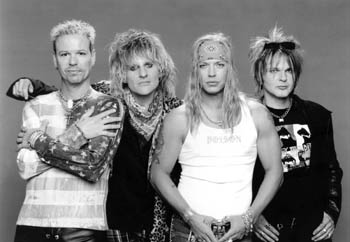 Poison flaunts its glam roots with pride.

Sad, Sad Song

Poison's big return to the Bay Area was marred by a low turnout

By Sarah Quelland

FROM THE BACK of the Redwood Amphitheater at Paramount's Great America last Sunday (July 6), the turnout for the Poison/Vince Neil/Skid Row concert looked just pitiful. Only the benches in the sections at the very front of the stage were filled, and there could scarcely have been 2,000 fans in attendance at a venue that holds 10,000. The difference between this and Poison's 2000 appearance at Shoreline Amphitheatre with Cinderella, Dokken and Slaughter was dramatic.

Still, if the members of Poison were overly disappointed, it didn't show. Frontman Bret Michaels, guitarist C.C. DeVille, drummer Rikki Rockett and bassist Bobby Dall carried on as if they were playing to 20,000 people. Early on, in acknowledgment of the situation, Michaels assured the crowd, "We're gonna make a big party out of this." He asked security to "be cool" and invited everyone up to the front of the stage. From that vantage point, the concert didn't feel so empty.

Unlike Skid Row (which is hardly worth mentioning without Sebastian Bach) and Vince Neil (who, despite playing all the old and familiar Mötley Crüe material, seemed to be just going through the motions), Poison hasn't lost its touch. The band looked fit and sounded great as it launched through more than 15 years' worth of hits and singles, touching on its albums Look What the Cat Dragged In, Open Up and Say ... Ahh!, Flesh & Blood and Native Tongue--and its latest, Hollyweird. The stage was filled with leaping flames and showers of sparks, and its set was filled with sexed-up glam-rock anthems ("Unskinny Bop," "Talk Dirty to Me," "Nothin' but a Good Time"), power ballads ("I Won't Forget You," "Something to Believe In," "Every Rose Has Its Thorn") and covers (The Who's "Squeeze Box" and Loggins & Messina's "Your Mama Don't Dance").

From the opening number, "Look What the Cat Dragged In," to the night's closer, Kiss' "Rock & Roll All Nite," the band indulged in numerous quickie wardrobe changes and put on a frisky show complete with extended guitar and drum solos. Guitarist DeVille hammed it up shamelessly, even playing a song from his side project, Samantha 7, titled "I Hate Every Bone in Your Body but Mine," which was included on Poison's Power to the People disc.

There are plenty of possible reasons why this concert didn't do well. It could be that people were too burnt or too broke to make it out to a show at the tail end of the holiday weekend with Monday hanging over their heads. It could be that Poison overestimated the appeal of a tour package featuring the Skid Row of 2003 and Vince Neil without the rest of the Crüe. Or it could simply be that interest in Poison is at an all-time low--at least in the South Bay. The band deserves credit for pulling off a great show despite the low turnout. But I wouldn't expect it to go out of its way to return here anytime soon.

HOT TOPIC: The Vans Warped Tour lands in San Francisco this Saturday (July 12) at Pier 30-32 with live bands on seven stages, skate demos, a stunt show, a rock climbing wall, a slip-and-slide and other fun stuff. There's also a reverse day-care spot with air conditioning and cold drinks where kids can park their parents. ... Fancy Hair Dragon celebrates its new CD, Wanna Stay, with a bash Saturday (July 12) at the Blank Club. Banger also performs. ... Mountain Charley's in Los Gatos tries out a new local band showcase Tuesday (July 15), with Mindeye, Ones and Zeros and SECURITY. ... The Camera Cafe at the Camera 3 Cinema in downtown San Jose just kicked off its free annual Patio Audio music series. Arthur Hazelwood and Scapegrace are scheduled for Wednesday (July 16), and shows will continue through the summer on Wednesdays at 8pm.

PLAN AHEAD: Remoter, Life With Jonas and Delta Activity, July 11 at the Coffee Society in Cupertino; Under a Dying Sun, xBxRx, Division Day, Triple Nipple and Title, July 11 at the Outhouse in Los Gatos; the Necromantix, Lobo Negro and Black Rose Phantoms, July 11 at the Blank Club; Flexx Bronco, July 14 at Waves Smokehouse; Ozma, July 16 at the Edge in Palo Alto; ToNavigate, Famous Last Words, Lemon Yellow and Up in Arms, July 16 at the Gaslighter Theater in Campbell.
---
Send a letter to the editor about this story to letters@metronews.com.
---
[ Silicon Valley | Metroactive Home | Archives ]