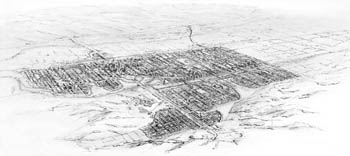 Wanted: Wacky developer to finance and build perfect world in last big open parcel in southern Silicon Valley

Coyote Dreaming

The Greenbelt Alliance's utopian plan for Coyote Valley--where gentleman farmers can mingle with urbanites in a brand-new community of 80,000--has left environmentalists wondering whose side they're on

By Najeeb Hasan

JUST THREE years ago, Coyote Valley, on the southernmost tip of the urbanized Bay Area and perhaps the last vestige of San Jose's rich agricultural heritage, was set to become home to 20,000 Cisco employees and their industrial office park. The introduction of Cisco to Coyote Valley would have been typical for San Jose development: a large collection of office buildings accompanied by paved tracks of land for parking and little else--no well-thought-out plans for housing, transportation, family services and the like (think about a cityscape similar to the corporate campuses in north San Jose).

While the Cisco-initiated sprawl may have been averted after the economy softened and the networking giant's interest in the location waned, the episode betrayed a truth that seemingly cannot be averted: Coyote Valley will, like it or not, be developed. "It's going to happen," affirms San Jose City Councilmember Forrest Williams, whose district includes Coyote Valley. "When you look at Coyote Valley, it's the last real large area left for development."

With that prospect in mind--that a valley with a relatively untouched rural characteristic will, instead, be one day defined by steel and concrete structures--the Greenbelt Alliance, using a $125,000 grant from the David and Lucille Packard Foundation, came up with a vision for Coyote Valley that borders on the idyllic. After a year of conversations and workshops, the Bay Area environmental group unveiled in June a report titled Getting It Right: Preventing Sprawl in Coyote Valley.

The proposal, touted only as an effort to create dialogue, envisions the valley becoming something quite unlike any urban center San Jose residents have seen. It calls for dense housing, diverse employment opportunities, social-equity programs, the retention of its agricultural characteristics, pedestrian-friendly neighborhoods, proximity to public transportation, careful planning to maintain natural hydrology systems, interconnected parks and streets, and, of course, untouched green beltways for wildlife.

It's a tall order, and whether it's feasible remains to be seen, but it's an interesting attempt to combine the urban and the rural. "[The plan] creates a nice segue vs. going from urban to urban or from urban to agricultural," says Patrick Congdon, the general manager for the Santa Clara County Open Space Authority. "It's offering the opportunity to go from [a city] to an agricultural influence, something that's more pastoral, something more like what the valley used to be like."

Heart's Desire

Perhaps what most distinguishes Getting It Right's philosophy from a Santana Row-type planned development (other than its far-larger scope: Getting It Right mirrors San Jose's goal for Coyote Valley to support 50,000 jobs, 25,000 homes and 80,000 residents) is its ambitious desire to incorporate the valley's traditional farmland and its natural water system into a new urban environment.

The gridlike patterns for the town center, the mix of residential and commercial structures, the access to public transportation and even the allotment of affordable housing units (the plan calls for 20 percent of the residential units to be designated as affordable) are all ideas that have been implemented, in at least some capacity, in parts of Northern California. The report itself is heavy with references and photographs of communities in Mountain View, Palo Alto and Burlingame, where residents can realistically walk or bike to work, schools, parks, coffee shops or their neighborhood grocery stores.

However, Getting It Right lays out a commitment to agricultural that's meant to play not only a sentimental role--Coyote Valley was once part of the Valley of Heart's Delight, combining fertile soil, an amiable climate and a flow of water to become an agricultural Eden--but a role that would make farming a community resource. Farmers in the 6,800-acre valley, especially in its northern two-thirds, have been dwindling away steadily in recent years as the city has changed zoning designations to allow for urban and industrial development. Now, the dominant agricultural use for the land is to farm row crops and forage.

The Greenbelt Alliance wants to broaden the concept of agriculture from simply food production and commodity provision to a more service-oriented definition. That means diversifying agriculture (not just depending on row crops that could be easily sold to large commodity traders); smaller, 20-to-40-acre farms and community gardens; and introducing the community to the farmers through educational programs in schools, farmers markets, harvesting festivals, farm-to-cafeteria programs, agrotourism and, generally, having the Coyote Valley community sustain the farmers.

"We want the farmers to go directly to the consumers," says the Alliance's Jessica Fitchen. "We're not going to have agriculture that looks like it looks in Kansas or even [California's] Central Valley. That's a really important concept. I just know from my experience that if you want to be in the commodities market, you need large fields of single crops that you can farm efficiently. We don't have 500-, 600-acre parcels. We're looking at the farms in Santa Cruz County and some of those smaller areas that do fine as long as they don't try and compete in the commodity market."

It's a nice thought, reminiscent of a progressive, European-style community, but is it feasible?

"One of the questions I raised was 'Is that really viable?'" says Open Space's Congdon. "There's examples of it on the East Coast and in smaller rural communities. You need people to buy into it--both the farmers and the people buying homes. You try to enforce the concept on people purchasing homes, that the plan is to maintain a level of agriculture and provide an opportunity for families and young children to get to know where food comes from, but they also have to deal with the noise, the smell, the dust. Usually, when urban and residential communities are close to one another, there's no interaction between the community and the farmer. Immediately you find when the sprinklers come on, when the tractor pulls the plow through the earth, that the noise disrupts people. That, in turn, puts many pressures on the farmer, and then you can't find farmers to come in unless they are subsidized."

And as for teaching farmers how to farm in a microcommunity?

"My experience has been that farmers are going to do what they see profit in; they have to be marketable," Congdon continues. "Once you start telling a farmer how he's going to farm, you're going to meet some resistance. It may mean bringing somebody in that has long-term interests, somebody who's willing to look at the various options out there. If you could get that type of people in there who are willing to make a few sacrifices, you might be able to maintain that viability."

Sprawl, The Sequel

Brian Schmidt, who works on legislative issues for Santa Clara County's Committee for Green Foothills, is appreciative of the Greenbelt Alliance's vision but opposes the development of Coyote Valley period. "The point that we think is worth emphasizing is that [the vision] is not an endorsement for developing Coyote Valley," he says. "But, at the same time, the greenbelt proposal is far better than a typical proposal."

Developing Coyote Valley--even if the development is catered toward an environmentally sensitive philosophy--inherently runs into problems, Schmidt says. For starters, parts of the valley have an especially high water table, which could lead to potential water-quality problems; the valley lies in a flood plain that threatens any potential development; development threatens farming; and most importantly, developing Coyote Valley could very well be an inducement for further sprawl.

Already, Schmidt says, Gilroy is looking toward the Coyote Valley discussions as a justification to develop farther north. "We think that even the best of projects cannot overcome these issues," he says. "We think that these are the devilish details that are going to come out during the dialogue process."

Unlike Councilmember Williams, Schmidt believes that the development of Coyote Valley doesn't have to be a foregone conclusion. "Our feeling is that as long as the bulldozers haven't hit the ground, there's always a chance [to save the valley]," he says. "For example, we do have this economic slowdown. A few years ago, nobody would have thought that in the summer of 2003 we would have still seen open space in Coyote Valley."

Schmidt's concerns are not only warranted but also shared by the Greenbelt Alliance, which inserted a disclaimer in the introduction to its report to essentially emphasize that, despite spending more than $100,000 on coming up with a vision for Coyote Valley, the group would prefer to see the valley unmolested. The prospect of seeing what essentially would be a good-size city of between 80,000 and 100,000 residents settle into the valley is disconcerting for Schmidt, who would like to see the Greenbelt Alliance lessen the scope of its project instead of mirroring San Jose's goals for the valley (a possibility that the Greenbelt Alliance mentioned during the unveiling of the proposal).

Fitchen, meanwhile, stresses that the Greenbelt Alliance only wants to put forward an alternative development solution, not push for development. "We laid out the issues," she says, "[and] what needs to happen. Now the city has to do a comprehensive study. If it turns out that development is not appropriate in a certain place on in the whole valley, we'd be the first ones not to do it."
---
Send a letter to the editor about this story to letters@metronews.com.
---
[ Silicon Valley | Metroactive Home | Archives ]