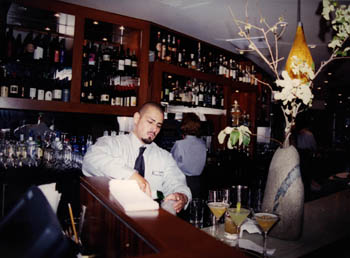 Photograph by Chris Revell

Luxury Bar None: Arcadia, as evidenced by its well-stocked bar, is an urban utopia.

Arcadian Rhythms

The boldly named new dining room attached to San Jose's convention center works for its pricey reputation

By Christina Waters

UNFURLING IN a thick curve of carpets, creamy linens, gleaming hardwood and oversize landscape photography, Arcadia is indeed a spacious oasis for those with a few expense accounts to rub together. An urban paradise for food and drink might look very much like this Sybaritic retreat ensconced within the sleek new Marriott. The menu, by one of America's culinary superstars--Michael Mina of Aqua fame--offers witty play on American regional classics, pumped up by confident presentation and impeccable ingredients. Add a huge staff, luxurious wine list and upholstery two steps ahead of Architectural Digest, and you're in, well, Arcadia.

Sexy choices, with prices to match, strut across the menu, from iced shellfish platters and ingenious "finger snacks" to appetizers that include ahi tartare and lobster corn pudding.

Thrilled to find on the menu the first sauvignon blanc vinted in India, Angela ordered a glass from Sula Vineyards, '02 ($7), which opened into a delicate bouquet of flint and honeydew. I treated myself to a sumptuous Gigondas 2000 from Domaine des Bosquets ($8).

The house selection of miniature baguettes, olive rolls and a variety of seasoned butters was outstanding. Service is still finding its feet in the 2-month-old dining room, and while some contact moments were on target and sensitively timed, others languished to the point of dawdling. These are challenges for management.

Among the interactive options at Arcadia, which seems determined that those with deep pockets should nonetheless have lots of dining fun, is a create-your-own salad option. From gorgeous possibilities, I composed my own fantasy of baby wild arugula, shaved fennel, slender haricots verts, crumbled Point Reyes blue cheese, balsamic vinaigrette and toasted pine nuts ($11). Angela and I attempted to split this huge emerald forest but only managed a small dent. Her appetizer of "bagels and lox" was a pretty plate encircled by pools of caper-infused olive oil around a central raft of salmon and mascarpone terrine ($15). Topped with Russian caviar, it was possibly the star of the dinner.

Entree courses brought a mixed response. Angela's "corned salmon & cabbage" (titles do get a bit cute) was a rather blunt presentation ($21) of five ovals of rare salmon loin, each wrapped, a la sushi, with steamed cabbage "nori." Riding a pool of horseradish cream and another of reduction sauce, the dish was overly rich, lacking green accompaniments to relieve the heavy saucings. A salad of infant onions sat in the center, along with a tiny, hard slice of potato.

My "meat & potatoes," on the other hand, had some dazzling flavor moves ($27). A moist slab of grilled beef tenderloin held down one end of a narrow platter, while a tiny braised short rib wrapped in a leek ribbon anchored the other. The short rib was all fat, but the tenderloin was all fabulous, especially with the smoky, violet-tinged Rhône wine. In the center, a jungle of baby carrots, fingerling potatoes and beets mixed it up with fresh peas and shredded chard--a fabulous veggie combo. Exceptional beef.

Still, there were too many sauces, especially a mysteriously, sweetish brown gravy haunting the salmon entree. Too rich, too much--an overall mantra of criticism for Arcadia's current cooking style.

Awaiting espressos and shared dessert of strawberry tart, we had ample time to admire the stone vases stocked with beautiful dried green-leaf arrangements, so lovely against the pale Naples yellow walls. At $9 each, desserts at Arcadia are pricier than at fine restaurants in Paris and London. A gleaming platter arrived with a tiny square dish of strawberry sorbet. The $9, however, didn't entitle us to any flavor in the sorbet. Another square contained a delicious lemon pastry cream sandwiched between two strawberry-festooned squares of pastry. So hard were these pastry cookies that our forks were useless. We resorted to hands.

Again, a concept that needs rethinking, but then what are concepts for? Arcadia looks opulent and tastes promising.
---
Arcadia
Address: 100 W. San Carlos St., in the San Jose Marriott
Phone: 408.278.4555
Hours: Daily, breakfast, lunch and dinner; dinner from 5:30pm
Cuisine: New American
Full bar; exhibition kitchen
---
---
Send a letter to the editor about this story to letters@metronews.com.
---
[ Silicon Valley | Metroactive Home | Archives ]