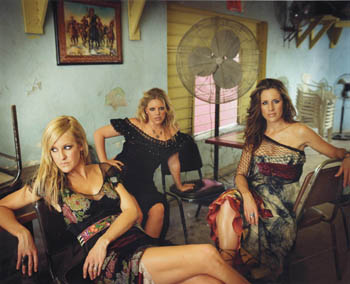 Chick Yourself: Unlikely rebels gave conservative country a swift kick, but don't ask them to talk about it.

Whistlin' Dixie

Who knew the world's most controversial band would be three gals from Texas?

By Sarah Quelland

F.U.T.K. Four letters was all it took for the Dixie Chicks to land themselves in the media muck all over again. Last August, the Chicks--or more specifically their firecracker of a lead vocalist, Natalie Maines--picked a fight with fellow country superstar Toby Keith over the red-blooded, pro-war content of his post-9/11 hit "Courtesy of the Red, White and Blue (The Angry American)." Their spat was documented last month in the Country Music Television special Natalie vs. Toby: Both Sides of the War. The feud goes against the grain of country-music's value system and the sense of family and community it tries to convey.

As if her slam of his song wasn't enough, in May, Maines escalated the rift with conservative America when she appeared on the Academy of Country Music Awards show wearing a T-shirt with the letters "F.U.T.K." Her publicist told USA Today that the letters stood for "Freedom. Understanding. Tolerance. Knowledge." In a contradictory statement, a spokesperson for the group reportedly said they meant "Friends United Together in Kindness." Keith fans immediately called bullshit and started wearing "F.U.D.C." shirts that leave no room for misinterpretation. Sides have been chosen, and neither party is backing down.

These days, the Chicks (who appear July 16 at the HP Pavilion in San Jose) seem to be looking for trouble. Forget the Hatfields and McCoys. These bluegrass C&W girls have spent the past year feuding and fussing with Keith, Sony Music, President Bush and conservative country-music radio stations. Being a DC fan carries a whole new cachet. Who would have thought that three cute little gals from Texas, could cause such a stink and become the most controversial band in the world?

Back in 1998, the Chicks played it safe, breaking onto the charts with modern-country crossover songs off their Sony/Monument Records debut, Wide Open Spaces. The record included numbers about man stealing--"I Can Love You Better" and "There's Your Trouble"--plus the hypocritical-by-contrast "You Were Mine," the only song the Chicks actually wrote for the album. For 1999's Fly, the girls co-wrote five tracks, including the lusty "Sin Wagon." They stirred things up further with "Goodbye Earl," a vigilante tale that uses black comedy to address domestic violence.

That was just a taste of things to come and, it turns out, only the first time the Chicks would contend with radio stations banning their music. Not everyone felt comfortable with this funny song about a redneck wife beater who meets his death after scarfing down poisoned black-eyed peas cooked up by his battered wife and her best friend.

Typically though, it's been the Chicks' actions and words more than their lyrics that spur controversy. In 2001, the multiplatinum record-breaking group asserted that it didn't intend to make any more albums for Sony. Sony filed suit against the Chicks for breach of contract, and the Chicks, in turn, sued Sony for more than $4 million in royalties. After an ugly 10-month battle, the two parties reached an agreement in June 2002 and settled the dispute.

Together, the Chicks and Sony created the new Wide Open Records label, on which their third album, Home, was released in August 2002. The album entered the charts at No. 1. Then, on March 10 of this year, just days before America officially declared war on Iraq, lead singer Maines made an off-the-cuff statement to a London audience, when introducing their timely tear-jerker "Travelin' Soldier": "Just so you know, we're ashamed the president of the United States is from Texas."

Though dobro/banjo/guitar player Emily Robison reportedly stepped forward immediately and added, "but you know we support the troops 100 percent," it was too late. Maines' scandalous comment hit the press, and knees jerked across the country. A number of radio stations, including KNFM in Bush's hometown, Midland, Texas, pulled the Chicks from their playlists. Deep in the heartland, boycotts were organized and albums were destroyed in scenes evocative of zealous book burnings of the past.

As far as antiwar statements go, Maines' was incredibly mild. Compared to politically charged new material by System of a Down ("BOOM!"), the Beastie Boys ("In a World Gone Mad"), Ani DiFranco ("Self Evident"), John Mellencamp ("To Washington"), Pearl Jam ("Bushleaguer"), DJ Z-TRIP ("The Anti-War Mix") and other outspoken musicians, it's about as inconsequential as "freedom" fries. But while rock, folk and hip-hop communities would embrace or ignore such actions and protest songs, country music's traditionally conservative, religious and "patriotic" populace--yes, the Dixie Chicks' target demographic--was deeply offended and said so. Loudly.

In an attempt at damage control, Maines extended a halfhearted olive branch by issuing a statement that said in part: "While war may remain a viable option, as a mother, I just want to see every possible alternative exhausted before children and American soldiers' lives are lost. I love my country. I am a proud American." But their contrition didn't last long. The Chicks sent a mixed message by appearing naked on the May 2 cover of Entertainment Weekly branded with epithets that have been hurled their way in the aftermath, including "Saddam's Angels," "Traitors," "Dixie Sluts" and "Big Mouth."

Inflation Factor

Still, the Chicks are getting credit for being cleverer than they really are, and the significance of Maines' political opinion has been grossly inflated. And while the negativity swirling around the group has forced the Chicks to take added safety precautions, it hasn't appeared to damage their career.

It's possible all the publicity has even given them a boost. Their Grammy Award-winning Home has gone platinum six times and, 44 weeks after its release, still sits in the Top 10 on Billboard's Top Country chart. The Chicks' Top of the World tour (sponsored by Clear Channel) is selling out arenas. Their fans are standing by them.

High-profile peaceniks like Michael Moore and Pearl Jam have also lent their support, at the Oscars and on the Shoreline stage (when receiving boos after mentioning the Dixie Chicks might play the Bridge School Benefit Concert, Pearl Jam's Eddie Vedder reportedly said, "If you don't support the Dixie Chicks, you're a pussy"). Through it all, the girls have maintained a sense of humor about the situation with their fans, playing Tammy Wynette's "Your Good Girl's Gonna Go Bad" over the sound system before taking the stage and inviting the crowd to boo them as a celebration of freedom of speech.

Strange that the Chicks, whose music has never been political, now command attention in the debate over freedom of speech and the right to question decisions made by U.S. government leaders. While other country artists, including Alan Jackson ("Where Were You [When the World Stopped Turning]"), Darryl Worley ("Have You Forgotten?"), Aaron Tippin ("Where the Stars and Stripes and the Eagle Fly"), Clint Black ("I Raq and Roll"), Charlie Daniels ("This Ain't No Rag, It's a Flag") and, of course, the avid military supporter Keith, have released pro-America songs in direct response to 9/11, the Chicks included no such track on Home. The closest is "Travelin' Soldier," a story about a young man who fights and dies in the Vietnam War and the girl he leaves behind.

Once compared to the Mandrell Sisters, today's Chicks are more like Charlie's Angels, going full throttle to stand up for their principles, defend their beliefs and speak their minds. Still, as spokeswomen for the antiwar movement, the Chicks need a little work. In an interview with Diane Sawyer for ABC's Primetime Thursday, the trio offered no poignant criticism on the reality of war or their reasons for opposing it.

Regarding her comment about President Bush, Maines told Sawyer, "I feel regret for, you know, the choice of words. Or the nonchoice of words." She then tried to explain her position by saying, "I just personally felt like, why tomorrow? It's not that I don't ever want you to go over there. It's not that I don't ever want you to clean things up and fix things. It's just why can't we find the chemical weapons first--why not tomorrow?"

The Chicks have been forced into this role, and they're gamely playing the part. But unlike, say, DiFranco or Vedder, hard-core politics don't seem to be their strong suit. They're more in their element bickering snidely with Keith. While entertaining, the Keith/Maines tiff does seem just a little bit silly, especially when there are clearly so many more important issues to worry about. Just last month, after more than a century of fighting, the Hatfields and McCoys signed a public truce, essentially putting an end to one of the most famous feuds in American history. Maines and Keith might do well to follow their example.
---
The Dixie Chicks' Top of the World tour hits the HP Pavilion, 525 W. Santa Clara St., San Jose, on Wednesday (July 16) at 7:30pm. Michelle Branch opens. Tickets are $35-$65. (408.998.TIXS)
---
---
Send a letter to the editor about this story to letters@metronews.com.
---
[ Silicon Valley | Metroactive Home | Archives ]