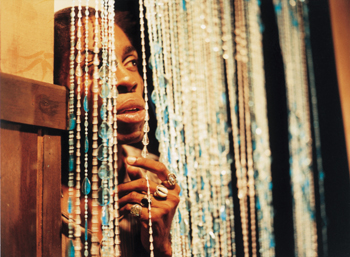 'Madame Sata.'

Drag City

Set in 1930s Rio de Janeiro, 'Madame Sata' portrays one transvestite's grit and glitter

By Traci Vogel

THANKS TO 15th-century Spanish and Portuguese missionary zeal, Brazil bleeds Roman Catholicism like brand-new jeans in the wash bleed blue. By some estimates, 75 percent of the population identify as Roman Catholic--even if only 20 percent show up at mass to genuflect regularly--and with this overweening religiosity comes the attendant and inevitable distaste for flamboyant sexuality.

True, when most people think of Brazil they think either of plastic surgery (the openly enhanced Miss Brazil) or of carnaval, the five-day spectacle of flamboyance and sexuality that marks the period before Ash Wednesday. It's difficult for us puritanical Americans to reconcile these crazy polarities, but Brazil excels as a sequined patchwork of contradictions, and it is these contradictions that set the background for Karim Aïnouz's true-life-inspired Madame Sata.

The real Madame Sata was one João Francisco dos Santos, born in 1900. By the time he was 32, dos Santos was a fixture in Rio de Janeiro's Lapa district, where the sex trade and fine arts flourished hand-in-hand. Thief, street fighter, prostitute and father to seven adopted children, dos Santos reeled between bouts in prison and the stage at the Blue Danube club, where, as Madame Sata, he performed a surreal drag show (is there any other kind?) that brought him a cult following and a murder conviction.

Karim Aïnouz's depiction of 1930s Rio de Janeiro shimmers in muted colors, dark hallways and fuzzy close-ups, and it is convincing and gritty. Claustrophobia conditions the fugitive to strange intimacies. In Madame Sata, dos Santos, played by Lázaro Ramos, gives quarter to a prostitute, Laurita, and her infant daughter, along with Taboo, a flashy transvestite in doe-eyed thrall to his benefactor. The makeshift family fights and fucks and scrapes by, financially, and it is this familial intimacy that gives the charismatic but self-destructive dos Santos what likeability he owns. That and his ecstatic stage presence.

Otherwise, Madam Sata's manic cruelty to friends and family, his throwaway sex with practical strangers (it is difficult to watch this, even remembering that the setting is pre-AIDS) and his malignant criminality don't exactly guarantee him a Boy Scout troop, or a receptive audience. Aïnouz gives his subject no slack. And because of this, the film succeeds as biography as few biopics do: May I introduce Joao Francisco dos Santos, South America's Johnny Rotten.
---
Madame Sata (Unrated; 105 min.), directed and written by Karim Aïnouz, photographed by Walter Carvalho and starring Lázaro Ramos, opens Friday at the Towne Theater in San Jose.
---
---
Send a letter to the editor about this story to letters@metronews.com.
---
[ Silicon Valley | Metroactive Home | Archives ]