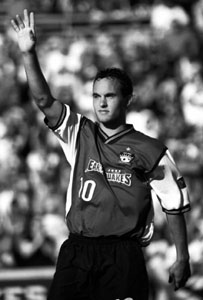 Landon Donovan's 'Sweet' South Bay Spots
LANDON DONOVAN lives in Los Gatos and says "sweet" a lot. He admits that he hasn't been around much due to commitments with the national team and traveling with the Quakes. Still, he's lived in the South Bay long enough to explore and come up with a list of his favorite things. After home games, the team usually heads over to Britannia Arms and then to his house for video games and milk and cookies.
When reminded he was only 20, and some of the places he mentions require 21-and-over IDs, he replied, "You can go during the day." Yeah, and I'm Rivaldo.
1. Burrito Factory 2055 Camden Ave., San Jose. 408.369.8564. "I love Burrito Factory, the one off Union and Camden. It's so money."
2. Britannia Arms 5027 Almaden Expy., San Jose. 408.266.0550. "We go there after games with the team, it's great."
3. In-N-Out (various locations)
4. Andale Taqueria 21 N. Santa Cruz Ave., Los Gatos. 408.395.8997
5. C.B. Hannegan's 208 Bachman Ave., Los Gatos. 408.395.1220. "I went there one night. That was fun."
6. Nickel City 1711 Branham Lane, San Jose. 408.448.3323. "That place is sweet. I like the old school games--Galaga, Pac Man. I grew up with them. I'm not into all the new school games."
7. Dave & Buster's 940 Great Mall Dr., Milpitas. 408.957.9215. "I love that game Arctic Thunder. That's a sweet game."
---
Send a letter to the editor about this story .
---
[ Silicon Valley | Metroactive Home | Archives ]