WITH THE DOUR, mordant wit one might expect of an artist known for painting in shades of black, Ad Reinhardt once said that sculpture is what you bump into when you back up to look at a painting. But for much of Art Without Boundaries, the deliberately multicultural show sponsored by Casa de la Cultura Mexica at Genesis/A Sanctuary for the Arts, the converse was true: I kept wishing the pedestals were farther away from the stuff on the walls, so I could see the bronze castings from all angles.
The first gallery is devoted entirely to 3-D works, including West Valley Community College instructor David Ogle's Study for Chi series. These bronze sculptures give "stick figure" a whole new meaning. Apparently cast from long, lashed sticks crowned by a tiny daub of clay rolled and pinched into a pebble-sized skull, with a minimal bit of cheesecloth shorthand for a torso, they function as human stripped to calligraphic character.
Though tabletop in size, the figures are scaled to dwarf the environs of their bases, so that they seem to take off into a reality transcending that of the boulders or slabs supporting them. This effect was especially evident with Road to Knowledge, where the figure seems poised on a rocky shore of some mythic sea stretched before him/her, complete with an open portal and barbed bridge to nowhere rising from the aqua patina.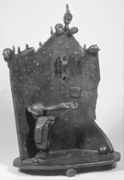 Perhaps this swooping off into the ether, this standing above the things of this world, is intended to symbolize the pure flow of chi, or energy, but this embodiment of a conceit struck me as just that. I was won over, however, by the graceful, intuited kinesics of Ogle's Transition, where the stick figure is not a heroic diorama stand-in but something true to both reality and its abstraction, something moving.
Ogle shares the gallery with Eugene Impey, whose Slabs have a monumental grandeur despite their small size, which invites imagining them as large-scale public art works. Slab #5, a verdigris trapezoid, floats on an open, off-kilter rectangle bisected by two wavy lines--a golden window that with space and elegant economy joins with the patina in a Zen mediation yielding the pacific expansiveness of the ocean.
Impey's figurative piece Cara Roja (Red Face) heads in another direction; it is a kind of Giacometti spaghetti Western. These, and several wall sculptures hung next to Impey's paintings down the hall, suggest that the artist's strong suit is realizing form in its full spatial completeness.
ANOTHER ARTIST whose vision is best served by his three-dimensional work is Manuel Viveros Segura. Often using the same images in his paintings as the adjacent bronze castings, Segura's smooth, colorful oils don't penetrate the surface of their emotional subjects, merely illustrating them instead of capturing their visceral charge as do the sculptures.
Compare both versions of Castigado, a bundled-up child cornered by a huge, accusatory finger pointed at his head. The painting in cartoon primary hues has a dreamy, mildly surreal quality, while the combined force of the cannonlike finger and the gruesomely impaled, screaming skulls mounted on the wall in the sculpture convey the anguished impotence of the blamed. This is childhood as imprisonment at the gates of hell. Segura backs his bronzes with further details that provide context, and here the simple, bas-relief self-portrait turns the scene on the other side of the wall into a deeply lodged memory.

Segura's gifts as a sculptor extend to the impressive ability to cast airy, one-piece works like drawings freed from flatness--witness Pacheco, a portrait of a man submerged in his own hallucinatory world. Segura is a man clearly at home with mystery and ambiguity, and his poetic sensibility paradoxically resonates most strongly in its most concrete form.
Providing a nice bridge between the bronzes and paintings in the back room are the photographs of John Gilberto Rodriguez and Mary Andrade. Working mainly in black and white, Rodriguez has a knack for creating archetypal images.
On view is a print of Abuelita: ¡Vaya Con Dios Chulita!, a grandma saying farewell at the window. Rodriguez makes the most of the angled shadows, branches and Christmas lights, of the grid of the windowpanes, and of the glass' reflection. The result is a visually interesting image fleshed out of a sentimental subject.
The photograph Este Los Angeles, with its Bud-sipping vatos checking out the camera checking them out as they line a wall beneath a Virgen de Guadalupe mural, makes rare, effective use of color. Rodriguez frames the shot so that the men are seen through a dirty window in the foreground, a clever insider/outsider touch.
Andrade's photos documenting Central and South American peoples and rituals are drenched in vivid color. The subjects themselves often hold the key to what distinguishes these images from picturesque travelogue shots. Otavaleña Woman, Ecuador 1988 upends the voyeur/viewed balance of power simply through the calm, barely skeptical regard with which the woman answers the lens.
Her hand posed in reflection on her cheek creates a sense of something private withheld from our scrutiny. What otherwise would be a colorful snapshot of the "exotic other" wrapped in shawls and beads becomes a lesson in the quiet force of composure and the relativity of cultural perspective.
Chris Sager layers dress patterns, maps, foreign-language newspapers, wrapping paper and acrylics in her series of works using a female dummy as alter ego. The resulting patina, color and textural interest create a soulful quality usually associated with aged objects. The mute figures alone carry a lot of narrative freight. Posed as they are with the face obscured or off the canvas or with a cut-out, cobwebbed space where a womb would be (Vacant), Sager's psychosexual stand-ins simultaneously address the singular and commonplace vicissitudes of female experience.
The only abstracts in the show are Akiyo Walker's works, notable for their sheer stains of color and sweeping, calligraphic gestures reminiscent of silk painting.
Assembling a strong, eclectic show of artists not often seen in the usual venues, Casa de la Cultura Mexica has borne witness to its commitment to increasing access to an often insular art world while eschewing cultural isolationism.
---
Art Without Boundaries runs through July 28 at Genesis/A Sanctuary for the Arts, 1068 The Alameda, San Jose (408/279-3986). Saturday­Sunday, 10am­5pm; weekdays by appointment. Reception for the artists Friday (July 12), 6­8pm.

---
[ Metro | Metroactive Central | Archives ]