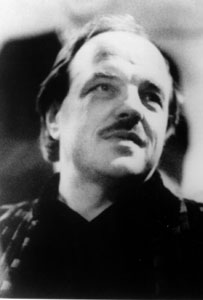 Bruno's Passion: Conductor Bruno Weil has made the 'St. Matthew Passion' the centerpiece of this year's Carmel Bach Festival.





Bach and Buds

Carmel's annual festival salutes 'St. Matthew Passion' this year

By Scott MacClelland

ABOUT HALFWAY through his first 10 years at the helm of the Carmel Bach Festival, youthful music director Bruno Weil suffered a life-threatening cerebral aneurysm. Luckily, he made a full recovery, and then some.

Following that health crisis, Weil's approach to Bach's vocal music underwent a dramatic change. Previously, he conducted it from an instrumental perspective, favoring brisk tempi and strict pacing. All at once, Weil's tempi slowed, and his phrasing became noticeably more elastic. Many Bach Festival regulars noticed the change right away, most applauding it, and nearly all wondering what precipitated it.

One thing soon became obvious. Weil now approached Bach's vocal music through the words. It almost seemed as though an aneurysm turned a light on inside Weil's head. It was the right light.

In his vocal music, Bach subordinated the music to the words. The more he cherished the words, the more he lavished his genius on the music. Several of Bach's most beloved cantatas, the two surviving passions of Christ and the Mass in B Minor demonstrate this in countless ways. For many Bach lovers, the passion story as told by St. Matthew (St. Matthew Passion, as it is usually called) is the greatest work Bach ever composed.

Those who love it point to its unique balance of emotion and drama, its narrative that--properly plumbed--can seem as urgent and immediate as today's breaking news. They also point out that you don't have to believe in Christ to love it; this is a totally human story.

The St. Matthew Passion is produced by the Carmel Bach Festival only once every four or five years. And this is the year. With Weil's considerable talents and growing appreciation for the work's depth of humanity, I, for one, would not miss it.

To the ongoing consternation of a few purists (like artist Emile Norman of Big Sur, a 50-year patron), the Bach Festival performs music by other composers. (To the consternation of others, Weil steadfastly continues to reject any piano concertos, even though he includes works by late-18th-century and 19th-century composers.)

Mendelssohn's oratorio Elijah takes up the Tuesday-evening programs. On Fridays, another Mendelssohn work, plus symphonies by Mozart and Haydn, holds sway.

A program of Bach cantatas, the Brandenburg Concerto no. 3 and Ives' The Unanswered Question opens the festival on Friday (July 14). The festival runs three weeks plus one day, July 14-Aug. 5. Most programs are repeated in weeks two and three.

For the first time, the festival will not use Sunset Center (which has been closed for renovation) but rather the Barbara McNitt Ballroom at the Naval Postgraduate School in Monterey. There is no more acoustically opulent room on the Monterey Peninsula than this, a centerpiece of what was once the historic Del Monte Hotel.

Of course, the festival has used a variety of other venues and will continue to do so. You'll be able to hear Bach's raise-the-bar Goldberg Variations played by harpsichordist John Butt on Tuesday afternoons at Carmel's Golden Bough Theater and, at the same location, chamber music for winds by Sperger, Bach, Vivaldi and Biscogli on Thursdays in a program called Blown Away.

At Carmel Mission Basilica, chorus master Bruce Lamott conducts the Wednesday-night programs of Lutheran chorales transformed by Bach and Mendelssohn. Concertmaster Elizabeth Wallfisch leads a program of virtuoso string concertos Friday at McNitt Ballroom. Hesperus early-music ensemble accompanies soprano Rosa Lamoreaux in three different programs of medieval and Renaissance music on Tuesdays at Carmel Mission.
---
The Carmel Bach Festival runs July 14-Aug. 5 in various locations.

Go online to www.bachfestival.org for full schedule details. Tickets are available at 831.624.2046.
---
[ San Jose | Metroactive Central | Archives ]