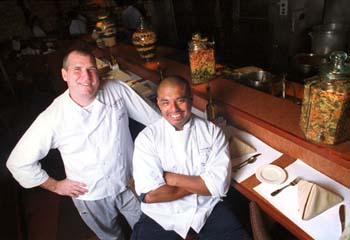 Photograph by George Sakkestad

Grill Meisters: Chefs Kyle Wiens and Pedro Bautista prepare an ever-changing slew of cuisines for each and every mood.

Consumer Feast

Valley Fair mall's stylish California Cafe offers a designer oasis from the shop-til-you-drop experience

By Christina Waters

ALWAYS A CUT above anything like a predictable shopping mall nosheria, California Cafe just keeps on tinkering with itself. A spacious patio with crisp white awnings takes summer evening dining into the alfresco realm, and the interior seems to have organized itself into a more sophisticated mode since my last visit. A bank of banquettes--featuring seating on both sides--runs diagonally from windows to exhibition kitchen. Fashionable pin spots dangle strategically from the high ceiling, splashing light onto islands of crisp, white tablecloths. A smart and densely populated bar holds down the front corner of this spacious dining room, showcasing the signature baby grand.

Carol and I grabbed a location at one end of the banquette last week and watched the place fill to the max during prime evening shopping time. California Cafe does a very vigorous business and the strong economy is only one of the reasons. The far-ranging menu by Chef Kyle Wiens offers intriguing somethings for every possible mood. Some of the ideas might sound like overly-mixed metaphors, sort of world-fusion gone ballistic. Crispy spring rolls with melon pico de gallo and raspberry tamarind barbecue sauce is a case in point. But this is a savvy operation, and there's nothing on the changing-daily menu that doesn't move. Mediterranean, Asian, classic Californian--it's all here, highlighted by organic greens and a hard-working rotisserie grill.

A glass of old vine zinfandel and a large bottle of Pellegrino to share started us off, while a basket of francese and foccacia teased our appetites. Everything is presented with gobs of flair on large, heavy white plates. A salad of Scarborough organic lettuces, topped with Laura Chenel goat cheese--oh so good--and inflected with endive arrived bathed in a straightforward vinaigrette ($6.95). The sweet lettuces, sprightly goat cheese and ripely structured wine all engaged in an appealing dialogue of contrasts.

Carol's appetizer of potstickers ($6.95), one of the house signatures, offered some outstanding moments, though the pastry itself was extremely chewy. The tasty chicken and pork interior was rocket-powered by a terrific slaw of peppers and cabbages. The real star of this piece was an exceptional pesto of ginger and garlic cilantro. The kick at the end gave excitement to every bite and turned even the imperfect potstickers into a treat.

Entrees took a while to arrive--this kitchen begins to crank in earnest around 7pm. Colorfully arranged in the depths of more oversized white china, our entrees strutted style as well as substance. An order of grilled ribeye was done to perfection, topped with carmelized onion and melting Stilton atop an atoll of seriously tasty Yukon Gold mashed potatoes ($22.95). Carol's order was just as spectacular. A smart "crust" of mashed potatoes laced with fresh Dungeness crab topped a moist fillet of halibut ($20.95). If the lily was gilded, it was fine with us. The flavors were wonderful, especially surrounded by wildly colorful vegetables of baby bok choy, red bell pepper and tender cauliflower florets. The effect was dampened, literally, by too generous a saucing of brothy chardonnay-spiked juices, i.e., the crispy crust was in constant danger of becoming soggy. Both entrees were attractively presented, generous in size and obviously freshly prepared. Impressive, considering there was one of those humungous Macy's sterling silver jewelry sales going on only a few hundred feet from where we sat.

Along with a zippy espresso, I finished happily with a gorgeous not-too-sweet panna cotta ($7.50), surrounded by alternating pools of raspberry and blackberry puree. This creamy Italian custard with the addictively quivering texture has become--much to my delight--a fixture on enlightened dessert menus. And this version was excellent. Not so, alas, Carol's order of mixed sorbets ($6). Overly sweet and not cold enough, the icy, sticky sorbets comprised a variety of pink flavors suitable for the palate-deaf and small children. Overall, the excellence of dinner managed to make us forget that we were dining in the middle of one of the oldest malls in the West. Well, almost.
---
California Cafe Bar & Grill
Address: Valley Fair, Stevens Creek Blvd., Santa Clara
Phone: 408.296.2233
Hours: Lunch and dinner daily, Sunday brunch
Full bar, live piano bar Tue-Sat evenings
---
[ San Jose | Metroactive Central | Archives ]