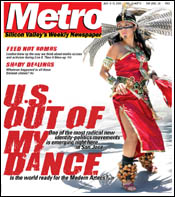 For the Week of
July 13-19, 2005
Cover Story: U.S. Out of My Dance:
One of the most radical new identity-politics movements is emerging right here in San Jose. Is the world ready for the Modern Aztecs?
News: London Texting:
Technology sent an activist message around the world. Unfortunately, so did the bombs.
The Fly: The Amazing Race: Cindy Chavez throws her hat into the ring.



Silicon Alleys: Situationist Comedy.
Techsploits: Top Genome.
Rev: Man Replacement: My other pal, M, loved Kevin's no-nonsense nature and his 1978 GMC Sierra, named Kevin Junior, that he used for his hauling business.



Viet Vision: A half-American immigrant, scorned in his native Vietnam, dreams of selling shoes in 'The Beautiful Country.'
Policy Wonka: Tim Burton and Johnny Depp put a new spin on Roald Dahl's spun-candy favorite, 'Charlie and the Chocolate Factory.'
Shady Politics: Chilean coming-of-age film shuffles from innocence to wisdom.
Space Man: 'A Sidewalk Astronomer' chronicles the pleasures of a life spent looking up and out.
Flame It: Four-get it. Miscasting and miswriting foul 'Fantastic Four,' the biggest disappointment of the summer.



Without Me: It feels so empty without all the Eminem clones.
Shining Stars: A roots-rock band you shouldn't miss.
Classical Heat Waves: The summer's classical-music festivals shine from Carmel and Santa Cruz to Saratoga and Menlo Park.



Poor House Riches: For a New Orleans fix, drive yourself into the Poor House Bistro.
Live Feed: Mexico Without Mexican Food.
5 Places to Love: Ice Cream Shops.



Vis-à-Vis Elvis: The king of rock rolls into San Jose in Stage Company's 'Idols of the King.'
Flight Risks: A fragile couple confront past pains in Pear Avenue's 'What the Birds Carry.'



Please don't forget to write! Metro welcomes letters. Like any great work of art, they should be originals — not copies of letters sent elsewhere. Include address and daytime phone (for verification purposes only). Letters may be edited for length and clarity or to correct factual inaccuracies known to us. Postal: Metro Letters, 550 S. First. St., San Jose, CA 95111. Fax: 408/298-0602. Email: letters@metronews.com. Emailers, please include name, city of residence and phone number. Letters printed will list email address unless otherwise specified. Letters to the editor are not currently published in the online version of this paper.