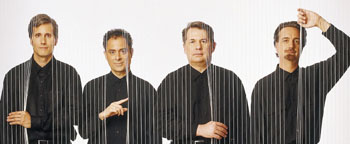 Stringing Along: The Emerson String Quartet appears at [email protected]

Classical Heat Waves

The summer's classical-music festivals shine from Carmel and Santa Cruz to Saratoga and Menlo Park

By Scott MacClelland
---

Midsummer Mozart

KICKING OFF the great summer music festivals on Bastille Day, Midsummer Mozart highlights its exclusive composer's French music at the Montalvo Arts Center, including the ballet music Les petits riens and the Paris Symphony.

A feature of the program (to be repeated at San Francisco's Palace of Fine Arts, Sonoma's Gundlach Bundschu Winery and Berkeley's St. John's Presbyterian Church) is the much-loved Sinfonia Concertante, K. 364, with violinist Robin Hanson and violist Victor Romasevich. Well-known Bay Area dancer Maria Basile has choreographed and will dance to Les petits riens.

After three decades, founding conductor George Cleve, never a retiring violet, says of himself, "I'm not a Mozart expert, just a Mozart enthusiast." The festival's second program (July 21 at Mission Santa Clara) includes the Piano Concerto no. 15 in B-flat, with the internationally esteemed Seymour Lipkin as soloist, and the "Great" Mass in C Minor with the 40-voice Cantabile Chorale and a vocal quartet of exceptional talent from Opera San Jose: Christina Major, Deborah Berioli, Joseph Muir and Joseph Wright. Major will also sing the concert aria Ch'io mi scordi di te?, with Lipkin playing piano obbligato. Podium veteran Cleve, who is slated to conduct three programs of Symphony Silicon Valley this coming season and Mozart's Don Giovanni at Opera San José next spring, tells stories about fellow musicians as persuasively as he wields a baton. In one, the pianist Rudolf Serkin, believing Mozart's "Coronation" concerto was left incomplete, asked musicologist/composer Donald Francis Tovey to fill it out. Tovey succinctly rejoined, "Listen, Rudy, commit your own crimes."
---
July 14, 7:30pm, Garden Theatre, Montalvo Arts Center, Saratoga; $25-$55; July 21, 7:30pm, Mission Santa Clara; $28-$48; see www.midsummer mozart.org for details.
---

Carmel Bach Festival
Second out of the gate, the Carmel Bach Festival begins three weeks of concerts and recitals on July 16 at Sunset Center with music director Bruno Weil conducting the festival premieres of two chorale cantatas, BWV 27 and 41, and the Suite in B Minor for flute and strings. The program includes the Cantata on the Death of Emperor Joseph II—the "enlightenment" emperor—composed by a 19-year-old Beethoven.
Festival highlights include Bach's Mass in B Minor, complete Brandenburg concertos in one colorful sitting, Vivaldi's Four Seasons featuring Elizabeth Wallfisch, Monteverdi's sprawling Vespers of the Blessed Virgin (at Carmel Mission Basilica with festival chorale director William Jon Gray conducting) and Beethoven's Ninth Symphony. (According to Jesse Read, principal bassoonist and new executive director, an additional performance of the Monteverdi will take place at San Francisco's Old First Church on July 25.)
In addition to those mentioned, featured artists include sopranos Kendra Colton and Elspeth Franks, mezzo Sally-Anne Russell, tenor Benjamin Butterfield, baritone Michael Dean, trumpeter Wolfgang Basch, oboist Roger Cole, violinist Emlyn Ngai, lutenist Richard Kolb and organist Andrew Arthur.
Read also promotes free open rehearsals at Sunset Center so patrons can see how Weil "puts it together, makes it work," plus a workshop on the afternoon of July 20, when Catherine Turocy of the New York Baroque Dance Company will teach the musicians the dance steps that go with the French movements of Bach's Suite in B Minor. "She has received the prestigious Chevalier d'Honneur for her work at restoring baroque dance," Read enthuses.
---
July 16-Aug. 6 in Carmel; see www.bachfestival.org for schedule details.
---
Opening July 27, the third season of [email protected] has narrowed its focus to Beethoven: Center of Gravity. Co-artistic director Wu Han explains, "In our first year, we explored five historical periods, and in our second, five geographical regions. Now we want a more concentrated experience, an inch wide and a mile deep, you could say."
[email protected] draws together many of the nation's finest solo artists for two weeks of chamber music concerts for public audiences as well as workshops for accomplished students, as young as 12. The festival's venues are the privately run Menlo School in Atherton and St. Mark's Episcopal Church in Palo Alto.
All 16 Beethoven string quartets will provide a backbone for the festival, to be played by the internationally renowned Emerson, Miro, Miami and St. Lawrence string quartets. Other chamber and keyboard works will support the theme. The programs are being broken into the early, middle and later periods of the composer's creative life.
The last period, including the late piano sonatas, features works composed after Beethoven had gone completely deaf and contain ideas that would not be fully understood or investigated by subsequent composers until the 20th century. Analysis and background are being offered in Encounters (evening multimedia symposia) and, in advance, on eight CDs titled AudioNotes, available at the website.
Wu Han's "inch wide" is actually a little wider, with works by Bach, Haydn, Mozart, Weber, Schubert, Mendelssohn, Schumann and Brahms included for contrast and context. (Jeffrey Kahane, for example, will play Bach's Goldberg Variations and Beethoven's Diabelli Variations back to back on July 31.) Among other prominent artists are pianists Claude Frank, Derek Han and Gilbert Kalish, violinists Jorja Fleezanis, Joseph Silverstein and Ian Swensen, violists Cynthia Phelps and Geraldine Walther and cellists Ralph Kirshbaum and Ronald Thomas. Baritone Christopheren Nomura will be featured in Schumann's Dichterliebe song cycle.
Speaking for her co-artistic director and husband David Finkel, Wu Han says they are not looking to expand the festival, but, as she continually challenges herself, "How can I make this experience as deep as possible?"
---
July 27-Aug. 12 in Menlo Park; see www.musicatmenlo.org for complete schedule.
---

Cabrillo Festival of Contemporary Music
Music director Marin Alsop described her 2003-04 season as "major." Indeed, guest appearances with major orchestras picked up dramatically, not least her European tour with the Bournemouth Symphony Orchestra, of which she now serves as principal conductor, the first woman to lead a major British orchestra. (Her Bournemouth concerts are now regularly heard on BBC Radio 3.)
Then, in 2003, Gramophone magazine, for the first time since it began making annual classical music awards, invited its readers to vote for Artist of the Year. Early on, it seemed that pianist Leif Ove Andsnes was destined to win; then, as the magazine reported, "Our North American edition went on sale, and the conductor Marin Alsop suddenly took the lead and never looked back. The votes poured in, making her our Artist of the Year, 2003-04." Lightning struck again when Alsop beat out pianist Martha Argerich and mezzo-soprano Lorraine Hunt Lieberson to win the Classical BRIT Awards 2005 Female Artist of the Year honors, annually awarded by the British Phonographic Industry, on the strength of her Naxos CDs of works by John Adams, Samuel Barber and Philip Glass.
Anticipating the Cabrillo Festival, which opens Aug. 5 at the Santa Cruz Civic Auditorium, she gushes, "I'm already looking forward to working with my favorite orchestra, seeing my favorite audience and spending two weeks at my favorite artistic oasis!" She steams ahead, "Marijn Simons is a 22-year-old Dutch composer/violinist whose work as both will be featured in Secret Notes on our opening concert. He will also be the soloist in the West Coast premiere of a wonderful violin concerto by festival favorite, James MacMillan." The program will include a Simons U.S. premiere, A Ti Te Toca, with pianists Paul Barnes and Emily Wong.
The second program, Aug. 6, offers the West Coast premieres of River's Rush by Kevin Puts and Piano Concerto no. 2 (after Lewis and Clark) by Glass. The acclaimed Kronos Quartet returns to Cabrillo on Aug. 7. The following Saturday, electric guitarist Marc Ribot plays Skvera, a "wild" concerto by Stewart Wallace, composer of the opera Harvey Milk. It and Steve Mackey's as-fast-as-possible Redline Tango are West Coast premieres. The festival finale, Aug. 14, hears two performances at Mission San Juan Bautista of three West Coast premieres: Dominick Argento's Reflections on a Hymn Tune, Aaron Jay Kernis' Air, featuring cellist Lee Duckles, and Finnish composer Magnus Lindberg's Concerto for Orchestra.
---
Aug. 1-14 in Santa Cruz and San Juan Bautista; see www.cabrillomusic.org.
---
---
Send a letter to the editor about this story to letters@metronews.com.
---
[ Silicon Valley | Metroactive Home | Archives ]