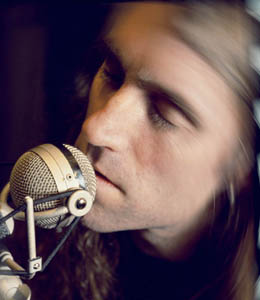 Kenny Schick in the Basement 3 studio.

Feeling Fuzzy

Basement 3's latest, 'Fuzzyland,' reaches the light of day

By Sarah Quelland

UNDERGROUND IN THE MOST literal sense of the word, Basement 3, the subterranean recording project of local multi-instrumentalist and vocalist Kenny Schick (Dub FX, the Brownies, Neosoreskin, Dot 3), recently released Fuzzyland, the follow-up to Eating the Cannibal and Rising. The most collaborative of his three "solo" efforts, Schick features vocalist Heather Courtney and drummer Mike Freitas prominently on Fuzzyland and incorporates rich strings and punchy horns. Schick describes the sound as "agro-jazzy urban folk-core from Bottomland," and on this intelligent and challenging record, he creates more quiet time inside the songs to allow the music and vocals to breathe.

The album opens with the haunting "Pieces," a song full of lush symphonic melancholy touched by a mournful flute. Here Schick regards life's disappointments as part of the experience, explaining, "All these struggles and broken dreams are not disasters/ It's not as it seems/ Pick up the pieces and rearrange/ They fit together, perfect and strange."

KSCU-FM (103.3) has been playing "Flower," a pretty song about learning to move forward, open up and take emotional risks. "I want to jump in the best and worst life has to give," Schick declares. Similarly pretty, the title track takes a dreamy approach, while still harnessing internal strength. "Can't go back to that place/ Tangled up in your embrace/ Gotta change the way I view myself/ Gotta put those black thoughts on the shelf," he determines.

Following the slow, sexy funk fusion of "Broken," the dramatic horn-driven "Games" and the thick, fuzzy funk of "Mercy," Schick asserts himself on "Outside the Lines," which scorns empty wealth and vain trophies and calls for independent thinking and an appreciation of different perspectives. The sax-heavy low-rock "Ten Feet Thick," written by Mike McGinn and Kris Ziakas and adapted by Schick, recollects Basement 3's early Morphine influence. Like plucking the petals off a dying flower, Schick sings of passion, pride, fashion, pleasure, pain, reason, rhyme and ultimately of leaving: "Well, this is the part that breaks my heart, but I won't do this one more time."

The journey through Fuzzyland is an emotional one and, for all its healthy reclaiming of independence, there are moments of weakness, too. Full of ache and despair, on "Fall," Schick compares himself to crumbling Roman ruins as he describes how it feels to hit the end of a failing relationship. Holding onto scraps, he reveals, "A tiny taste of something sweet/ But just as I begin to eat/ It's time to take another bitter pill/ That steals away the happiness just found/ And now an emptiness swallows me before I've had my fill." Hopelessly, he asks, "Why do I get up just to fall back down?"

The album closes with the spare and fragile "Closer," a prayer on which Schick's voice seems to cry out from the other side of the veil. "Dear God, if you are there at all/ Give me a sign/ Don't let me fall into the darkest dream."

Gordon Gurley, Tym Ellis, Jerry Ososkie, Tony Lanzino, Swampy Dave, Jean Ling-Zwissler, Steve Crain, Madeleine Rowan and others contributed to the creation of Fuzzyland. While a full-scale recreation is very nearly impossible, Schick remains determined to finally make Basement 3 a live reality. He's begun rehearsing the project as a duo and intends to find a way to play the songs both solo and with other musicians. Until that magical day arrives, however, the album is available for purchase at www.cdbaby.com. Visit www.basement3.com for more information.

HOT TOPIC: In mid-June, Strata made the front page of www.mtv.com with "The Panic," the video for the first single off its self-titled Wind-Up Records debut; less than a month later, MTV reportedly put the video in rotation. Strata's tour with Smile Empty Soul brings the group to the Pound in San Francisco this Monday (July 19), and shortly after this tour ends, the Campbell-based outfit heads out with Finger Eleven. The new album is scheduled for a July 27 release. Visit www.stratadirect.com. ... The Live @ the Warner music series continues this Friday (July 16) at the Warner Hutton House in Saratoga with performances by the Banished, Fall N Up and Salchichez. Visit www.saratogateen.com. ... Local rock band My Rival Sun gives a free acoustic in-store performance at the Compact Disc Warehouse in Sunnyvale this Saturday (July 17) at noon. Visit www.myrivalsun.com.
---
Send a letter to the editor about this story to letters@metronews.com.
---
[ Silicon Valley | Metroactive Home | Archives ]