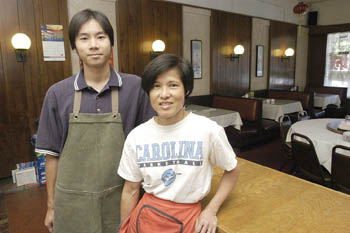 Photograph by Charlie Nucci

Strip Mall Wall: Great Wall's owners have built up a following based on Chinese cuisine favorites.

Landmark Dining

The Great Wall Chinese food makes for good neighbors

By Joseph Izzo Jr.

CHEF AND food writer Malcolm Hebert gave me good advice one day about restaurants sporting aquariums. "Look to see if the fish are happy," he said. "If so, the place has got to be good."

The goldfish in the aquarium at Willow Glen's Great Wall were fat as can be and swimming enthusiastically through clean, fresh water.

Another bon mot from Hebert was "People who care for their fish care for their patrons." Indeed.

The Great Wall is a strip mall hideaway serving a brand of Chinese cooking rarely found in a restaurant of this category. In the shadow of an Albertson's, the Great Wall has hunkered for many years like a bear in hibernation. People who live in the neighborhood—around Minnesota and Bird Avenue—come here to eat, mostly for take out or a quick bite en route between here and there. But for diners who savor the nuances of skillful Chinese cooking, the Great Wall should go on the list of places to try. It offers much more than one would expect from a small eatery with an exterior sign obscured from view.

In fact, the décor is reminiscent of a classic hole-in-the-wall, with a small counter flanked on either side of the square room by booths covered in worn wine-colored vinyl. Down the middle are a few tables of varying sizes, one of which is a round banquet-style accommodation that makes the passing of dishes back and forth a convenience, not a hassle. The most colorful decoration remains the aquarium where those beautiful fish swim and play for the patrons.

Unlike so many Chinese restaurants offering menus too large to comprehend in one sitting, the Great Wall has pared down its menu to the popular basics Occidentals have come to expect. No fanciful dishes on this menu.

We opened with a spritzy, lettuce-dominated shredded chicken salad ($6.40) sprinkled with rice vinegar and mild seasonings. The first round also produced a moist, wok-fresh mushu pork ($7.35), heaped into a mound of perfect shreds and served with a liquid hoisin and tortilla pancakes for folding into handy edibles. Our least favorite dish (still certainly better than most) was the potstickers ($5), plump with juice and pan-fried golden, as they should be—on one side. Vinegar, soy and hot-pepper oil are standard condiments found in a rack on every table.

Deep-fried hot, spicy prawns ($9.25) romanced our tongues with crispy, thin-skinned jackets, moist but not soggy in a sweet-and-sour chile sauce that stimulated the palate on many levels. Another recommendation comes under pork in the form of salt-baked spareribs ($7.25), roasted moist and crispy all at once and cut into thin pieces handy for lifting with the fingers. The ribs are built into a decorative mound over a bed of sliced oranges.

None of the sautéed dishes we sampled had been turned into glue from too much starch. Beef with black mushroom and bamboo shoots ($7.25) combined strips of tenderized beef and musky caps of black mushrooms in a gravy with body and richness, yet loose enough to be spooned over rice. Chicken with cashew ($7) was bound together by similarly textured gravy, this one infused with natural juices from chicken and celery, and sweet with cashews, applied in whole pieces. House special fried rice ($6)—combining pork and bay shrimp with onion and egg—provided the perfect staple to anchor the beef and chicken, soaking up the residual sauces in its tender kernels.

In China, the Great Wall is easy to find. In San Jose, it takes effort. Just a click to the left of Albertson's at the corner of Bird and Minnesota, and there you are. Keep an eye peeled for the sign. Good food here, and no fancy dress required.
---
Great Wall Restaurant
Address: 1409 Bird Ave., San Jose
Phone: 408.287.1688
Hours: Lunch 11am-2:30pm Mon-Fri; dinner 4:30-9pm Mon-Fri, open noon-9pm Sat
Cuisine: Chinese
Price Range: $5-$9.50
---
---
Send a letter to the editor about this story to letters@metronews.com.
---
[ Silicon Valley | Metroactive Home | Archives ]