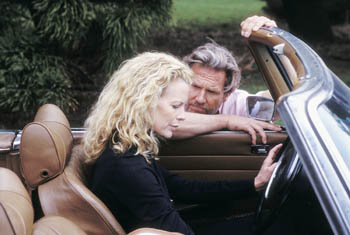 Wheel Work It Out: Jeff Bridges and Kim Basinger play a couple on the brink of estrangement in 'The Door in the Floor.'

Summer of '04

'The Door in the Floor' has a hole in its head

By Richard von Busack

EDDIE O'HARE (Jon Foster) is an Exeter preppy who takes a summer's internship with a celebrated writer named Ted Cole (Jeff Bridges). According to Tod Williams' The Door in the Floor, Cole is credited with a few worthy but unread novels and some beloved children's books, allegories accessible to kids and adults alike. He is a combination of Dr. Seuss and Henry Miller. O'Hare has high hopes about meeting Cole, seeing as he's a budding writer himself. Unfortunately, Cole's seaside place is in chaos. The great man's marriage is breaking up, and his pale, haunted wife, Marion (Kim Basinger), plans to move out on a trial basis.

The mismatched Coles stay together for the sake of their child. To an outsider, it looks more as though the marriage ensures that the child is properly tormented. (As the child Ruth, Elle Fanning, act-alike sister of Dakota, deserves all the torment she gets; she screams like a steam whistle whenever she's thwarted or surprised.) Upon first sight of Marion, Eddie falls in love. Together, the two Coles make a man out of this straight-laced kid. Marion gives him the most calculated mercy sex since Jennifer O'Neill in Summer of '42. Husband Ted, who is jealous but trying to be sophisticated, settles for some petty humiliation of the student writer, whipping him at squash—and finally imparting secrets of his craft.

There is no better way to limit actors and make them mediocre than to beg them to reprise a favorite role. But there are more than a few who would like Bridges to be Lebowski again, or at least a Lebowski-like character. Seeing Bridges' Ted Cole putter through life offers the one redeeming quality of this film. Cole defies classification as a "writer who likes to paint," but he cuts a Picasso-like figure at the quiet limits of Long Island. Slouching around in a kaftan and a straw sombrero, he's a free spirit who flaunts his body and drinks to excess. He takes breaks from his rigorous one-page-a-day writing schedule to do a little figure studying, coldly ordering his female model (the always formidable Mimi Rogers) to strip and display herself, After she does, he creates gynephobic paintings of her in pure squid ink. For all I know, this is what novelist John Irving (whose novel A Widow for One Year is the source for the film) writes with.

Williams (who previously helmed The Adventures of Sebastian Cole) directs without much inflection or discernible personality. This is a pale film. For the most part, The Door in the Floor functions as an acceptable if puerile romance on the French sentimental-education model. Irving always needs a symbolic amputation scene to make his tales of separation and divorce seem more like the catastrophes of life. Here, the story of a bloody car accident is withheld until the end as a lesson in the craft of writing. Actually, that's not a secret of writing, it's a way to manipulate audiences, to give them the creeps.
---
The Door in the Floor (R; 111 min.), directed by Tod Williams, written by Williams, based on the novel by John Irving, photographed by Terry Stacey and starring Jeff Bridges, Kim Basinger and Jon Foster, plays at selected theaters.
---
---
Send a letter to the editor about this story to letters@metronews.com.
---
[ Silicon Valley | Metroactive Home | Archives ]