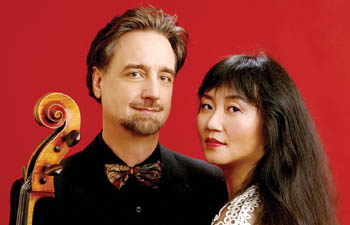 Dynamic Duo: David Finckel and Wu Han return for a second year of their chamber festival, [email protected]

Summer Sounds

The Carmel Bach Festival, [email protected] and the Cabrillo Music Festival fill the season with classical selections from the 17th to the 21st century

By Scott MacClelland

MUSIC FESTIVALS are designed for the marathon music lover, the spectator who can sustain a high level of concentrated listening over the spread of a week, or so, at a time. At least that's what the producers of festivals are hoping for, even though most of them have tickets available for individual concerts during their two- or three-week summer seasons.

To ramp up for what's ahead, we examine, in chronological order, the Carmel Bach Festival, [email protected] and the Cabrillo Festival of Contemporary Music in Santa Cruz. Among them, these three festivals overlap their programming to a negligible degree, affording the ravenous concertgoer great variety.

Carmel Bach Festival
July 17-Aug. 7 at various venues in Carmel

The 67th edition of the festival presents generous variety itself in programs that range from great J.S. Bach sacred works to classical symphonies by Haydn and Beethoven, as well as sacred settings by Mozart, baroque violin concertos, intimate recitals and chamber music from across the 18th century. Performed at the recently renovated Sunset Theater, Carmel Mission Basilica and area churches, the programs feature many outstanding singers and instrumentalists, in tandem with a fine chamber orchestra and choirs.

Prominent principal artists on tap include music director Bruno Weil, concertmaster Elizabeth Wallfisch, trumpeter Wolfgang Basch and baritone Sanford Sylvan. Highlights this summer—with most programs repeated in the second and third weeks—are Bach's St. Matthew Passion and, for the first time, the sacred cantatas Gott fähret auf mit Jauchzen and Christen, ätzet diesen Tag. In addition, the schedule features various concertos by Bach, Vivaldi and Telemann, all at Sunset Theater. Carmel Mission will hear a mix of baroque concertos and suites featuring soprano Kirsten Blase, and "The Glory of Venice," comprising works by the great 17th-century Venetian masters.

The overall theme of Weil's tenure, "Bach and Beyond," is intended to demonstrate both the antecedents of the Leipzig cantor's works and his influence on subsequent generations. Some personnel changes and developments will be in evidence this summer. William Gray has replaced the retired Bruce Lamott as chorale director and has in turn brought in several new voices. The excellent lutenist Richard Kolb will take an increasing role in the intimate programs of the "Twilight" and "Candlelight" run-outs. The return of Canadian tenor Benjamin Butterfield is much welcomed.
---
The opening-night concert features J.S. Bach's Cantatas 43 and 63 plus Stravinsky's Octet for Winds. Concerts take place every night. For tickets and schedule details, see www.bachfestival.org or call 831.624.1521.


[email protected]
July 29-Aug. 14 at Menlo School and Stent Family Hall in Atherton and St. Mark's Episcopal Church in Palo Alto

Chamber music gives [email protected] its spine. No matter the combination, the era or national origin, chamber repertoire assures a musical intimacy at every turn and in either venue. But the star power of artists like violinists Jorja Fleezanis, Ani Kavafian and Elmar Oliveira—to say nothing of keyboardists Derek Han, Jeffrey Kahane and Gilbert Kalish and, oh yes, flutist Carol Wincenc and oboist Allan Vogel—suggests as much glitz as intensity.

The muscle behind this 2-year-old festival is the David Finckel-Wu Han Duo, well known and acclaimed nationally for their cello-piano recitals at festivals, in concert series and on broadcasts. After searching around the country, Finckel and Wu Han founded [email protected] and went about the daunting business of giving birth to, and instantly growing up, their "baby." (As if they didn't have enough to do, the pair have just been named artistic directors of the prestigious Chamber Music Society of Lincoln Center.)

Being fully mature from the start was to Finckel and Wu Han as much a part of the plan as implementing the festival itself. Any look at the festival's track record to date—not least the just-announced creation of its own record label—has the smell of old money. Wu Han protests that the project is run "on a shoestring." Who knew that Armani designed shoestrings?

In fact the stable of artists, production elements and miscellaneous details of running a fully professional operation like this don't come from a typical nonprofit startup. A conversation with the founders filled in many of the gaps. [email protected], they explained, was a giveback in thanks to all the opportunities they had in achieving artistic success, especially with respect to the generosity of the top musicians with whom the were able to study. Therefore, education is key at the festival. As a result, talented student in three levels (by age range) come to study with the masters from all over the country and, for the top tier, the world.

But all of this was still only a dream until Finckel and Wu Han met Norman Colb, headmaster of the Menlo School, a college-prep institution located in Atherton. Colb opened up his school and, not least, the intimate Stent Family Hall. Student workshops, master classes and performances are all held on the campus. This season's theme, "A Musical Odyssey" (with concerts focusing on France, Italy, Vienna, Eastern Europe and Russia), and related events will be played out, July 29 through Aug. 14, at Stent and St. Mark's Episcopal Church in Palo Alto. Some of the numerous professional programs are repeated, but not most. Concerts will also be broadcast by Minnesota Public Radio.
---
For ticket information, call the Stanford Ticket Office at 650.725.ARTS or visit www.musicatmenlo.org.
---

Cabrillo Festival of Contemporary Music
Aug. 3-Aug. 15 at the Santa Cruz Civic Auditorium and Mission San Juan Bautista
In terms of programming, the Cabrillo Festival is an adventure like no other. Elsewhere, music director Marin Alsop is regarded highly for her work in the standard repertoire. But at Cabrillo, she's the star, the one shining constant in a world of unfamiliar (but usually outstanding) new music by the best composers of our time.
At this 42nd season, Aug. 3 though 15, Alsop is sharing the spotlight with such luminaries as the Kronos Quartet, violinists Nadja Salerno-Sonnenberg and Tracy Silverman, and guitarist Sharon Isbin. Composers in residence include John Adams, Aaron Jay Kernis, Jennifer Higdon, Kevin Puts, Gregory Smith, David Little and, in their debut appearances, Clarice Assad and Julia Wolfe. (Assad, daughter of guitarist Sergio Assad, will witness the world premiere of her Violin Concerto by Salerno-Sonnenberg on Aug. 3.)
Cabrillo's bedrock is Alsop's orchestra, a symphonic ensemble that faces the annual challenge of having to learn and master music other classical musicians will never confront in a lifetime. That fact alone ups the ante for all involved, which may explain why the energy of a Cabrillo concert is so "on the edge." In fact, there have been times when things went over the edge, requiring a restart, like the performance of a Chris Rouse symphony at San Juan Bautista Mission a few seasons back. Do these demands drive the musicians away? On the contrary, says Alsop, "They love to come because of the repertoire, music they do not get an opportunity to play during their regular seasons."
The much-decorated Julia Wolfe will introduce the U.S. premiere, by the Kronos Quartet and orchestra, of her My Beautiful Scream, on Aug. 8. (She'll be joined by Kernis and Puts, who will introduce their own works on that program.) West Coast premieres include Rouse's Concerto per Corde, Little's Screamer (a three-ring blur for orchestra), Smith's Mr. Smith's Bowl of Notes and Scottish composer James MacMillan's Tryst.
In a season filled with highlights, one that will certainly attract a lot of attention is Adams' The Dharma at Big Sur, written for the inauguration of the new Disney Concert Hall by the Los Angeles Philharmonic and starring then, as now, electrified violinist Tracy Silverman, on Aug. 14. On Aug. 15, at San Juan Bautista, Sharon Isbin will play Chris Rouse's Concert de Gaudi composed in honor of the visionary Barcelona architect.
---
Festival events include the Art, Food and Wine Festival, Aug. 7-8, 11am-8pm, on Church Street outside the Santa Cruz Civic Auditorium. For festival ticket information, visit www.cabrillomusic.org or call 831.420.5260.
---
---
Send a letter to the editor about this story to letters@metronews.com.
---
[ Silicon Valley | Metroactive Home | Archives ]