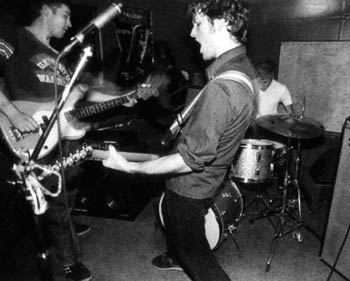 Photograph by Jeff Smith

No Lolla, No Problems: When Lollapalooza 2004 collapsed, Modest Mouse set off on its own headlining tour.

Modesty Blaise

Modest Mouse shills for Nissan and break some hearts in the process

By Jim Harrington

IT WAS one of those moments that changed the way you feel about music. Like when Eminem caved in and performed with Elton freakin' John at the Grammys or, more recently, when a complimentary Bob Dylan CD came with a purchase of a silky bra and panty set at Victoria's Secret.

In this case, however, the moment was worse, because we thought we really knew this band. We thought this band was one of us.

I still remember the day when I heard a strangely familiar sound trickling out of the TV. My eyes were glued to the set as I watched images of a bright, shiny new Nissan, but my mind busily flipped through my own mental musical Rolodex trying desperately to place the song. Then it clicked: It was Modest Mouse's "Gravity Rides Everything," a track from one of my favorite recent CDs, The Moon and Antarctica. Modest Mouse was whoring for Nissan.

It looks like the commercialization of this 11-year-old group from Issaquah, Wash., has just begun. Once there was a time when you couldn't even buy a T-shirt at a Modest Mouse gig, and now this emoesque guitar-rock band has hit the mainstream in a big way.

Beyond offering a fully stocked merchandise booth at shows, the band looks to strike gold with its latest release, Good News for People Who Love Bad News. The album debuted back in April in the Top 20 of the Billboard Album Charts and has quickly moved more than 300,000 copies.

"Float On," the album's first single, is receiving major airtime on big radio stations including Live 105 and Mix 106. MTV, that pillager of all things once cool, has even made the "Float On" video a buzz clip. Longtime fans are bemoaning that the once near-sacred indie band is now splitting airtime with Jessica Simpson and Road Rules, but when was the last time MTV played a video?

To top it off, the Mice Men joined what was supposed to be one of the summer's biggest tours: Lollapalooza, which was scheduled to hit Shoreline Amphitheatre on July 17-18. Unfortunately, promoters pulled the plug on Perry Farrell's traveling circus due to poor ticket sales. Not wanting to let any cheddar (read: money) go to waste, the Mouse scrambled to put together its own headlining tour, which looks to be one of the season's top club outings. The band plays the Warfield in San Francisco on July 17.

In a recent article in Rolling Stone, Modest Mouse frontman Isaac Brock claimed that "no one is really more surprised about this success than me." Yeah, right. Tell that to the fans who still cherish the band's old indie releases on the Up and K record labels. Brock's not fooling anyone with his act. All indicators point like a Nissan cruising down Interstate 5, headed, of course, for Hollywood, that Brock has been planning on this surprising success for quite some time.

Most would peg the band's signing with Sony as the start of the downward—or, if you are the band's accountant, upward—spiral. It was about the time that Epic released the undeniably excellent guitar-rock-epic The Moon and Antarctica that the crowds began to significantly change. The testosterone began to amp up, and the dorm-room-style debates about lyrical content began to dissipate. The thrift-store sweaters in the crowd were replaced by sweatshirts with Greek letters. The thick-rimmed glasses quickly gave way to white baseball caps turned backward. It started looking like a cross between a Pearl Jam show and a Dave Matthews Band concert; I was keeping my eyes open for the first sighting of a Jimmy Buffett T-shirt.

By the time the band played Noise Pop in 2002, scalpers were seen outside Bimbo's 365 Club demanding upward of $100 for a ticket—and getting it. Honestly, during that concert, the Mouse came across more like an elephant in comparison to the other acts on that bill, Beachwood Sparks and Stagger Lee.

Does Brock care how his old protective fans view the new and enhanced Modest Mouse? Just one look at the new album's title could provide the answer. The undeniably clever slogan Good News for People Who Love Bad News can be taken as a swipe against all those famously mopey black-clad fans who like their bands small. Major-label deals, hit records, MTV play, large outdoor sheds and car commercials run contrary to the very fabric of their belief system. The "news" in this case can be seen as good or bad depending on the perspective. But what News says is very clear: This is by far Modest Mouse's most-commercial work to date. It might also be the band's best.

The album announces the drastic change of pace from the old post-grunge, left-of-Seattle guitar sound with—a horn intro? Horns? On a Modest Mouse album? If that wasn't enough, strings soon follow as well as delicate harmony work and a single, "Float On," that is catchy enough to make Dandy Warhols pant in jealousy. It's a daringly diverse record that completely rebuilds the band's image, much in the same way that OK Computer did for Radiohead. It basically obliterates everything the band made before it.

And it's an incredibly easy album to read into and, right or wrong, find scads of not-so-subtle messages. On "Ocean Breathes Salty," Brock sounds like a man crying for a clean slate, testifying that he won't be pigeonholed by his past life and work, as he fiercely announces, "Well that is that, and this is this. You tell me what you want, and I'll tell you what you get." The answer is stated firmly and in succession: "You get away from me. You get away from me." Not exactly a fan-friendly stance.

Two songs later, on "Bury Me With It," his voice is dripping with sarcasm as he embraces the music-industry game: "Well, fads they come and fads they go. And God I love that rock & roll." Then he ultimately puts things in perspective for fans on "Dance Hall": "I am the captain, and you are in the galley!"

Given the band's roots and the devotion of many longtime followers, these lyrics seem more than a bit heavy-handed. But one doesn't need to read the words to know the message. All you have to do is watch TV, and you'll find it broadcast on MTV and in the Nissan car commercials. This Mouse is no longer Modest. This Mouse is for sale.
---
Modest Mouse plays Saturday (July 17) at the Warfield, 982 Market St, San Francisco. Tickets are $25 and available through Ticketmaster.
---
---
Send a letter to the editor about this story to letters@metronews.com.
---
[ Silicon Valley | Metroactive Home | Archives ]