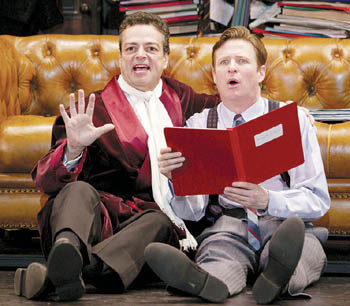 Photograph by Paul Kolnik

Connivers: Bob Amaral (left) and Andy Taylor cook up an unlikely hit in 'The Producers.'

Razzle-Dazzle

American Musical Theatre of San Jose takes full advantage of Mel Brooks' stage hit 'The Producers'

By Rob Pratt

THE SUPERLATIVES that come to mind in describing the American Musical Theatre of San Jose production of the Broadway hit The Producers, running through July 25 at the San Jose Center for the Performing Arts, all have a psychopathic subtext. Relentless, like an email spammer transmitting pornographic come-ons. Savage, like a national politician going negative during a general election. The Producers, a razzle-dazzle translation of Mel Brooks' 1968 Academy Award-winning film to the Broadway stage, isn't even one bit malicious. However, it does have a seemingly compulsive comic drive that can leave an audience with chest pains from howling in delight at cascades of zingers, sight gags and one-liners that suffuse the show.

The story is a farce, with sheepish accountant Leo Bloom (Andy Taylor) inadvertently inspiring down-on-his-luck Broadway producer Max Bialystock (Bob Amaral) to raise money for the biggest flop ever presented on the Great White Way, an odious ode titled Springtime for Hitler. Once the show has opened—and closed the same night—Bialystock and Bloom plan to hightail it to Rio with the leftover cash. Unfortunately, the show turns out to be a hit.

The script, adapted for the stage by Brooks and Thomas Meehan, overflows with wit, and it often astonishes in the unexpected ways the authors earn laughs. One uproarious moment involves nothing more than a character's forearm and curled hand making a slow exit to stage left. The songs, also written by Brooks, are likewise filled with surprise and large amounts of charm. The Broadway original scored a dozen Tonys in 2001—the most ever awarded to a single show. If any organization were to hand out awards to Broadway touring companies, then this production should similarly earn unprecedented kudos. The cast is marvelous, the staging lavish and superbly executed, the acting, singing and dancing of the highest caliber.

Amaral's and Taylor's performances are particularly striking considering that each faces the daunting task of re-creating roles originated by comic legends—Zero Mostel and Gene Wilder for the film, Nathan Lane and Matthew Broderick for the original Broadway production. Both Amaral and Taylor bring new life to their roles without blunting any of the quirks and foibles that make the characters so outrageous and appealing.

Virtually every other player turns in a sensational performance, and while there's no room in this short column to enumerate all of them, Ida Leigh Curtis as Lula, Bialystock and Bloom's Swedish-bombshell secretary (Curtis played the role on Broadway), Bill Nolte as Franz Liebkind, the Nazi author of Springtime for Hitler, Stuart Maryland as director Roger De Bris and Rich Affanna as De Bris' "common-law assistant" Carmen Ghia all deserve supporting actor Touring Tonys when someone finally organizes an award show to present them.

Robin Wagner's sets and Peter Kaczorowski's lighting design are marvels of ingenuity and wonderfully complementary, and they're worth at least half of the price of admission all by themselves.
---
The Producers, an American Musical Theatre of San Jose production, plays Wednesday at 8pm (with an added 2pm show July 21), Thursday-Friday at 8pm, Saturday at 2 and 8pm and Sunday at 1 and 6:30pm through July 25 at the San Jose Center for the Performing Arts, 255 Almaden Blvd., San Jose. Tickets are $50-$77. (888.455.7469)
---
---
Send a letter to the editor about this story to letters@metronews.com.
---
[ Silicon Valley | Metroactive Home | Archives ]