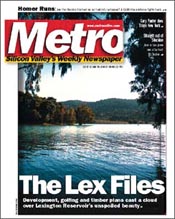 For the Week of
July 15-22, 1998
Cover: Forest Firefight
Massive redwoods and firs around Lexington Reservoir may soon fall--but not before embroiling landowners, loggers and preservationists in a heated battle of threatening letters, accusations and a lawsuit.
News: Families Valued
Gays and lesbians often face barriers when they want to become parents. Pending legislation will either help or hinder their efforts.
Public Eye: The search for a new San Jose police chief continues.
Helen Tells Herstory: Widow of famed local historian gets the last word.



The Fine Art of Turning Inside Out
'Tis the season for Metro's guide to summer indulgences, with outdoor concerts, theater and our best picks for relaxing daytrips. There's also day-by-day calendar of summer events that you'll want to bookmark for the long and luxurious days ahead.



Late-Night Jungle: At 301 Stockton, the drum 'n' bass groove rolls on all night long.
Vibrant Vibes: The vibraphone is championed by young Stefon Harris.



Gun With the Wind: Lethal Weapon 4 has action--and heart.
Full Mooning: Even Elisabeth Shue can't save vulgarized Balzac adaptation, Cousin Bette.
Rocky Road: The radical sheen of Picnic at Hanging Rock has faded.



Latin Connection: Gary Palmer and the San Jose Dance Theatre collaborate with Peruvian and Chilean dancers on 'Americas Series.'



Classics Under Siege: Is the wisdom of the Greeks and Romans still worth teaching? A Santa Clara University professor fights back against the deconstructionists and syllable counters.



Zen and the Art of Eating Tofu: An unscientific poll on soy protein: ashen-hued blob or life-affirming shield against everything from cancer to road rage?



Please don't forget to write! Metro welcomes letters. Like any great work of art, they should be originals -- not copies of letters sent elsewhere. Include address and daytime phone (for verification purposes only). Letters may be edited for length and clarity or to correct factual inaccuracies known to us. Postal: Metro Letters, 550 S. First. St., San Jose, CA 95111. Fax: 408/298-0602. . Emailers, please include name, city of residence and phone number. Letters printed will list email address unless otherwise specified. Letters to the editor are not currently published in the online version of this paper.