By Sarah Quelland
MY INTRODUCTION TO Marilyn Manson and Korn was in 1995, when they opened for Danzig at the Warfield. Neither band was particularly well received by the Danzig crowd, but I hadn't been that impressed by new music in a long time. Much has happened since then and both groups have gone on to different but considerable levels of success and notoriety. After eight years, it was exciting to see them sharing the same stage again, this time in the new context of the main stage of OzzFest (held on July 8 at Shoreline Amphitheatre) sandwiched between Chevelle, Disturbed and Ozzy Osbourne.
Most bands opt for simplicity when caravaning in traveling festivals, but Marilyn Manson is not most bands. Manson's unbelievably good theatrical performance offered a nonstop visual and audial experience. A jaunty Manson donned numerous identities and top hats and introduced his fans to the strange characters that star in his "scabaret" and "vodevil" show.
"Thaeter," the instrumental intro to his latest opus, The Golden Age of Grotesque, signaled the start of Manson's daytime set. As the black curtain dropped from the stage to reveal the first of many backdrops, the band launched, appropriately, into "This Is the New Shit."
Throughout the band's set, that's where it would concentrate its energies, focusing on songs from the new TGAOG; adding a handful of singles from Holy Wood ("Disposable Teens"), Mechanical Animals ("Rock Is Dead"), Antichrist Superstar ("The Beautiful People") and even the Smells Like Children EP; and ignoring debut Portrait of an American Family completely.
Alternately crouching and stalking, Manson prowled the stage like a caged animal full of freaky poses, grimaces and sinister grins. His stage was populated with military marching men, dancing girls in short uniforms and garters and jiggling women wearing flesh-colored fake breasts, butts and genitals. Some beat drums, others tickled the ivory keys of a piano. Absurdity was in high fashion during "The Dope Show," as wheels of stocking-clad women's legs served as stage decoration and Manson donned a shirt with absurdly long arm extensions.
Driven by keyboardist M.W. Gacy, drummer Ginger Fish, guitarist John 5 and new bassist Tim Skold (an excellent replacement for Twiggy Ramirez), new songs "The Golden Age of Grotesque" and "Doll-Dagga Buzz-Buzz Ziggety-Zag" became infected with an extremely manic quality not found in the recordings, and "Use Your Fist and Not Your Mouth" and "mOBSCENE" came across heavier and angrier live. Manson dusted off Smells Like Children's "F*** Frankie," which drifted through the sound system before the band broke into its dark cover of the Eurythmics' "Sweet Dreams (Are Made of This)."
He saved the most provocative and bizarre for the end of the show, appearing in blackface and wearing Mickey Mouse (the real original M&M?) ears--echoing images of him released in conjunction with TGAOG--on a stage featuring two large hanging pictures and a giant inflatable balloon of him in that guise. He sang part of "It's a Small World" before closing out the day with "The Fight Song" and "The Beautiful People."
If Ozzy is the godfather of heavy metal, then Korn is the godfather of nü metal. The band may have spawned a legion of pretenders, but nobody does Korn like Korn. Frontman Jonathan Davis' unique vocals sound as distinctive today as they did eight years ago. Straightforward but sure, Korn's visceral assault was in direct contrast to Manson's theatrical barrage. The members entered the stage one by one before diving into breakthrough hit "Blind" and plowing through highlights from all five albums, plus the new song "Did My Time," which is featured in Lara Croft Tomb Raider: The Cradle of Life. The classic "Shoots and Ladders" morphed into Metallica's "One," the song Korn performed live on mtvICON: Metallica.
Despite feeling under the weather, Ozzy closed out the night with his crowd-pleasing mix of solo and Black Sabbath tunes, with welcome new addition to his band, former Metallica bassist Jason Newsted. Ozzy would later be diagnosed with laryngitis and forced to sit out the July 9 Marysville stop.
See the following gallery of pictures from OzzFest.
---

OzzFest Photo Gallery
Photographs by George Sakkestad

Band of Brothers: Chevelle revved up the main stage at OzzFest.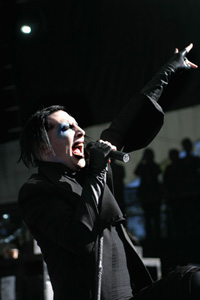 Master of Ceremonies: Marilyn Manson is his own best emcee.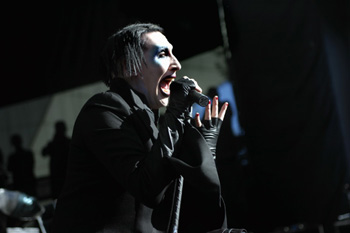 Cast of Converts: Marilyn Manson preaches to the choir.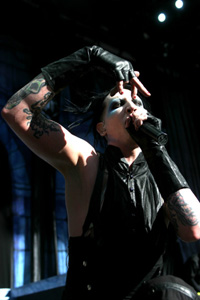 Hand Over Fist: Marilyn Manson proves he wasn't born with enough middle fingers.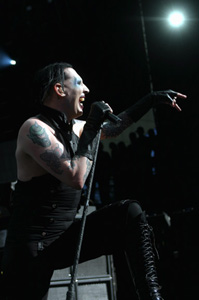 Flashback: Marilyn Manson's spookier incarnations creep into his latest persona.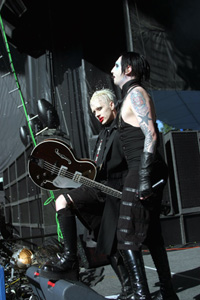 Blonde Ambition: Marilyn Manson shows off pouty new bassist Tim Skold.

[ Silicon Valley | Metroactive Home | Archives ]