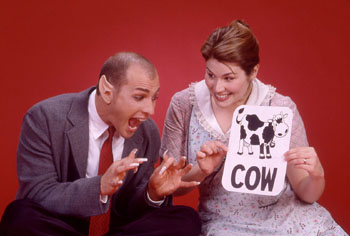 Lesson Plan: Bat Boy (Justin Greer) learns a little animal husbandry from his new mom (Heidi Blickenstaff).

Bat Boy Unleashed

Famed tabloid icon finally gets his own musical exposé at TheatreWorks

By Allie Gottlieb

IN 2001, Bat Boy endorsed Al Gore for president, according to the ingenious supermarket tabloid the Weekly World News. Coincidentally, Bat Boy, the musical black comedy about the life of Bat Boy, the famed half-bat, half-boy subject of many Weekly World News exclusives ("Bat Boy Falls Head Over Heels in Love," "Escaped Bat Boy Sighted in Texas"), is presented as rather tragic, much the way the Gore vs. Bush election process turned out. Similar, that is, except that the comedy in George W. Bush's rise to the presidency is truly tragic. Meanwhile, the tragedy in Bat Boy is ultimately comic.

The script, written by Keythe Farley and Brian Flemming, with interweaving lyrics by Laurence O'Keefe, operates with a sardonic but tickling wit. The writers know their two-act, 91-page script is funny. But as it says in their authors' note, "These characters do not know they're funny." The creators' intention, spelled out in directions to the cast, is not to gag-up the organically absurd story or to drown it in silliness.

"There is enough within this script and score to keep you busy," the script reads. "Adding too many extra bits or 'metatheatrics'--again, we don't really know what that is, but you shouldn't do it--will undermine your performance and diminish the audience's enjoyment of the play."

Set in tiny town Hope Falls, W. Va., the musical about a fangy humanoid monster begins with spelunking teens discovering Bat Boy in a cave. They capture the creature in a sack and haul him in to the sheriff. After some hick-laced deliberation about whether or not the ugly mutant must die, the sheriff deposits Bat Boy at the town veterinarian's house to be "put down."

Ultimately, Bat Boy explores the difficult life of an imperfect being who wants to fit in and be loved in a culture that aims to deny its imperfections. This base line seems merely human, sincere and therefore unfunny. But then the townsfolk say things like, "Maybe we could train him to rustle up the cows--like a sheepdog" and "Mom, he's so gross. Mom, can he stay?"

Star Justin Greer and director and choreographer Linda Goodrich were gearing up last week for the TheatreWorks production of Bat Boy. We talked with the two of them and with composer O'Keefe. Insights collected include conflicting answers to the question Is Bat Boy real?

O'Keefe refuses to discuss "the real" Bat Boy because "I'm still paying off medical bills, and Bat Boy knows where I live." He notes, however, that the producers recommend an aisle seat be kept available for Bat Boy at every show. Goodrich, a University of Michigan theater teacher, on the other hand, maintains that Bat Boy is "a metaphor for many people in our society" who are "misplaced and misunderstood." Greer declares that Bat Boy is not real and that he had to watch fruit bats at the Palo Alto zoo in order to develop his character.

Greer, a frequent Broadway actor, says he fell in love with the musical when it originally played in New York "because it's so smart." He adds that nontheatergoers would love the production. "It's reverent to the art form, and it also sends several spikes through it."

O'Keefe authoritatively reflects on the wisdom of Bat Boy. "The model that we thought of when we were creating the show was that of scapegoating," he says. "There are three reasons for scapegoating: People are or look different, people are weaker or people are much stronger in a way. We've set out to make Bat Boy all three."

Incidentally, the Weekly World News currently claims to offer $10,000 to anyone who finds the real Bat Boy.
---
Bat Boy, a TheatreWorks production, previews July 16-18 at 8pm and opens July 19 at 8pm. Shows are Wednesday-Saturday at 8pm, Sunday at 2pm and Tuesday at 7:30pm through Aug. 10 at the Lucie Stern Theatre, 1305 Middlefield Road, Palo Alto. Tickets are $20-$48. (650.903.6000)
---
---
Send a letter to the editor about this story to letters@metronews.com.
---
[ Silicon Valley | Metroactive Home | Archives ]