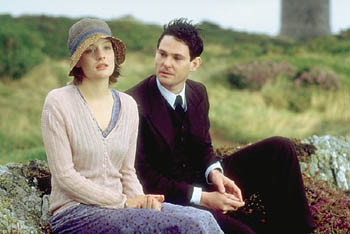 And Then E.T. Said: Romola Garai strikes up a passionate friendship with Henry Thomas in 'I Capture the Castle.'

Castle Keeper

After a slow start, British romance 'I Capture the Castle' finally catches fire

By Traci Vogel

SOMETIMES, it seems as if the costume drama was invented just so that grandmas, 13-year-old girls and their gay (but not out) cousins would be guaranteed a Sunday-afternoon diversion. There is something about the British Masterpiece Theater style that sanitizes and elevates entertainment in the minds of many and renders it intolerably dull in the minds of many more.

I Capture the Castle will draw the shawl and shy crowd. Based on a 1948 novel by Dodie Smith, the 1930s-based story is told in the voice of Cassandra (the fresh-faced Romola Garai, soon to be seen in Dirty Dancing 2), 17-year-old daughter of an eccentric and notoriously unproductive cult novelist named James Mortmain (Bill Nighy). Scraping out a living in an abandoned ruin of a castle, the Mortmain family personifies Bohemian bootstrap: There is Rose, the beautiful gold digger (played by Rose Byrne); Topaz (Tara Fitzgerald), the nudist artiste stepmother/muse; and one gorgeous ruddy-cheeked house boy (Henry Cavill as Stephen Colley). Arising from Cassandra's diary entries, these characters come colored by their chronicler's adolescent obsession with the tribulations of romantic love.

Dodie Smith (also, it is worth noting, the author of 101 Dalmatians) wrote I Capture the Castle after a decade in America as a British expat. Smith's longing for her homeland embroiders the book with a gauzy nostalgia, and the film picks up this thread. One fateful stormy night, two handsome American brothers (Henry Thomas--who was, yes, Elliott in E.T.--as Simon, and Marc Blucas of Riley-from-Buffy the Vampire Slayer fame as Neil) stumble across the Mortmains' makeshift abode. Their arrival seems to be the very miracle the lonely Rose has wished for, and she perks up like dry tinder during fire season. Thus a series of love triangles begins to kindle.

Lest my analogy confuse, I should clarify: this is one slow conflagration. Amorousness ebbs through the characters over the course of a year, and since the story is told through Cassandra, the limits of her understanding define the film, and her tendency to agonize paces it. As Rose drifts away into matrimony, Cassandra finds herself taking on adult responsibilities without understanding their import. Her stumbling is both endearing and frustrating, and at one point in the plot it is clear that without a deus ex machina, nobody's going to get their king castled, much less their love fulfilled.

To I Capture the Castle's credit, things do not end like chess. Instead, with typically British string pulling, an offstage maneuver changes the scenery. Add to that an increasingly intense performance from Garai, and the second half of the movie proves to be much more engrossing than the first. There may be no popcorn left by this point, but save the napkins for your cousin--lots of tear-jerking is yet to come.
---
I Capture the Castle (R; 113 min.), directed by Tim Fywell, written by Heidi Thomas, based on the novel by Dodie Smith, photographed by Richard Greatrex and starring Romola Garai, Marc Blucas, Henry Thomas and Bill Nighy, opens Friday at the Los Gatos Cinema.
---
---
Send a letter to the editor about this story to letters@metronews.com.
---
[ Silicon Valley | Metroactive Home | Archives ]